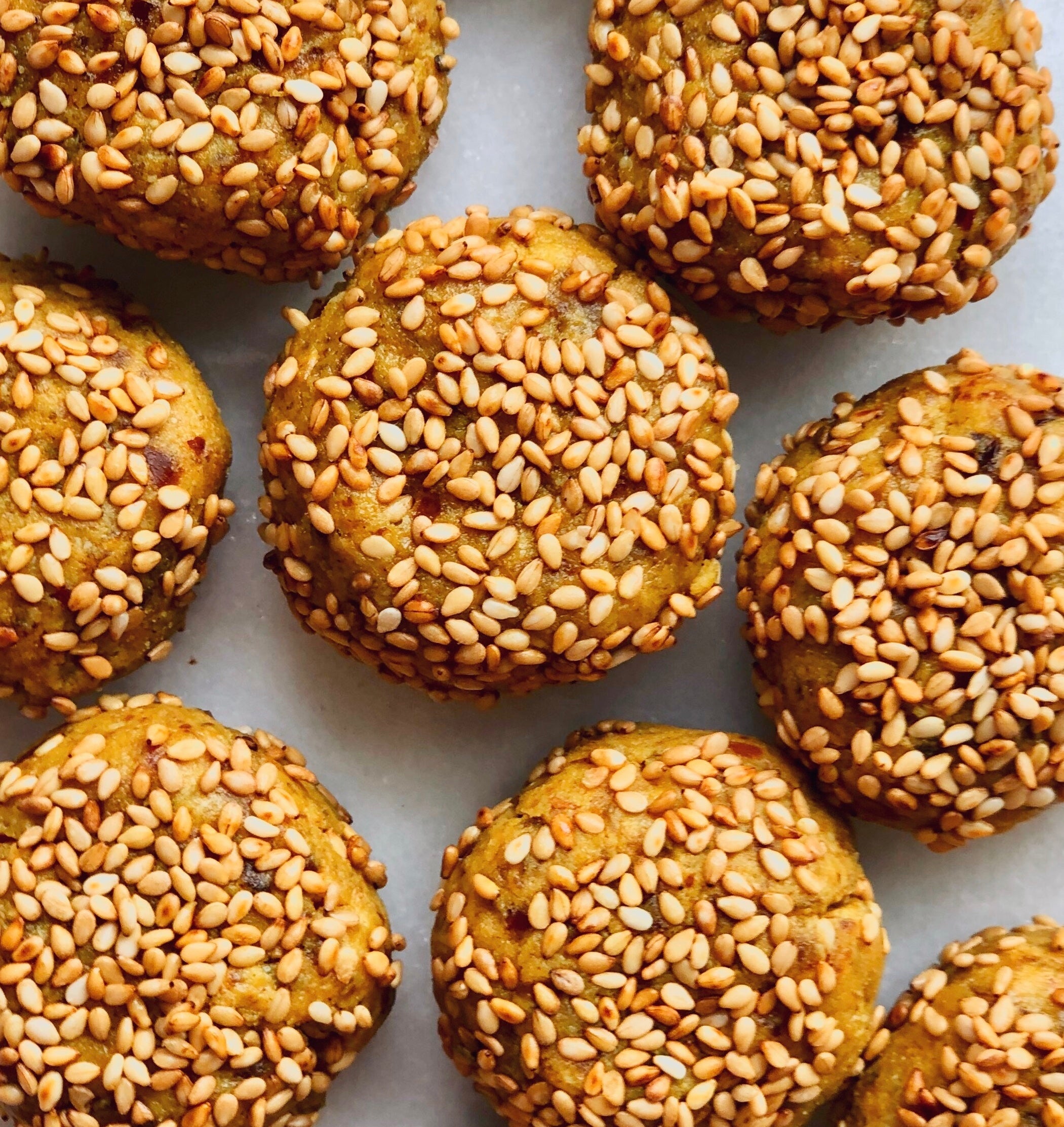 No-Bake Turmeric Tahini Protein Cookies⭐️ They're made with turmeric for an antioxidant boost and the
Original Beauty
for a vegan collagen boost for hair, skin, and nails. The taste of these gluten-free, vegan, and raw cookies is delicate and a mix of sweet and savory with the sesame, tahini, dates, and spices. They're really a cross between a snack and a dessert which fits my food philosophy just fine.
What is Turmeric?
Turmeric is a spice that comes from the turmeric plant. Its roots are a bright golden color and are what is ground up into turmeric powder or paste. It has a warm, slightly bitter taste and is used to add flavor and color to curry powders and is blended in turmeric tonics. We love it mixed with ginger, cardamon, and nutmeg for a fantastic turmeric spice blend that goes great in
oats
,
lattes
, and energy bites.
Why eat Turmeric?
Turmeric is an amazing anti-inflammatory ingredient and is packed with antioxidants. "Inflammation", as medical experts call it, is the body's response to injury. It works to heal wounds, but it can also play a role in some chronic diseases and can cause feelings of stress, pain, and discomfort. Reducing unnecessary inflammation is said to be extremely beneficial for our health. We personally use turmeric to boost immunity and clear up stuffy throats during the cold months and throughout the year. It has a super delicious taste and is amazingly cozy.
What is Collagen?
Collagen is a structural protein of different connective tissues, and is made of the amino acids glycine, proline, hydroxyproline, and arginine. The benefits of collagen are many and include:
Glowing skin (through moisture retention & skin elasticity)*
Reduced wrinkles*
Strong hair & nails*
Joint health*
Tendon & bone health*
The human body naturally creates collagen; however as our bodies pass the age of 25, we lose the ability to synthesize enough of it on our own.* Our modern diets also contain minimal collagen.* That's where Copina Co. comes in – we make plant-based vegan collagen boosters that help boost your body's collagen synthesis without the need to consume animal products.
How Does Vegan Collagen Powder Work?
Plant-based vegan collagen supplements work by supporting your body's natural process of building collagen.* Our ingredients have been shown to contain amino acids, vitamins, and minerals that help boost collagen production.* That means all the hair, skin, nail, and joint health benefits without the need to consume animal products.*
Typical collagen peptide supplements on the market are not vegan and come most often in the form of bovine hides (cow skin), fish skin or scales, or egg shells. Copina Co, however, is different – all our collagen boost blends plant-based, vegan, keto, and paleo-friendly.
What's in Copina Co's Plant-Based Vegan Collagen Boosters?
Tremella Mushroom Extract

The tremella mushroom, or tremella fuciformis, is an edible species of fungus that has been used in Eastern medicine for centuries. It helps to boost skin hydration and has been shown to pull moisture into the skin and fight aging. Tremella mushrooms contain proline, lysine and glycine which are all important amino acids for collagen production.*



Bamboo Extract

Bamboo is one of the richest sources of silica in nature and supports collagen production and hair, skin, & nail health. Silica is a naturally-occurring mineral found primarily in plants and water sources. It has been shown to help promote luscious hair and fight aging. *



Hyaluronic Acid

Hyaluronic acid is a molecule made up of sugars that our bodies produce naturally. It binds to and retains water (each molecule can hold up to 1,000x its weight in water), aiding collagen production and helping our skin attract and retain moisture.* It has also been shown to help smooth wrinkles and boost skin elasticity, firmness, and radiance, as well as promoting joint health.*



Amla

Amla (Indian gooseberry) has been traditionally used to increase vitality, enhance digestion, stimulate hair growth, and promote longevity. Amla is an adaptogen which has historically been used to help the body better regulate stress and is high in Vitamin C, both of which have been shown to support increased collagen production.*





Grape Seed Extract

Grapeseed extract powder has been shown to help boost antioxidants in the and is often used to treat gut candida. It's also been shown to help boost collagen production in the body and support bone health.*


Looking for more easy dessert recipes? Try these.
No-Bake Turmeric Tahini Cookies
Prep time:
Cook time:
Total time:
Ingredients:
- 15 dates
- 1/4 cup Copina Co. Original Beauty plant-based collagen boost blend
- 1/4 cup almond flour
- 1/4 cup your favorite protein powder
- 1/4 cup tahini
- 1 tsp turmeric powder
- 1/2 tsp cinnamon
- a dash of cardamom
- a dash of nutmeg
- 1/2 tsp vanilla extract
- sesame seeds to coat
Instructions:
BLEND for about 1 minute or until mixed, then roll and press into ball shapes and roll into the sesame seeds as desired. Store in a sealed container the the refrigerator.