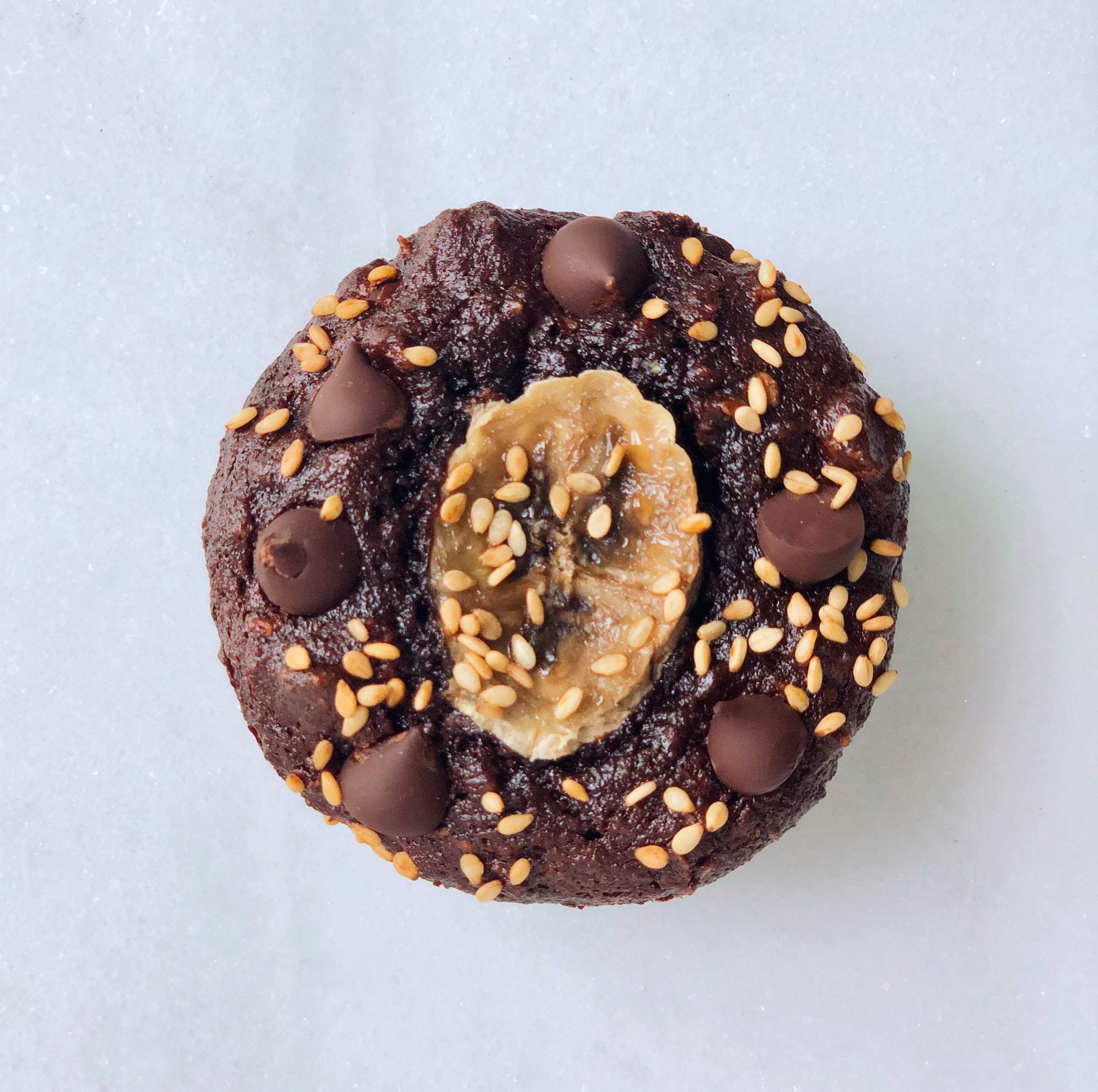 Vegan and Gluten-Free Tahini Banana Bread Beauty Muffins are giving us LIFE today🌸 We made these without refined sugar and with some Copina Co. Cacao Calm plant-based collagen blend for a vegan collagen boost for hair, skin, and nails. These are insanely gooey and gorgeous but still fluffy and sweet. They're a fantastic snack, breakfast, or dessert for a healthy, delicious chocolate boost anytime.
Why is cacao different than cocoa?
While cacao and cocoa may start in the same place (cacao pods), their difference lies how they're processed, resulting in two different products.

Cacao and cocoa begin their lives as the same plant, Theobroma cacao. All chocolate, in all its forms, comes from Theobroma cacao, which is native to South America (where Copina Co's Cacao comes from) Harvesters gather the seed pods and remove the beans, which are then fermented and dried... and this is where the similarities end. The short answer about what distinguishes them is that cacao is processed with low heat and cocoa is processed with high heat.
What is cocoa?
Cocoa is cacao that has been processed with high heat. This heating process typically destroys most nutritional value that the raw cacao had, including the antioxidant properties, but gives cocoa it's slightly sweeter flavor. Further refining of cocoa is common. Things like the addition of stabilizers and preservatives, milk fat, and added sugar to give cocoa its "cocoa-ness", but result is a product that is pretty different from its original form.
If you're looking for something cozy and sweet and don't necessarily care about the nutritional value (hey, we've all been there), cocoa (or a product made with it) might be something that works for you and your routines/ recipes. If you are, however, looking to benefit from chocolate's nutritional properties and and enjoy a less refined, slightly bitter tastes, cacao is for you.
What is cacao?
Cacao is created when the cacao beans are heated at a much lower temperature during the process of separating them from the rest of the bean. The result is cacao butter and cacao nibs. The cacao nibs are then ground into a fine, super nutritious powder. We use cacao powder in our products.

Cacao is also great for recipes like this one for an added nutrition boost and a rich, slightly bitter, more natural chocolate flavor.
These chocolate tahini banana muffins are made using no refined sugar and with bananas and maple syrup to sweeten. The tahini adds a wonderful flavor and bit of fat to the mixture and goes wonderfully with the decadence of the cacao. We used our Copina Co. Cacao Calm plant-based collagen booster as a replacement for cacao powder in this recipe because of its beauty-boosting properties and the presence of ashwagandha in it to promote calm.
Looking for more delicious dessert recipes? Try these.
No Bake Turmeric Tahini Cookies
Chocolate Superfood Beauty Energy Balls
Matcha Beauty Lemon Energy Balls
Chocolate Tahini Banana Muffins
Prep time:
Cook time:
Total time:
Ingredients:
- 1/2 cup Copina Co. Cacao Calm Beauty plant-Based Collagen Booster
- 2 medium-size ripe bananas
- 1 ½ tsp baking soda
- 1/2 cup coconut sugar
- 3 Tbsp maple syrup
- 1/4 cup tahini
- 1/4 tsp sea salt
- 1/2 tsp pure vanilla extract
- 2 Tbsp melted coconut oil
- 3/4 cup gluten-free rolled oats
- 1 1/4 cup almond flour
- 1/2 cup dark chocolate chips (or chopped dark chocolate)
Instructions:
Preheat oven to 350*F. Add all ingredients except chocolate chips to a mixer and food processor and blend/ mix to combine. Add in the chocolate chips and stir.
Take a non-stick muffin tin and add the mixture evenly for abut 12 muffins. top the mix with some banana slices, extra chocolate chips, and sesame to decorate.
Bake for 25-30 minutes, or until fully risen. Remove from the oven, cool, and enjoy.