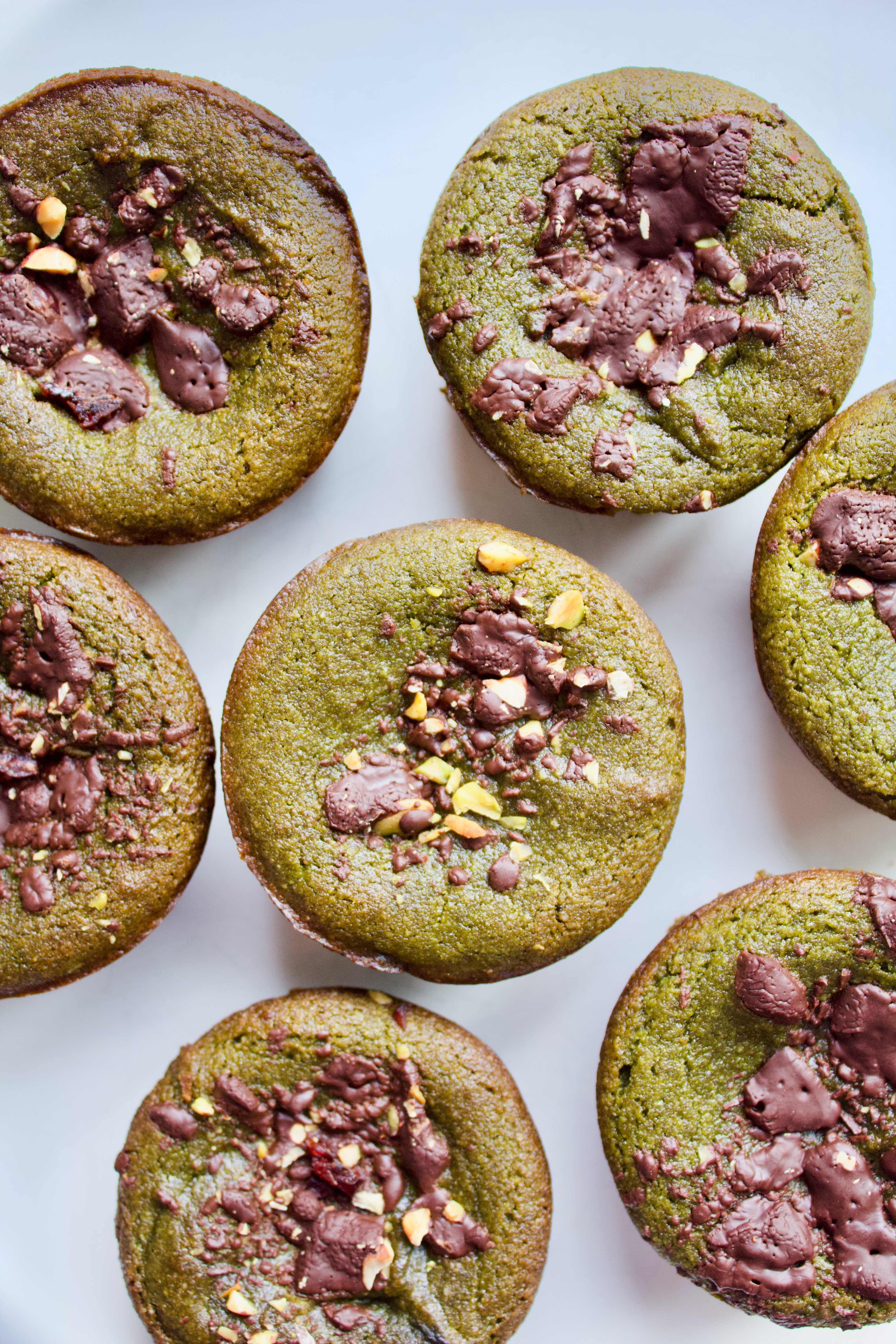 We saw your delicious quarantine banana bread recipes and raise you these beauty-boosting gluten-free and vegan Matcha Banana Chocolate Chip Muffins. They are just as delicious, more convenient, and easily portable. These muffins are perfectly moist, tender, and most importantly simple to prepare. They come together in less than 30 minutes and are as easy as 1-2-3 in this 1-bowl method. Not only are they healthy and delicious, but they also help boost your body's natural collagen production thanks to our Matcha Beauty Collagen Powder.

We love these for breakfast with coconut oil or vegan button slathered on or also as an on-the-go snack. Try them served alongside an Easy Cold Brew Matcha, Beauty Beet Latte, or with a Chocolate Mocha Beauty Smoothie for a satisfying collagen-boosting meal.

TIPS FOR MAKING THE BEST MUFFINS:

- When measuring the almond and rice flour, don't just scoop it out of the container. Instead, spoon the flour into a measuring cup and level it off with the back of a knife.

- To risk overmixing the batter, mix just until all the ingredients are evenly combined. Overmixing the batter won't make the muffins rise as well so mix just until there are no streaks of flour.

- For an oil-free recipe swap out the coconut oil for applesauce.

- Test the baked muffins by inserting a toothpick into the center of one of the muffins. If it comes out clean, that means they're done.

The key ingredient that makes these muffins perfectly moist and tasty is ripe bananas. The bananas are also a great vegan alternative to butter and eggs since they act as a binding agent in the batter. Another added benefit of ripened bananas is the amount of sweetness they bring, which lessens the amount of added sugar needed.

A trick to getting your unripe bananas ready for use in baking is to put them on a parchment paper-lined baking sheet and in the oven, at a low temperature for about 25 minutes. You'll notice the skins will turn black, but the inside will be super sweet and exactly the same result as if they were ripened beforehand. Another method that works if you have some time to spare is to place your unripe bananas in a brown paper bag and put them in sunlight for about 24 hours. We recommend checking on them every few hours.




A sweet treat that's delicious and promotes healthy skin? Count us in! What gives these muffins and so many other recipes from our site their skin-boosting properties is our Plant-Based Collagen Drink Powders. Our blends are a perfect and nourishing mixture of research-baked botanicals, hyaluronic acid, and coconut. They're slightly sweetened and offer a boost of good fats and antioxidants to help promote healthy hair, skin, nails, and joints.*


HOW TO MAKE MATCHA BANANA CHOCOLATE CHIP MUFFINS

- Preheat the oven to 400* F
- Gather your wet and dry ingredients. In a food processor or large bowl mix together the flour, sugar, salt, and baking powder. Add in the milk of choice, banana, melted coconut oil, and fold or mix until combined.


Step One: Combine dry ingredients
- Flour – This recipe is perfect for anyone who is intolerant to gluten. We swapped out traditional white and wheat flours for an almond and rice flour mixture. Perfectly sweet, nutty, and packed with protein, vitamin E, and fiber.
- Copina Co. Matcha Beauty Collagen Drink Powder – For an added beauty-boosting kick packed with skin-healthy benefits to promote skin hydration and collagen synthesis.
- Coconut sugar – A tasty alternative to white refined sugar.
- Baking Powder – A leavener that helps the muffins rise.
- Sea Salt – A sprinkle of salt brings out and enhances the flavor of the other ingredients.


Step Two: Add in the wet ingredients

Add your plant-based milk of choice to the bowl. We choose to use almond milk, it's nutty and slightly sweet flavor makes it perfect for this recipe. Next, mix in the mashed banana and melted coconut oil until combined and the batter begins to slightly thicken. If using a food processor, we recommend to gently fold in the chocolate chips with a spatula to prevent overmixing the batter. Next, fill up your greased muffin pan or muffin liners ¾ of the way. Top with extra chocolate chips for a decadent dessert!

HOW LONG TO BAKE IN THE OVEN?

These vegan and collagen-boosting muffins bake for 20-25 minutes. You'll know when they are done when the tops are lightly toasted and when after inserting a toothpick in the center of a muffin and it comes out clean.

We recommend letting the muffins rest for 5-10 minutes for them to cool down and ensure they won't stick to the pan if you didn't use liners. At this point, your kitchen will smell like your favorite local bakery so if you can't wait 10 minutes, we totally understand.



HOW TO STORE MATCHA BANANA MUFFINS:

On the counter, in an airtight container lined with a paper towel, muffins will last 3- 4 days. The paper towel will prevent excess moisture from getting inside the muffins.

In the refrigerator in an airtight container, muffins will keep for up to a week (if you can let them last this long).

Freeze your muffins for later, they will stay fresh for up to 2 months if kept in a freezer-safe bag or airtight container.

Let us know what you think of these beauty-boosting muffins by tagging us on Instagram @copinaco – we love seeing your recipe creations and encourage you to make them your own if you don't have some of the ingredients we use or prefer to use others.


Check out some of our other sweet treats like our Peanut Butter Beauty Cookies, Salted Tahini Pecan Chocolate Chip Cookies or Chocolate Tahini Banana Muffins.

Sign up for our newsletter and follow us over on Instagram to be the first to see when new recipes are posted.




Matcha Banana Chocolate Chip Muffin
Prep time: 10 M
Cook time: 25 M
Total time: 35 M
Ingredients:
1 cup almond flour
1/2 cup brown rice flour
2 tbsp Copina Co. Matcha Beauty
1/2 cup coconut sugar
1/2 teaspoon sea salt
2 teaspoons baking powder
1/3 cup melted coconut oil
1 large banana
1/3 cup almond milk
1/2 cup dark chocolate chips or chopped dark chocolate
Instructions:
Preheat oven to 400°F. Grease muffin baking pan or line with muffin liners.
In a food processor or mixer, combine flour, sugar, salt, and baking powder. Add in milk of choice, banana, and melted coconut oil and blend or stir until combined. Fold in chocolate chips. Fill muffin cups 3/4 full, bake for 20-25 minutes, and enjoy!