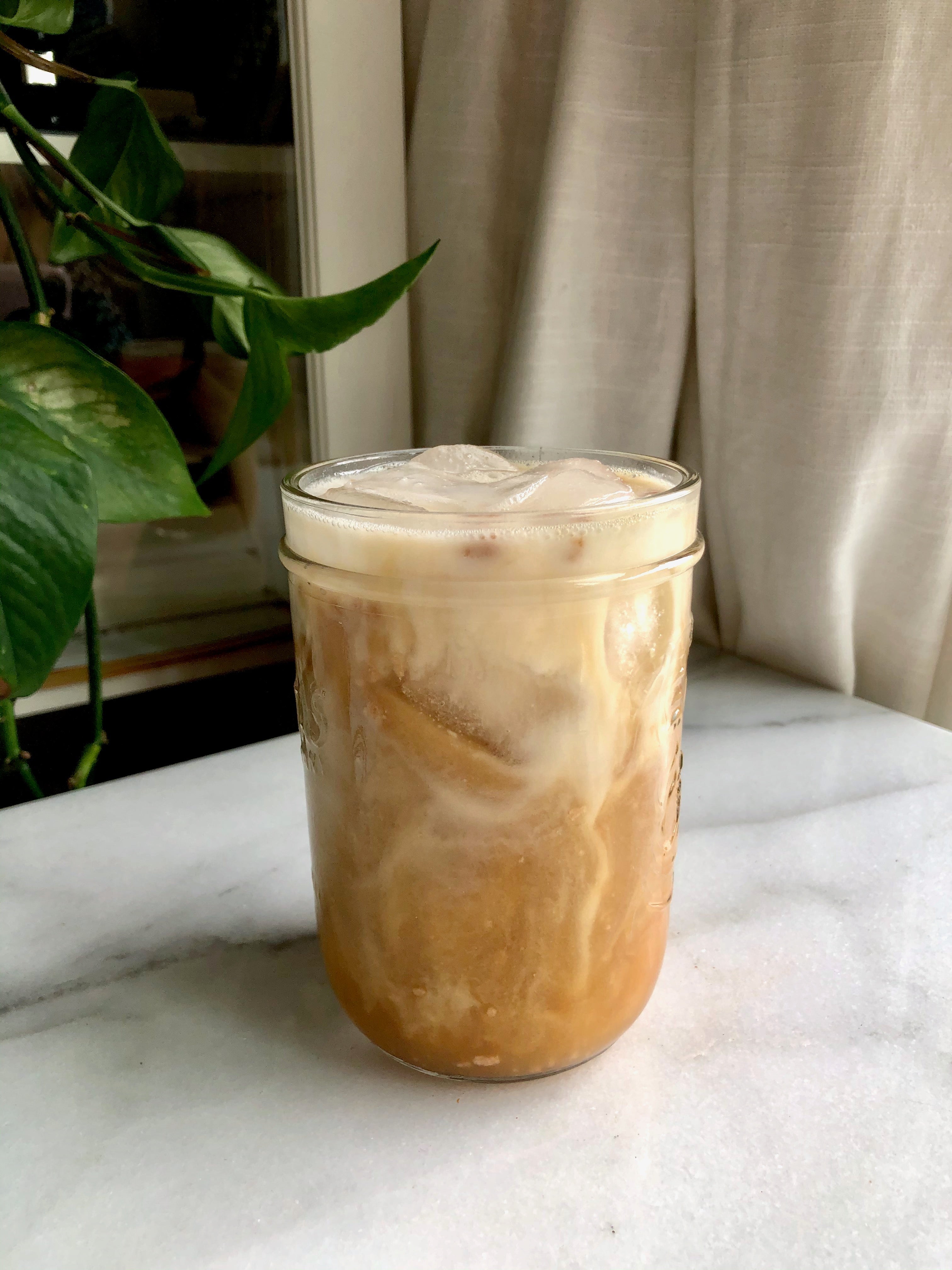 How to make a vegan collagen coffee over ice. You hear us rant a lot about matcha but don't think we've forgotten about the classic iced coffee. On a hot summer mid-afternoon sometimes an iced coffee is just calling our name. When paired with a collagen-boosting creamer substitute like Original Beauty we really can't say no.

This is the recipe for you if you're an avid coffee drinker and are looking to add beauty benefits to your favorite beverage. It doesn't require you to change anything about your current routine. Add just 2 tsp of Original Beauty Plant-Based Collagen Boost Blend and your everyday coffee routine and you have a skin-boosting upgrade to that morning or afternoon caffeinated pick-me-up.

Original Beauty is a delicate blend of coconut milk and plant-based collagen-boosting botanicals.* It's light, creamy, and adds the perfect flavor to slightly sweeten your coffee without any added sugar. We're matcha lovers most days but this vegan collagen coffee over ice is our go-to when we're looking to switch up our routine.


What Exactly is Collagen

Collagen is a structural protein of different connective tissues that are made with amino acids, glycine, proline, hydroxyproline, and arginine.* Collagen is an abundant protein in our body and is found in our connective tissues, under our skin, and more.

Increased collagen levels have been linked to:
- Supple skin*
- Reduced wrinkles*
- Strong hair and nails*
- Joint health*
- Tendon and bone health*

Our bodies naturally produce collagen on their own. Collagen is abundant in our bodies as children but when we pass the age of 25 we lose the ability to synthesize enough collagen on our own. The intake of collagen through our food sources in our modern diets is also often lacking in collagen.*

Typical collagen products on the market today are collagen peptides. These are not vegan as they most often are made with animal byproducts like cow hides, fish skins, or eggshells.

That's where Copina Co. comes in. We believe you don't need to consume animal products to increase collagen production.* In fact, all the benefits of typical collagen consumption can be found right in plants. Our plant-based collagen-boosting drink powders contain plant botanicals that help your body naturally produce more collagen on its own.* That means stronger hair, skin, and nails, all without the use of animals.*

In this recipe we use Original Beauty, our plant-based and herbalist approved neutral blend that works deliciously with all baked goods and liquids like coffee.

Original Beauty's skin-boosting properties come from botanicals like tremella mushroom extract, bamboo extract, and hyaluronic acid. We're here to remind you your skincare shouldn't stop in the mirror! By supplementing your normal diet with plant-based collagen powders you continue to boost your body's natural collagen production.

You can use Original Beauty as a substitute for your favorite coffee creamer or as a substitute for collagen in your baked goods. For preparation in drinks, we recommend combining it with a hot liquid, then vigorously stirring it to combine, or using a hand frother or blender. Original Beauty adds the perfect creaminess to your favorite cup of coffee and helps you make the perfect vegan collagen coffee.



Vegan Collagen Iced Coffee Preparation's
- Pour Over/Drip: This is the cheapest and fastest way to get your coffee fix. Simply pour hot water evenly over coffee grounds in a paper filter.
- Fresh Press: Considered to be the best method for brewing strong delicious coffee. In a press pot, the coffee is soaked, steeped, and then strained in hot water. This method diffuses all off the coffee ground's essential oils, antioxidants, and caffeine.
- Aeropress: A newer method that involves a filter filled with coffee that sits at the bottom of the brew chamber. Hot water is then added to steep the coffee. The Aeropress is then pressed down to extract the coffee to create air pressure to force the brewed coffee through the filter and into the cup.
- Cold Brew: A crisp and refreshing method of iced coffee. Immerse ground coffee in room temperature water overnight and then pour through a filter. This is a café method staple and has more recently begun to make its way into people's homes.
- Stovetop: A method that uses steam pressure from boiled water to pass the coffee grounds through the chambers of the Moka Pot.
- Instant Coffee: The method made for busy people. Simply follow the directions on the back on the instant coffee and mix with hot water.

Whichever coffee method is your go-to by mixing in just 2 tsp of Copina Co. Original Beauty you'll have an instant vegan collagen iced coffee upgrade packed with creamy beauty-boosting properties to help encourage healthy hair, skin, and nails.


Vegan Collagen Iced Coffee Ingredients
- 1 cup of your favorite coffee: Your go-to coffee of choice whatever that may be!
- 2 tsp Original Beauty Plant-Based Collagen boost blend: A formulation of plant-based botanicals to help boost your body's natural collagen production.
- Ice: Unless you're totally a hot coffee person. But an iced coffee is just what the hot August sun ordered so pile on that ice.
- ¼ cup almond milk: We love the almond milk from Malk Organics. Their plant-based milks are made with straightforward and clean ingredients but feel free to use any kind of milk.



How to Make a Vegan Collagen Iced Coffee

In a tall glass, prepare your coffee as usual.

Using a hand frother or by stirring vigorously with a spoon combine the Original Beauty Vegan Collagen and the coffee.

Fill your glass to the rim with ice, top with almond milk, and then take a second to appreciate the swirly combination of the coffee and almond milk.

The Original Beauty is unsweetened, but the botanicals are slightly sweet on their own. If you're looking for more of a sweeter iced coffee add in some coconut sugar or agave or even use a sweetened almond milk, it all depends on how you like your coffee.

Stir with your straw or a spoon and enjoy!

Watch the full video on our Founder's Instagram here.


Other Pick-Me-Ups to Enjoy

Iced Mango Matcha Latte: A boba alternative, creamy, and slightly sweet.
Caffeine-Free Blue Spirulina Latte: Vegan, refined sugar-free, and antioxidant-boosting.
Iced Strawberry Matcha Latte: Refreshing, crisp, and super fruity.
Easy Cold Brew Matcha: Coffee not your thing? A cold brew matcha is the way to go. Easy, healthy, and totally nutritious.
Prep time:
Cook time:
Total time:
Ingredients:
1 cup of your favorite coffee
2 tsp Copina Co. Original Beauty Collagen Blend
ice
1/4 cup almond milk
Instructions:
In a tall glass, prepare your coffee as usual.
Using a hand frother or by stirring vigorously with a spoon combine the Original Beauty Vegan Collagen and the coffee.
Fill your glass to the rim with ice, and top with almond milk
Stir with your straw or a spoon and enjoy!
Love these recipes and want to see more?
Sign up for our newsletter
and follow us over on Instagram
@copinaco
being to be the first to know of new recipes, sales, and everything else going on here at Copina Co.