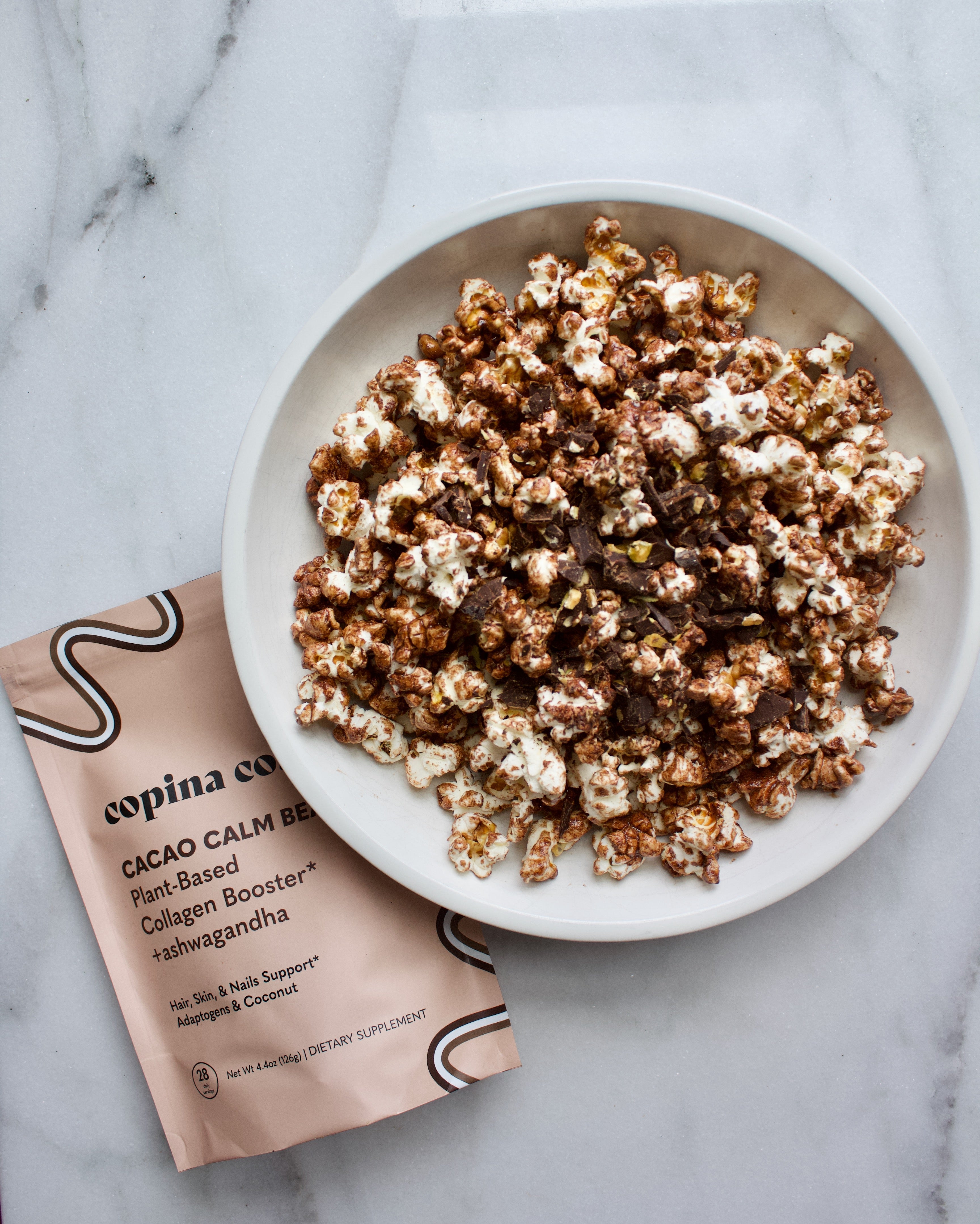 Craving a chocolate fix? Us too! We believe in treating your body and your taste buds well. That's why we rounded up some of our favorite cacao powder recipes just for you. We'll also explain what cacao powder is and why you should incorporate it into your snacks and desserts as a functional superfood.*

Cacao powder is packed with over 300 different compounds that are essential to our overall health and well-being.* By using Copina Co.'s Cacao Calm not only are you getting all the amazing benefits of cacao powder, but also extra added benefits for hair, skin, and nails from our collagen-boosting plant botanicals. It's like skincare you can eat plus all the delicious goodness of chocolate. That's what makes these cacao powder recipes true no-brainers.



What is the Difference Between Cacao and Cocoa?

Cacao? Cocoa? What's the difference?

Both cacao and cocoa come from the cacao plant Theobroma Cacao (aka the mother of all chocolate) but it's the way in which they are produced and processed that drastically changes their taste and nutritional value.

Cacao is the purest and most nutrient-dense form of chocolate that exists. By heating the cacao beans at a very low temperature the amazing nutrients and antioxidants are preserved and available for eating. Cacao powder has a strong, slightly bitter taste that distinguishes it from cocoa. These are the things that make cacao powder recipes so special.

During the process of making cocoa, on the other hand, the cacao beans are heated at such a high temperature the nutritional value the cacao started out with gets depleted.* It's during this stage that refined sugars, milks, and oils are often added. These give the cocoa it's sweet flavor, but don't add much to its nutrient density.

Cocoa powder can be found in almost every store-bought ice cream, candy bar, and baking chocolate chip bag. Lucky for you, cacao powder is becoming more mainstream and easy to use, like in the cacao powder recipes using our Cacao Calm Beauty.



Vegan Chocolate Mug Cake

Calling all chocolate lovers, this one's for you! This is the perfect solution for when you're in need of a decadent and nourishing late-night treat ready to be eaten in less than 5 minutes. This Vegan Chocolate Cake is made with simple pantry staple ingredients. No fancy kitchen tools or the need to turn on a hot oven in the middle of summer. Keep this recipe in the back of your mind when you're in a pinch to eat something that really makes you feel good.

Vegan Chocolate Cake Ingredients

- 2 tbsp blanched almond flour
- 1 tbsp coconut sugar
- 1 tbsp Copina Co. Cacao Calm powder
- 1/8 tsp baking powder
- 1 tbsp almond butter
- 1 tsp melted coconut oil
- 2 tbsp almond milk
- 1 tbsp dark chocolate chips

How to Make a Vegan Chocolate Mug Cake Using Cacao Powder

First, you should coat your mug with a non-stick spray or vegan butter just in case the batter sticks to the mug.

After, add in your wet ingredients and mix well.

Add in the almond butter and almond milk and mix until the clumps disappear and a smooth batter remains. You can add another splash of milk if the batter becomes overworked or too thick.

Fold in your dark chocolate chips and keep a few to top with, along with any other toppings you'd like.

Microwave for 1-2 minutes, or until it reaches your desired consistency.

Remove the cake from the microwave and allow it to sit at room temperature until cool to touch. Enjoy!



Chocolate Peanut Butter Sea Salt Beauty Bites

A match made in heaven: peanut butter, chocolate, and sea salt. These Chocolate Peanut Butter Sea Salt Beauty Bites are the perfect combination of salty and sweet. They're a vegan, gluten-free, and no-bake treat that comes together so quickly using just 5 ingredients. Another go-to recipe when you're just not in the mood to do any real baking. These beauty balls are the ultimate snacking solution for when you're on-the-go or just need a quick treat to satisfy that sweet tooth.

Chocolate Peanut Butter Sea Salt Beauty Bite Ingredients


- 15 Medjool dates
- ¼ cup of Copina Co. Cacao Calm Beauty
- ¼ cup peanut butter
- ¼ cup almond flour
- A large spoonful of your favorite protein powder: Optional, but we love Cacao Magic from Philosophie by @sophie.jaffe
- Flaky sea salt: We love Maldon Sea Salt

How to Make Chocolate Peanut Butter Sea Salt Beauty Bites Using Cacao Powder

First, put all the ingredients into a food processor and blend until the dates are completely broken down. Blend on high for about 30-60 seconds.

Be sure to unplug the food processor before reaching in. Using an ice cream scoop or spoon, take about 1-2 tablespoons of the mixture into the palm of your hand and roll each serving into a ball.

Press some flaky sea salt into the tops of each ball and enjoy!

Store in an airtight container in your fridge for up to a week.



Chocolate Beauty Popcorn

A classic movie-time favorite with a sweet and salty upgrade, meet our adaptogenic Chocolate Beauty Popcorn. We have a thing for snacks that come together without the hassle. I mean, what's better than that? This recipe is so simple, beauty-boosting, and not to mention totally delicious. Popcorn is usually served the classic way, savory pumped with tons of butter. But this indulgent, crunchy, and chocolate remake is so addictive your movie nights will never be the same.

Chocolate Beauty Popcorn Ingredients

- 2 tbsp coconut oil
- ¼ cup unpopped popcorn
- 2 tbsp Copina Co. Cacao Calm
- ½ tsp ground cinnamon
- 1 pinch of sea salt to taste
- 4 tbsp chopped dark chocolate

How to Make Chocolate Beauty Popcorn Using Cacao Powder

Place the popcorn and melted coconut oil in a 3-quart pot over medium heat and cover the pot with a lid.

Shake the pot as popcorn starts to pop. When popping slows to a few seconds in-between pops, which is after about 3-5 minutes, remove the pot from heat.

Pour cooked popcorn into a large bowl. Add in Cacao Calm, cinnamon, sea salt, and chopped chocolate. Adding the toppings to the hot popcorn will help the ingredients to coat making it so luscious and delicious.

Gently mix together to combine and enjoy!



Chocolate Tahini Banana Muffins

A vegan and gluten-free snack, breakfast, or dessert perfect for on-the-go. They're insanely gooey and gorgeous but still perfectly fluffy and not too sweet. We love having these for breakfast, gently warmed and slathered in vegan butter. The tahini's nuttiness plays perfectly with the natural sweetness of the ripened bananas; it's truly so delicious.

Chocolate Tahini Banana Muffins Ingredients


- ½ cup Copina Co. Cacao Calm Beauty Plant-Based Collagen Booster:
- 2 medium ripe bananas
- 1 ½ tsp baking soda
- ½ cup coconut sugar
- 2 tbsp maple syrup
- ¼ cup tahini
- ¼ tsp sea salt
- ½ tsp pure vanilla extract
- 2 tbsp melted coconut oil
- ¾ cup gluten-free rolled oats
- 1 ¼ cup almond flour
- ½ cup dark chocolate chips (or chopped dark chocolate)

How to Make Chocolate Tahini Banana Muffins Using Cacao Powder

First, preheat the oven to 350ºF. While the oven is preheating add all the ingredients, except the chocolate chips to a bowl or food processor and blend to combine. Be careful not to overwork the batter, just combine till the ingredients are thoroughly mixed through. Once combined fold in the dark chocolate chips with a spatula or spoon until just mixed through.

Take a non-stick muffin tin, or line with muffins liners. Add in the mixture evenly, about ¾ of the way full - it should make about 12 muffins.

Top muffin mixture with banana slices, extra chocolate chips, and sesame seeds to decorate.

Bake for 25-30 minutes, or until fully risen. Remove from the oven, cool for 5-10 minutes, and enjoy!



Chocolate Baked Pear Oats

This insanely delicious vegan and gluten-free oat bowl is exactly what your morning routine was in need of. Perfect for cooler summer days these oats are so cozy, filling, and packed with beauty-boosting properties. Life after all is too short for boring breakfasts and these Chocolate Baked Pear oats truly will not disappoint.

Chocolate Baked Pear Oats Ingredients

- 2 tsp Copina Co. Cacao Calm Plant-Based Collagen Booster
- ½ cup oats
- 1 tsp chia seeds
- 1 cup almond milk

Toppings:
- 1 baked pear
- A drizzle of plant-based yogurt
- Sliced almonds
- Your favorite jam
- Bee pollen (optional)

How to Make Chocolate Baked Pear Oats using Cacao Powder

First to bake the pear, preheat the oven to 350ºF. Cut the pears in half and line on a baking sheet. Bake for 30 minutes, remove and let cool.

Meanwhile, while the pear is cooking add the Cacao Calm, oats, chia seeds, and almond milk to a pot over medium-high heat. Heat covered or uncovered until the oats soak up the almond milk and reach your desired consistency. The longer you cook them, the more liquid the oats will soak up. Cook longer if you like your oats to be more firm and less runny.

Top your oats with baked pear, and any other toppings you want. The ones listed above are optional. Enjoy!




How do you use your Cacao Calm powder? Tag us on Instagram or shoot us a note at hello@copinaco.com we love seeing all your collagen blend creations.