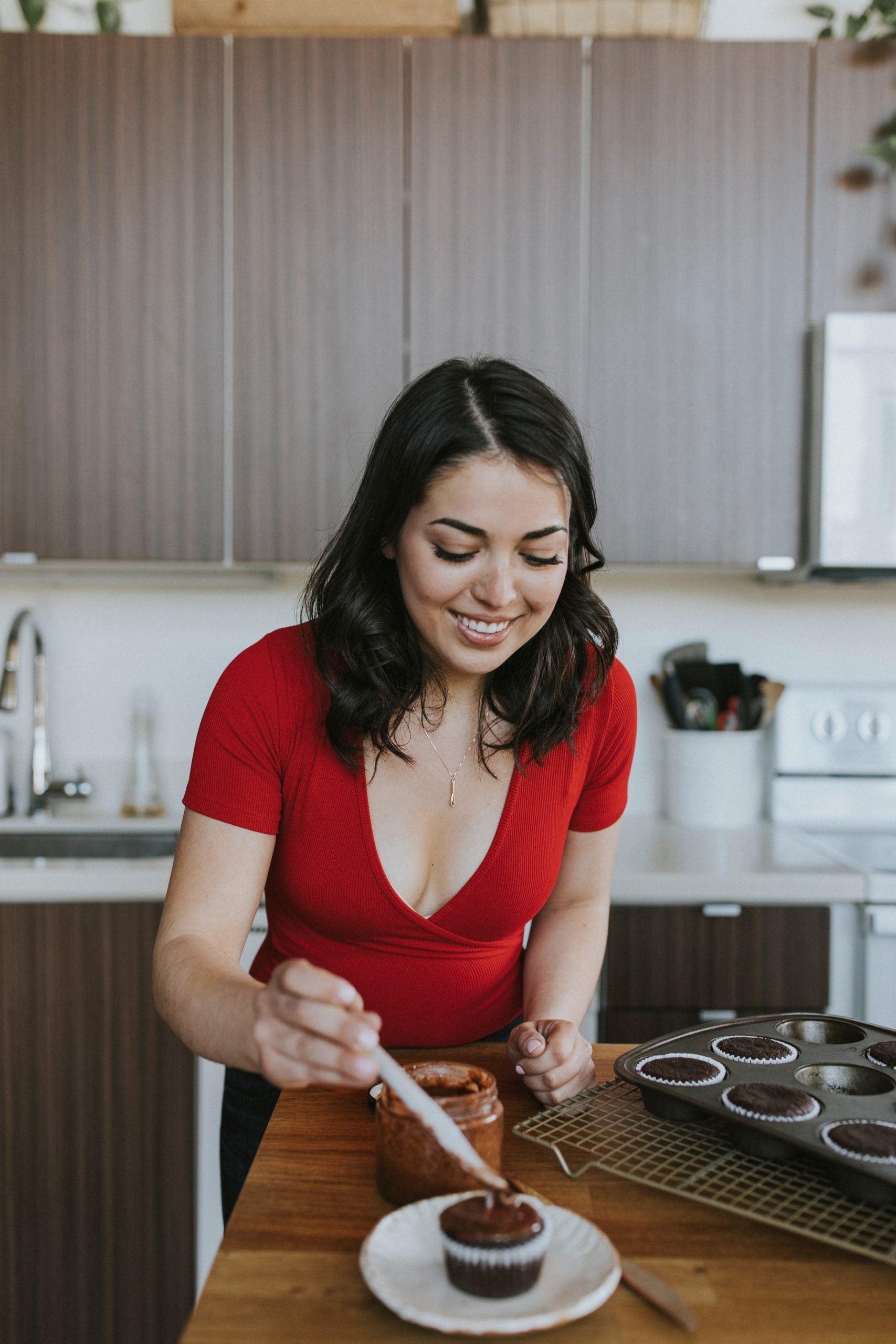 A healthy lifestyle is about compromise, not about sacrifice. Don't worry; you don't have to give up your favorite sweet treats or savory flavors. Rachel Connors also known as Bakerita (@bakeritablog), a health and wellness blogger "looks at balance as indulging in the things you're craving, but having the healthier 'version'." Rachel has been blogging since she was sixteen, and personally knows that health is a journey. One that begins by increasing your knowledge about nutrition and figuring out what works well for your own self, whether that be gluten-free, vegan, or just generally including more whole food options into your diet. By experimenting with foods, Rachel got to know her own body and what works well for her. Her journey began by going gluten-free after she saw her sister implement this change into her life. After experiencing positive results, she then decided to experiment further by going dairy free. Check out what inspires her and get insight on her wellness journey that you can only find HERE.

1.) What was your "aha" moment that inspired you to commit to a healthier lifestyle?
My journey to a healthier lifestyle took a while! My sister and dad were gluten-free a few years before I was, but I was toying around with being gluten-free, and never fully committing. I would say that the moment I started focusing more on my health journey was when I finally committed to being fully gluten-free and saw all the changes that happened when I did. I had more energy, less bloating, fewer headaches (which I had struggled with my entire life), and less anxiety. Seeing those changes led to me experimenting with being dairy-free as well (which helped fix a lot of my stomach issues) and led into the more healthful lifestyle I follow today.
2.) What does balance meant to you?
Not letting anything be "off-limits"! Instead, I look at balance as indulging in the things you're craving, but having the healthier "version" of that thing. That's so much about what my blog is about - showing that the gluten-free, vegan chocolate chip cookie CAN be as good as the traditional one and that you're not sacrificing by following the diet that your body feels best with. That being said, if your dietary restrictions are more by choice and not an allergy or medical reason, than have the gluten-filled chocolate chip cookie when you want it. Life is too short to limit the things that make you happy.
3.) What does your current skincare routine look like? (products/ lots of details are appreciated)
In the morning, I typically splash water on my face, use a toner (I love Cocokind Rose Water), and then slather on some facial oils. For facial oils, I like Cocokind Chia Face Oil, The Golden Elixir's Phytoactive Face Oil, and Acure Rosehip Oil - I switch off pretty regularly. I get my SPF in my tinted moisturizer - the one I've been using and loving for a while now is Suntegrity 5-in-1 Tinted Moisturizing Face Sunscreen. That's usually it for the morning.
At night, I take off my makeup with the Makeup Eraser washcloth (that thing is MAGIC) and then wipe down with a tea tree oil face pad from Desert Essence. I follow that up with a toner, one of the same ones mentioned for the morning. Then I use a serum - right now I'm using Jane Iredale BeautyPrep Hyaluronic Acid and sometimes a Vitamin C serum as well (I like Mad Hippie Vitamin C and MyChelle Perfect C Serum). I follow that up with a face oil (same as morning) and also do an eye cream. Right now I'm using Aavrani Eve Rejuvenating Elixir for my under-eyes - a tiny bit goes a long way and is SO hydrating. Cocokind Matcha Stick goes onto my lips, and that's all!
I always exfoliate my face in the shower using Acure's Brilliantly Brightening Facial Scrub. I'm not a big mask person, but I'll occasionally use one when I remember. Usually Cocokind Chlorophyll Mask or Aavrani's Glow Activating Exfoliator.
4.) What daily routines or rituals do you follow for your own wellbeing?
Morning walks are a MUST for me (and for my dog, Hank)! Being outside first thing in the morning helps to energize me for the day and allows me a space to reflect on my day and set intentions for what I want to get done. I try to meditate in the mornings too, but that doesn't always happen, so many days my walks turn into walking mediations. When I get home, I make myself a mushroom coffee, and that's about where my days rituals end, since pretty much every day is different for me. Starting the morning right helps set me up for a successful day!
5.) What do you love most about yourself?
My tenacity! Growing up, my parents always called me stubborn (which I am) but it's been a huge blessing in terms of building my business. It's kept me going when I wanted to give up, and allowed me to build a business out of a hobby. I started Bakerita when I was in high school out of a difficult time, and looking back, I'm impressed with myself at how I was able to hustle to keep Bakerita going even when I barely had the time to sleep. Remembering those days inspires me to push past any difficulties in my business - I know that I can get through them and come out stronger.
Looking for more interviews with our favorite ladies in wellness? Check out our chats with:
Copina Connect: Stephanie Park of Wylde One
Copina Connect: Melissa Coyle of Melissa's Healthy Kitchen