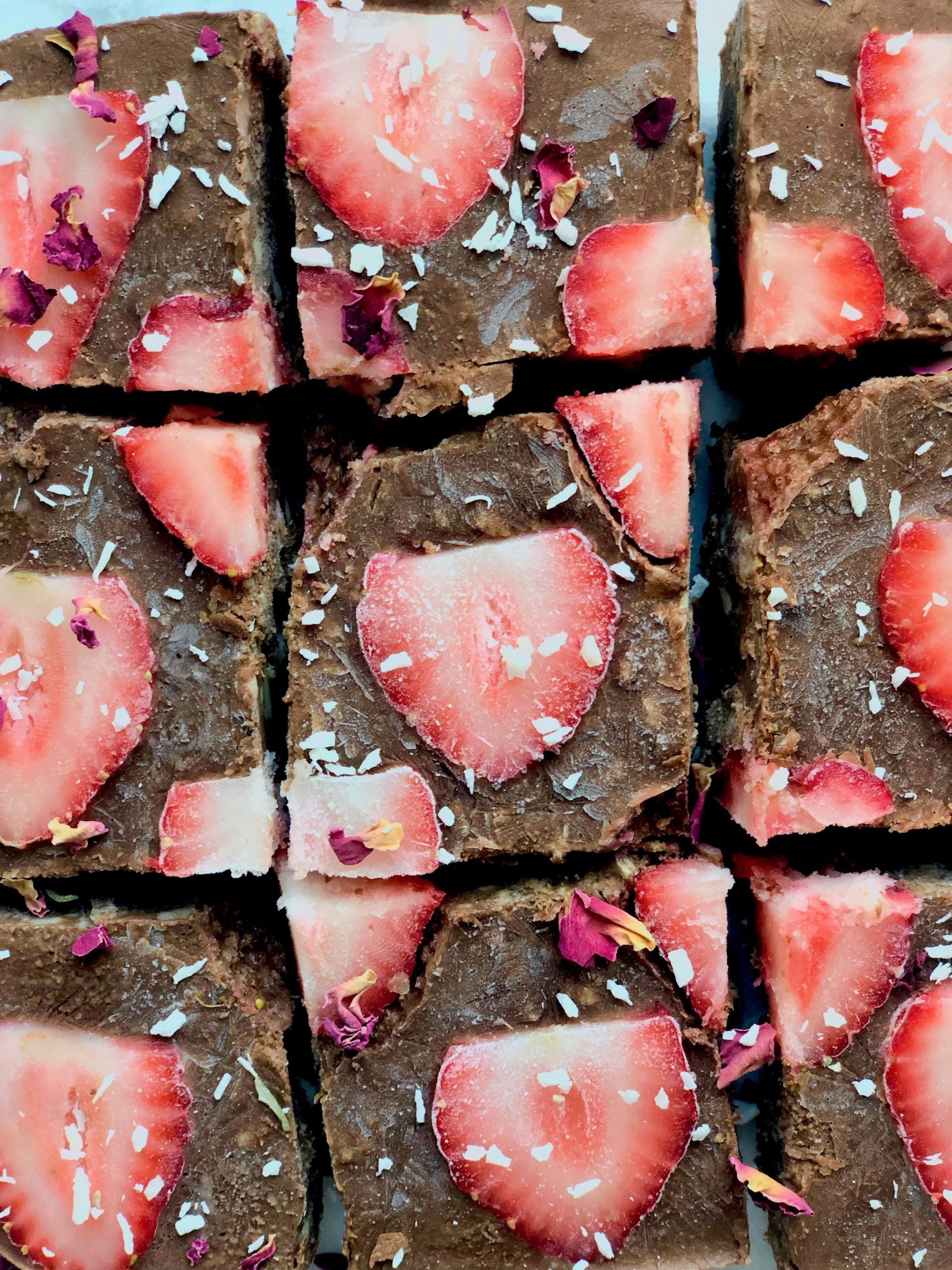 Calling all my chocolate lovers! These vegan- friendly and grain-free no-bake chocolate strawberry freezer bars are perfect for those with a sweet tooth. This simple treat is easy to make and only requires a few ingredients.These delicious bars will leave both you and your body smiling.
Eating a consistently "clean" food diet doesn't mean that you can't indulge in your favorite chocolate treats. These no bake chocolate strawberry freezer bars are the perfect combination of sweet and fresh, and even include protein. Protein is an essential macronutrient that helps build muscle, repair tissue, as well as producing enzymes and hormones. Having health benefits in your dessert? YES PLEASE.
This delicious sweet treat is perfect for those craving a sweet treat. I hope you love this as much as I do! Tag me when you make your own (@copinaco)!
No-Bake Chocolate Strawberry Freezer Bars
ingredients:
-- 2 scoops chocolate protein powder (I used some from the brand Aloha).
-1/3 cup almond butter
- 1 banana
- 1/4 cup cacao powder
- 1/2 cup almond milk .
- a handful of fresh strawberries
instructions:
How to cook No-Bake Chocolate Strawberry Freezer Bars
Blend all the ingredients together in a food processor. Spread in a square glass container and top with extra sliced strawberries. Freeze for at least 2 hours then enjoy!
Suggested Toppings:
I topped with coconut shreds and rose petals❤️
Craving another sweet treat? Check out these other healthy, yet delicious options:
https://www.copinaco.com/blog/almond-butter-stuffed-dates
https://www.copinaco.com/blog/vibrant-pitaya-ombre-cheesecake-bars
https://www.copinaco.com/blog/10-ingredient-sweet-potato-chocolate-cupcakes-with-avocado-frosting