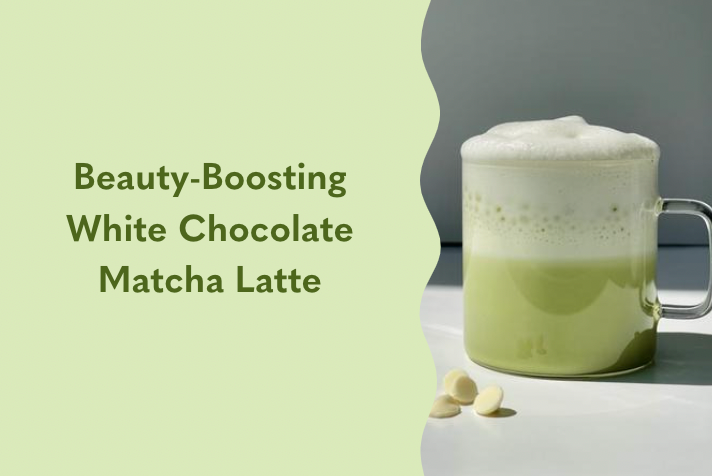 You know there's nothing we love more than a delicious and nourishing matcha latte! Matcha is such a great ingredient because it pairs so well with so many different flavors. From pumpkin, chai, and strawberry milk to lemonade and now white chocolate, the latte options are practically endless. This Beauty-Boosting White Chocolate Matcha Latte is the perfect way to step out of your comfort zone and enjoy a new, delicious spin on a matcha latte! The sweetness of white chocolate is the perfect partner to the earthiness of matcha. It's a pairing so perfect you'll wish you'd thought of it sooner!
Funnily enough, white chocolate doesn't actually contain chocolate at all. Instead, it's made from cocoa butter, sugar, milk solids and sometimes vanilla (not to worry, vegan-friendly white chocolate has a dairy milk alternative in place of the milk solids). White chocolate does not contain cocoa solids, which are found in other types of chocolate, such as milk chocolate and dark chocolate. White chocolate has a very sweet, buttery flavor that is very different from the taste of regular chocolate. The sweetness of white chocolate perfectly complements the slight bitterness and earthy flavor of matcha tea to create a latte with a perfect balance of sweetness.
To incorporate white chocolate into this drink, we melted down 1 tablespoon of dairy-free white chocolate chips and added that to the bottom of the mug before topping it with warm plant milk and our Matcha Collagen Boost mixture. This creates a silk-smooth texture and is super quick to whip up so there's less time you have to spend making this latte instead of sipping it!
If you aren't familiar with matcha, then you're in the right place! Matcha is a finely-ground powder made from green tea leaves that are typically grown in Japan. Matcha is especially high in vitamins and antioxidants because the whole tea leaf is consumed instead of steeped and discarded. If you haven't tasted matcha before, expect a vibrant green color and earthy, slightly floral flavor that might be a little grassy. Matcha does contain caffeine, but it also has the amino acid L-theanine, which helps to promote a sustained, crash-free energy boost.
Our Matcha Beauty Plant-Based Collagen Boost Blend delivers a boost of skin-loving plant botanicals like tremella mushroom, hyaluronic acid, bamboo extract, and amla berry to boost your skin health as well as your body's natural collagen production. It helps to hydrate, strengthen, and nourish your hair, skin and nails, without the use of any animal products.
This Beauty-Boosting White Chocolate Matcha Latte is definitely a treat and we can't wait for you to try it out.
If you want to see this recipe step-by-step make sure to
check out our TikTok!