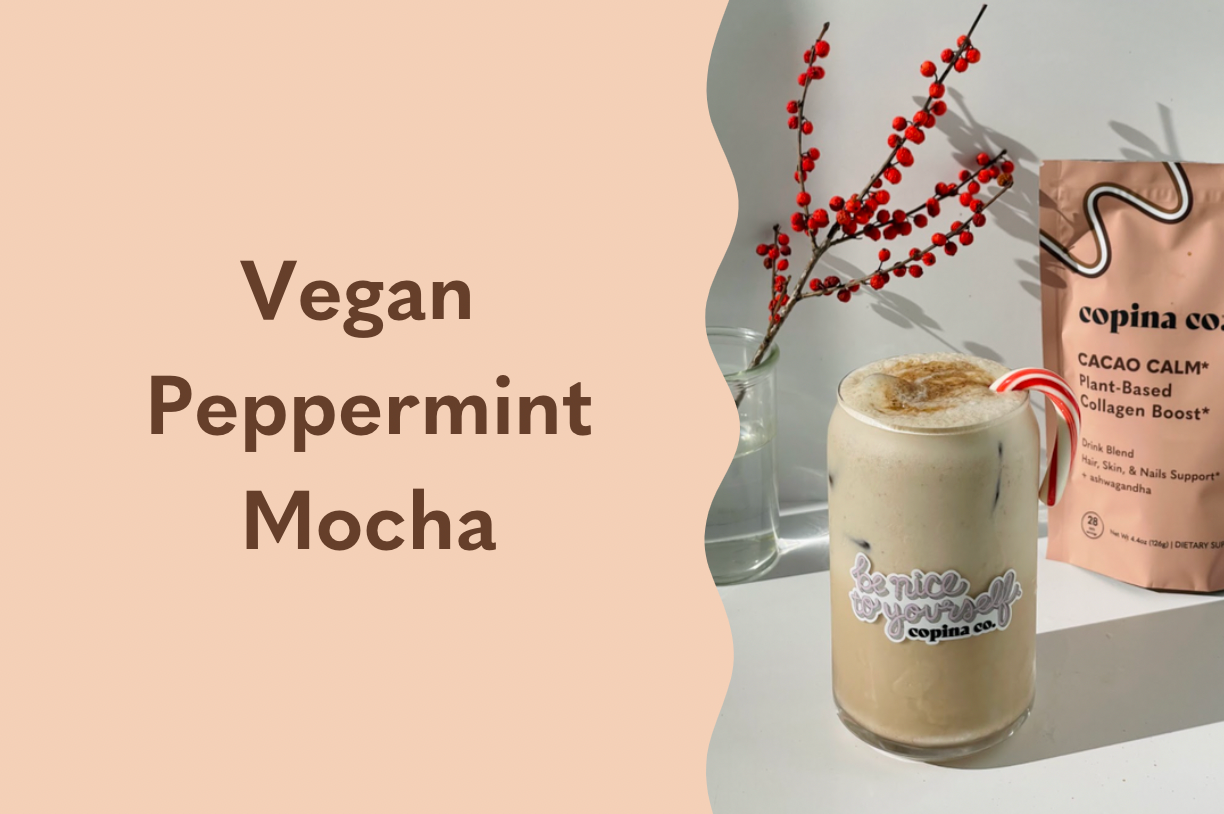 A Peppermint Mocha is a classic seasonal treat that we look forward to every year. The flavor of fresh, bright peppermint pairs so well with sweet, creamy chocolate and rich coffee and creates a delicious drink that's like a grown-up version of mint hot chocolate. We just can't get enough of this festive latte! We used our Cacao Calm Plant-Based Collagen Boost Blend as the "mocha" in this Vegan Peppermint Mocha to give it a rich, chocolatey flavor and a boost of nourishing plant botanicals.
Our Cacao Calm blend is perfect to satisfy your chocolate cravings and help manage stress at the same time. It's formulated with organic KSM-66 Ashwagandha Root Extract, which is an adaptogen that helps our bodies manage and regulate stress, while cacao works to provide a natural mood boost. Plus, our vegan blends help support your body's natural collagen production process and promote healthier hair, skin, and nails using the power of plant botanicals.*
Making a Vegan Peppermint Mocha is super easy, so you'll be sipping this delightfully festive latte in no time! All you have to do is combine our Cacao Calm Plant-Based Collagen Boost Blend with hot water and mix well (we like to use an electric whisk), then combine with espresso, dairy-free milk, and a few drops of peppermint extract. If you're feeling extra festive, feel free to top with a bit of dairy-free whipped cream and crushed candy cane pieces or a sprinkle of cacao for extra holiday cheer!
If you want to see this recipe step-by-step make sure to check out our TikTok!
Looking for other delicious stress-fighting recipes? Check out these recipes made with our Cacao Calm Plant-Based Collagen Boost Blend.
1. Cold Brew & Cacao Beauty Smoothie
A delicious snack, post-workout refuel, or anytime treat made with nourishing ingredients and cold brew for an extra energy kick.
2. Mood Boosting Double Chocolate Banana Bread
This delicious loaf is made with good-for-you ingredients like oat flour, coconut sugar, and contains all the skin and mood boosting ingredients of our Cacao Calm Plant-Based Collagen Boost.*
With a perfect balance of sweetness from honey and cacao, this iced latte is a delicious way to de-stress and switch up your usual beverage routine. It's delicious warm, too!
4. Double Chocolate Raspberry Baked Oats
If you've never tried baked oats before, now's the time to do it! Who doesn't want a bowl of fluffy, cake-like oats loaded with chocolate chips and raspberries in the morning?