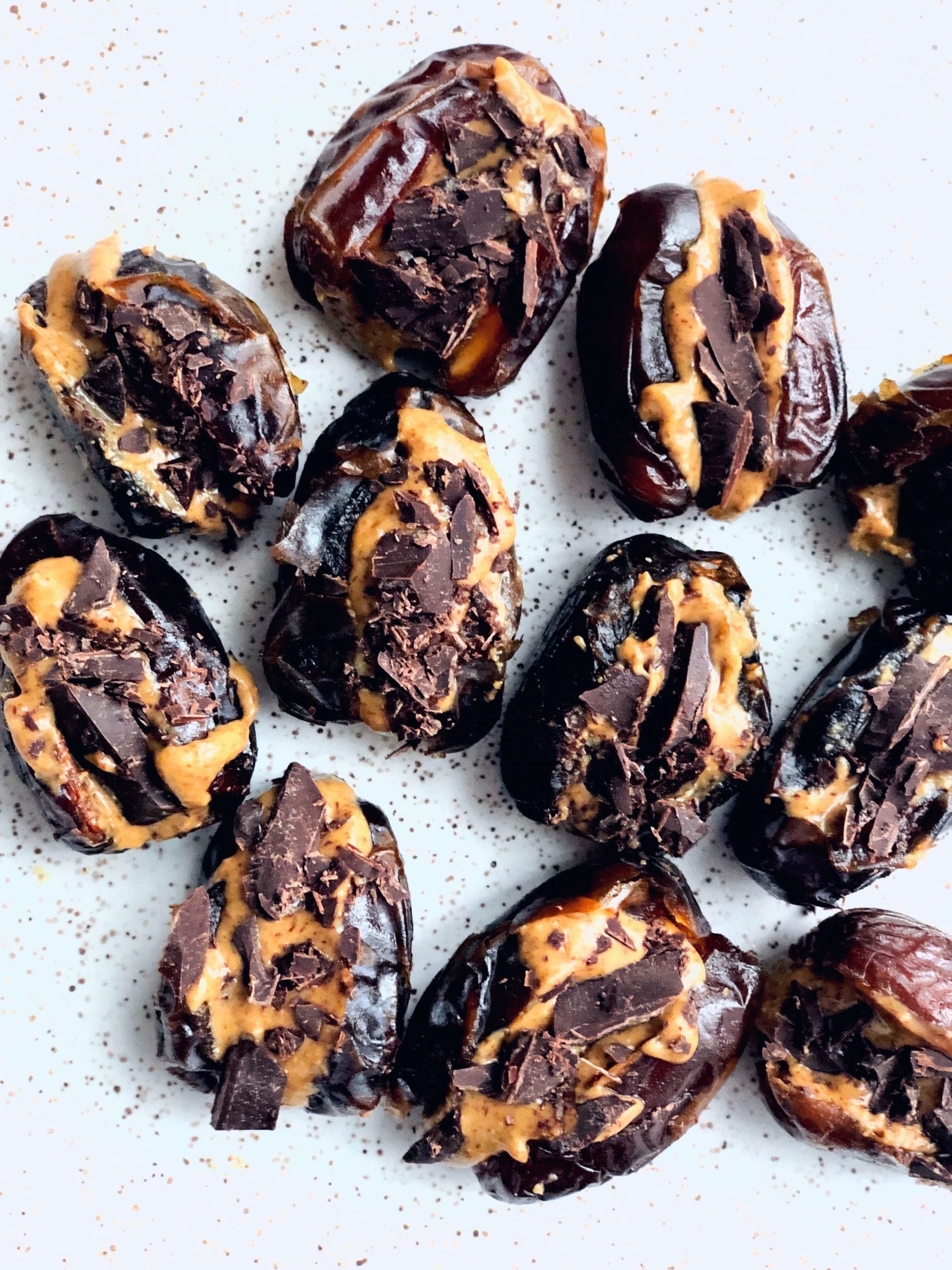 August is here and it brought its partner in crime - the intense summer sunshine. This time of year is thought by many to be the season of watermelon, fruit popsicles, ice cream, and other cool treats, but I love it for the abundance of medjool dates that have finally reached their peak ripeness.

Dates are a super underrated fruit, one that has so many exciting and delicious uses in the kitchen. Their flavor has a rich, syrupy quality that belies a relatively low sugar content, and they can be used as a sweetener, thickener, or just popped into the mouth one by one (sometimes by two, I'll admit). One of my all-time favorite ways to celebrate August date season is by stuffing them with complementary flavors, like chocolate and nut butter. I love almond butter for its sweet flavor and texture which pairs perfectly with the best medjool dates I can find, but cashew butter also works great. Topped with Evolved Chocolate's paleo/keto-friendly organic chocolate chips and just a dash of sea salt and cinnamon if you're feeling adventurous, these stuffed dates are an easy, healthy summer snack that will satisfy your sweet tooth. So excited for you to try them out!
Almond Butter Stuffed Dates
ingredients:
12 Medjool Dates
¼ cup almond butter
¼ cup chopped dark chocolate bar or chocolate chips
Sea salt
instructions:
How to cook Almond Butter Stuffed Dates
Using a sharp paring knife, cut one side of the dates lengthwise and use your thumbs to create a small cavity. Add about 1 tsp of almond butter and 1 tsp chocolate chips to each date. Sprinkle to taste with sea salt and enjoy!
Looking for more delicious desserts? Check these out:
Vegan and Paleo Tahini Sea Salt Chocolate Chip Cookies
Peanut Butter & Jelly Raw Chocolate Bonbons
Raw Marbled Pumpkin "Cheesecake"