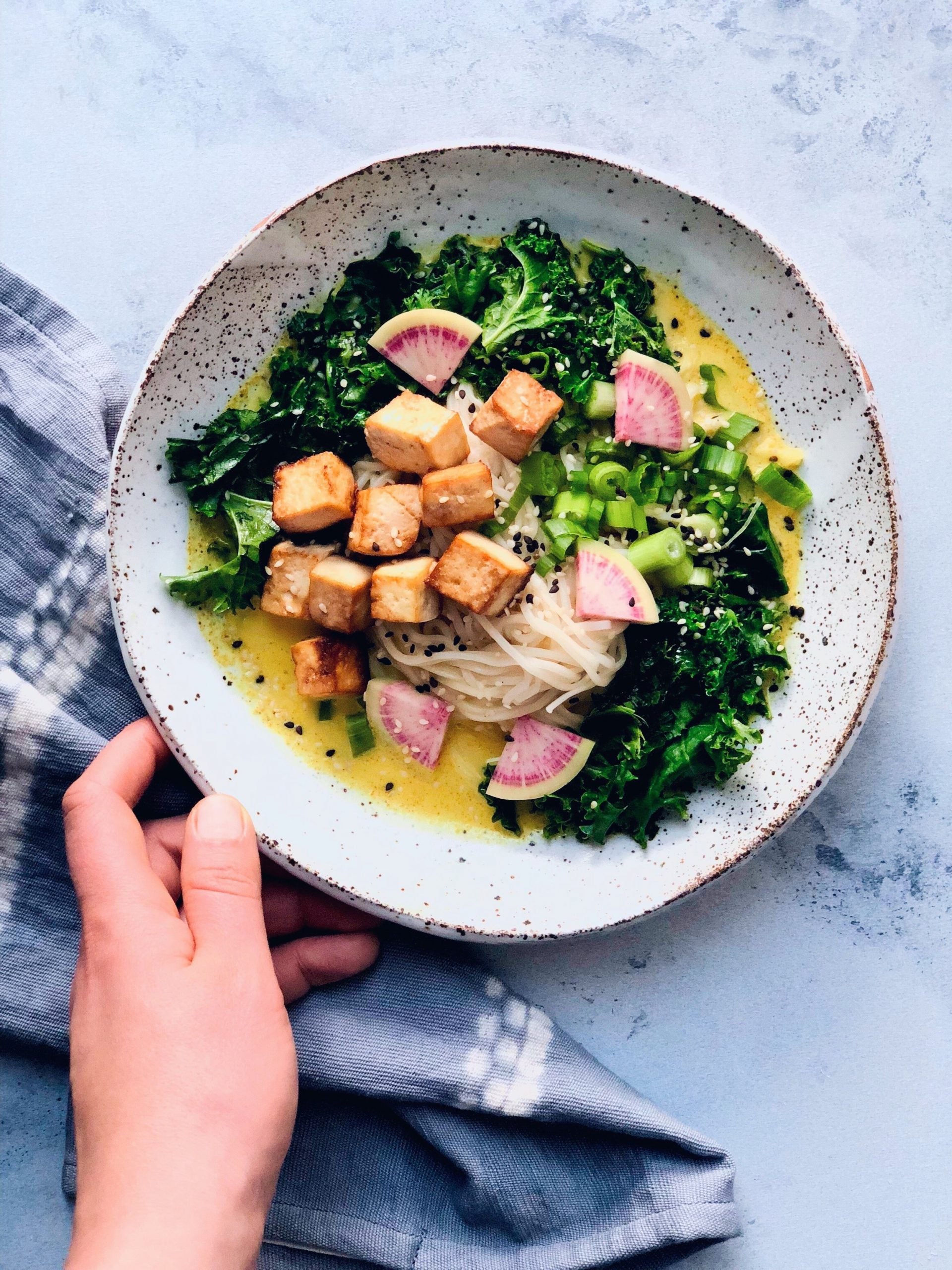 Ramen can absolutely be magical! This noodle bowl is made from a rich, thick broth base using curry powder, light coconut milk, and a touch of turmeric with a little water. I added some of my favorite greens including sautéed kale and green onions along with sesame seeds, marinated tofu and watermelon radishes. This dish is so satisfying and surprisingly simple. Can't wait for you to create it!
I am in love with the healing benefits of turmeric. Turmeric has amazing medicinal and anti-inflammatory properties including soothing indigestion and eases joint pain. Plus, because it's antioxidant-rich and anti-inflammatory properties it always works perfectly as a DIY face mask. The spicy, grounding profile of turmeric makes it the perfect addition to any ramen or Asian style dish which is why I added it to this noodle bowl!
Watermelon radishes are the gorgeous little veggies that adorn this bowl and have a crisp and sweet flavor with a mild peppery taste. They're a great source of fiber and vitamin C, making it the perfect healthy addition for your dish.
Serves 1
Glowing Vegan Turmeric Curry Ramen
ingredients:
1/2 cup cubed extra firm tofu
2 tablespoons soy sauce, tamari, or coconut aminos
1 teaspoon sesame oil
1/2 cup coconut milk
1/3 cup water
3/4 tsp curry powder
1/2 tsp turmeric powder
Sautéed kale
Sliced green onions
Sliced watermelon radish
Black and white sesame seeds
instructions:
How to cook Glowing Vegan Turmeric Curry Ramen
Preheat oven to 400℉.
Start by marinating the cubed tofu in the soy sauce and sesame oil for about 5-10 minutes, depending on how much time you have. Pour them onto a baking sheet and then bake for 20 minutes. Set aside.
Next, cook the ramen noodles in the cup. Take out the flavor and oil packet, set them aside, add water to the fill line in the cup, and cook the noodles. Drain and set aside.
To make the broth, combine the ramen cup flavor and oil packets, coconut milk, and water. Stir and heat until the spices dissolve into the mixture and the broth turns bright.
To assemble the bowl, put the broth into a low bowl, add the noodles, sautéed kale, tofu, and top with green onions, watermelon radish, and sesame seeds. Enjoy!
Looking for other dinner recipe inspiration? Check out these posts: