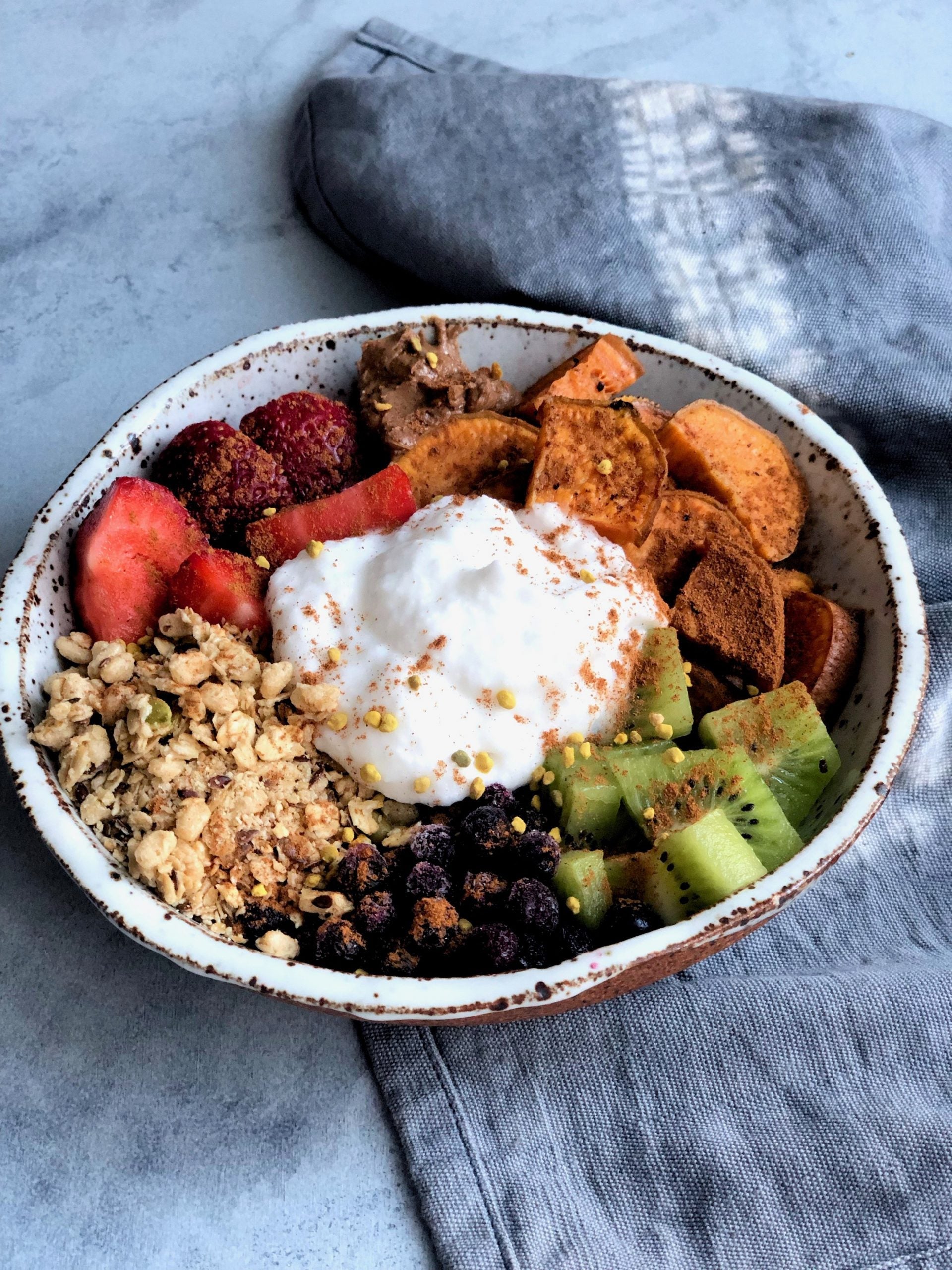 Rainbow sweet potato breakfast bowl, you are welcome in my morning anytime! What I've learned on my journey to heal my gut and my acne is that EVERYTHING is connected. The foods we eat, the products we put on our skin, the thoughts we think - all influence our total health which reflects in our skin, mood, digestion, and energy! I love starting my day with plants and making an easy vegan bowl for breakfast. This one has to be a new favorite.
This bowl is packed with Vitamin C from the sweet potatoes, which studies say helps your body naturally produce more collagen. It's also got a ton of fiber to help your digestion get back on track. I personally love the addition of the fermented coconut yogurt an extra gut boost, but feel free to sub in whatever plant-based yogurt you like. You can also get creative with toppings! These are just my suggestions. I personally like eating this cold, but the dish can also be enjoyed when the sweet potatoes are warm out of the oven.


Rainbow Sweet Potato Breakfast Bowl
ingredients:
1/2 cup roasted sweet potatoes, cold or room temp ( I like roasting them at 400*F for 22 minutes with some cinnamon and coconut oil)
1/3 cup your favorite granola
1/4 cup frozen blueberries
1/4 cup sliced kiwis
1/4 cup sliced strawberries
a few large dollups of coconut yogurt (my favorite is GT's Cocoyo)
ground cinnamon or chai spice
a little bee pollen (optional but quite nutrient-dense)
instructions:
How to cook Rainbow Sweet Potato Breakfast Bowl
Just add all the base items into the bowl and top with the cinnamon or chai and bee pollen if you like!
Looking for more amazing breakfasts? Check these out!