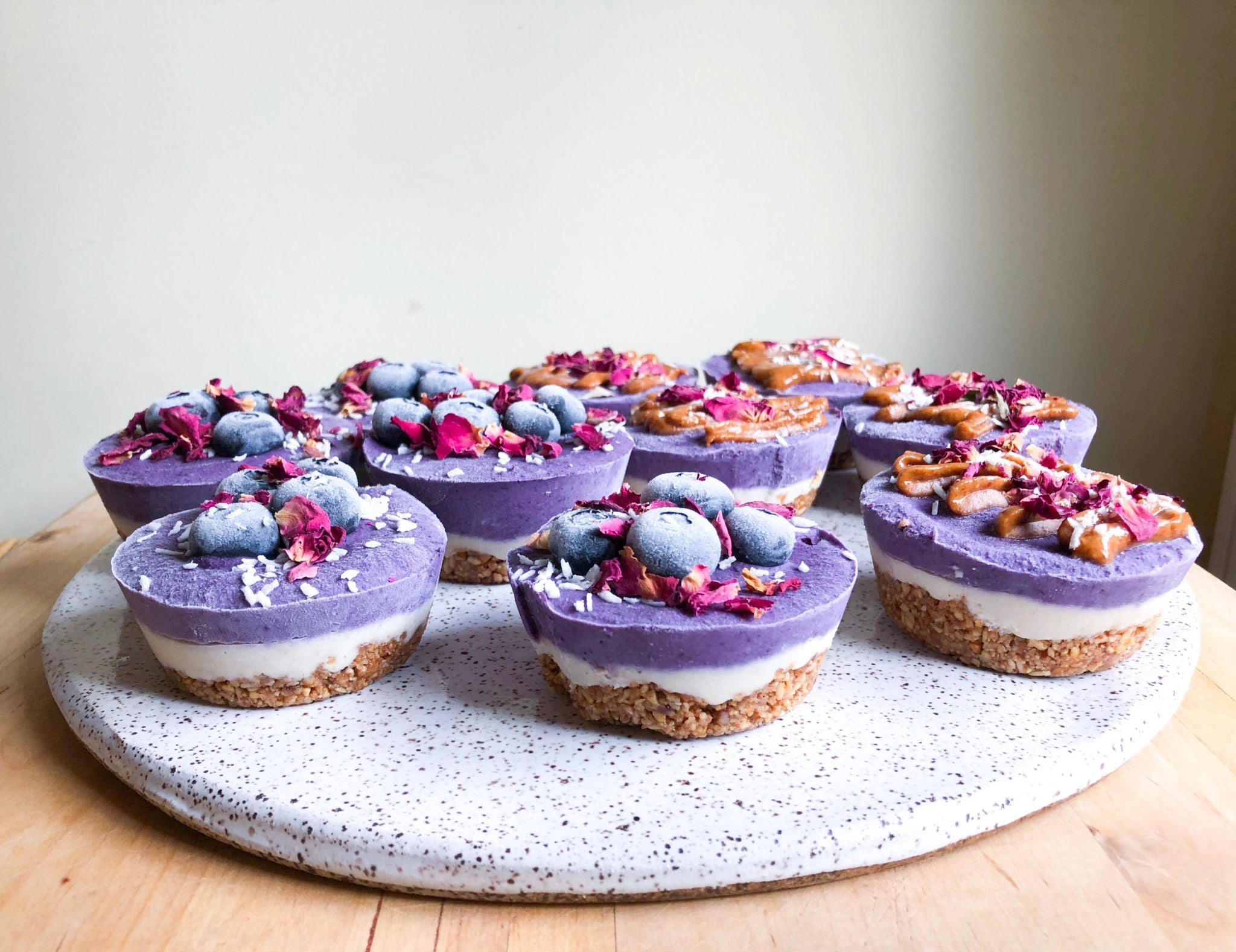 Adaptogenic Raw Vegan Cheesecakes
You asked for them. They're here. Vibrant raw blueberry mini cheesecakes! I made these while playing around in my kitchen last week and instantly fell in love. They're super easy, super delicious, and of course super beautiful! I made them with cinnamon and reishi powder like the one from Sun Potion for an extra immune boost and tried topping them 2 ways. Which do you guys like best: blueberry or almond butter drizzle?
I've always felt that what's missing in how we talk about wellness is emphasizing the journey, not an end destination. If any food was to represent the Carolyn's Pantry philosophy of going easy on yourself, having fun, and finding foods that feel good, it would be these gorgeous babies!
Looking for more vibrant desserts to try? Check out these Vibrant Pitaya Ombre Cheesecake Bars, Dreamy Chocolate Tahini Brownies, Peanut Butter & Jelly Raw Chocolate Bonbons, Sweet Potato & Maca Chocolate Cake, and Raw Chocolate Raspberry Almond Torte.
Adaptogenic Raw Vegan Cheesecakes
RECIPE (Serves 12)
Prep Time 10 min
Cook Time 1 hr 30 min
Total Time 1 hr 20 min
BASE LAYER
- 1 1/2 cup of your favorite granola
- 2 teaspoons coconut or almond oil
VANILLA LAYER
- 3/4 cup cashews (soaked room temp 3 hours or heated with hot water poured over them for 30. Drain)
- 3 tablespoons of any plant-based yogurt
- 3 tablespoons maple syrup
- 1 tablespoon lemon juice
- 1/2 teaspoon vanilla extract
- 1/4 cup almond milk
Blueberry Layer
- 1 3/4 cup soaked cashews, drained
- 1 cup frozen blueberries
- 1/3 cup plant-based yogurt
- 6 tablespoons maple syrup
- juice of 1/2 lemon
- 1/2 teaspoon vanilla extract
- 1/2 teaspoon cinnamon
- 1/2 teaspoon reishi powder (optional)
- 1 teaspoon plant-based protein powder (optional)
TOPPINGS
- Fresh or frozen blueberries
- rose petals
- coconut shreds
- almond butter
INSTRUCTIONS
Start by making the crust! Blend in food processor until the granola pieces are well-broken down, but before you make a granola butter. Mold the mixture into the bottoms of a mini cupcake tin and freeze for about 10 minutes to set.
Next, do the vanilla layer. Remove cupcake tin from freezer, blend all these filling ingredients in a small blender, spread evenly on the crust, then put back in the freezer while you prep the berry layer.
For the blueberry layer, blend all to combine in a small blender and spread evenly in the mini cupcake tins just to the brim. Put the cupcake tin back in the freezer for about 90 minutes, or until the tops are stable.
To top, put either a few berries, coconut shreds, and rose petals on top or pipe/ drizzle almond butter then top with coconut shreds and rose petals. Freeze for another 20-30 minutes, then enjoy! Keep covered in the freezer and enjoy over 2 weeks.
Adaptogenic Raw Vegan Cheesecakes