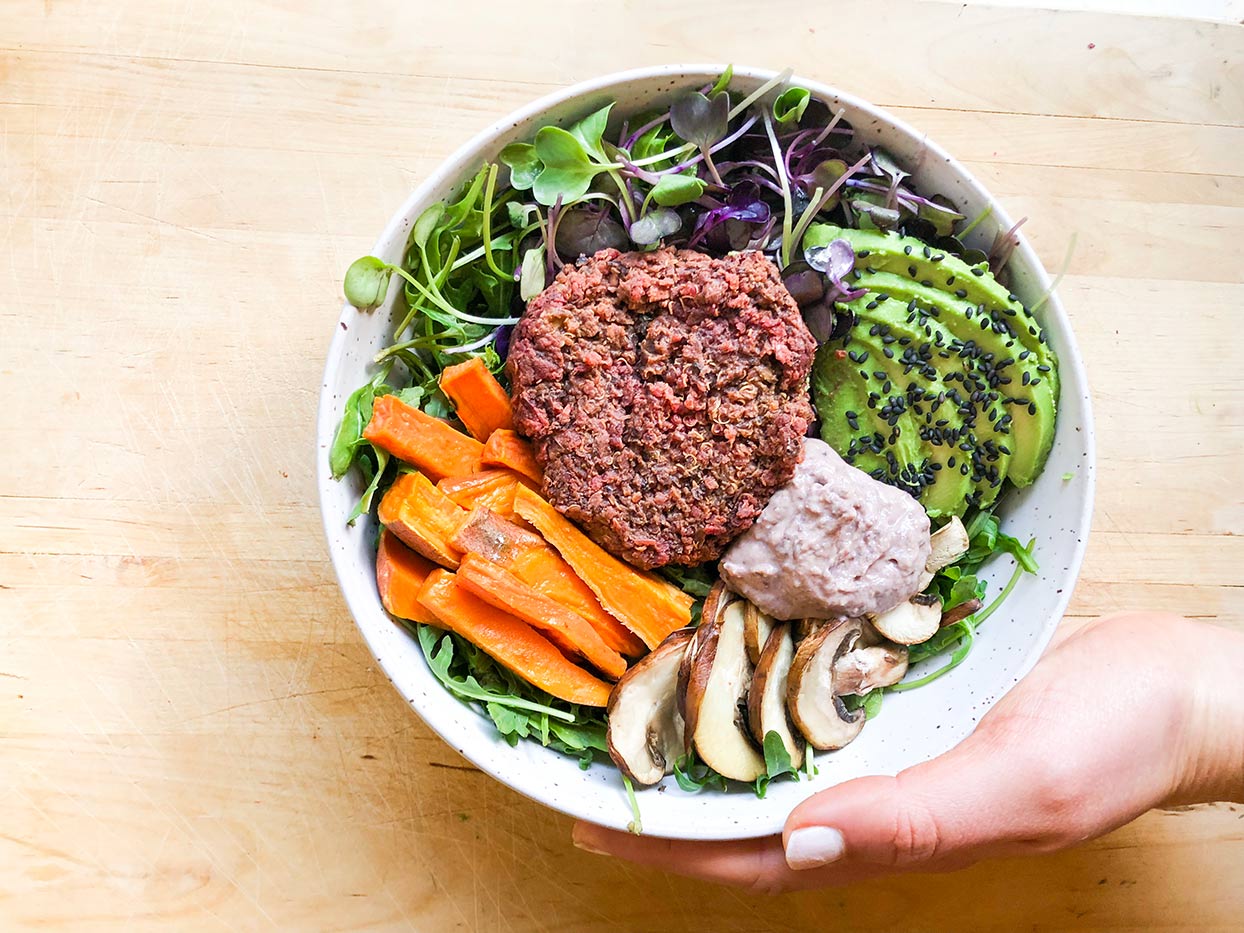 Quinoa Beet Burger
The BEST ever plant-based, gluten-free beet burgers. This is an updated version of my first ever recipe from Carolyn's Pantry. I made them super easy to make with only 1 bowl required and minimal baking. Just put everything in the food processor, blend, and bake!
These babies are loaded with flavor and antioxidants, and are great over a salad, in a raw collard greens wrap, or of course in a burger. The beets add a gorgeous color and a fantastic sweetness against the savory notes of the onion, mushrooms, and spices. These come with black beans and cooked quinoa for a punch of protein and are awesome for keeping you sustained throughout the week!
Looking for more amazing main meal ideas? Try this 5-minute Cashew Kale Pesto Pasta, 10-Ingredient Healthy Pad Thai, 10-Ingredient Sweet Potato Falafel, Easy Red Lentil & Coconut Dahl, and 8-Ingredient Roasted Beet & Parsnip Soup.
RECIPE (serves 8)
INGREDIENTS
1 tbsp olive oil
3 gloves garlic, chopped - if you don't have time to chop, try the Dorot garlic cubes from Trader Joe's!
3 large beets, boiled and skinned
1 cup chopped mushrooms - (white button, Portobello, or shitake work well)
½ large red onion, diced
¾ cup cooked quinoa
1 15-ounce can black beans, rinsed and drained
1 tsp cumin
½ tsp chili powder
½ tsp paprika
juice of 1 lemon
2 tablespoons almond flour
INSTRUCTIONS
Making these is super simple. Start by preheating your oven to 400*F.
Put all the ingredients in a foods processor and blend until combined. Line a baking sheet with parchment paper and scoop out the mixture onto the sheet. Form into burger patty shapes before putting in the oven for 15-20 minutes. Bake, then flip and bake again for another 15-20 minutes. Remove from the oven and enjoy! Store in a sealed container for up to a week in the fridge.