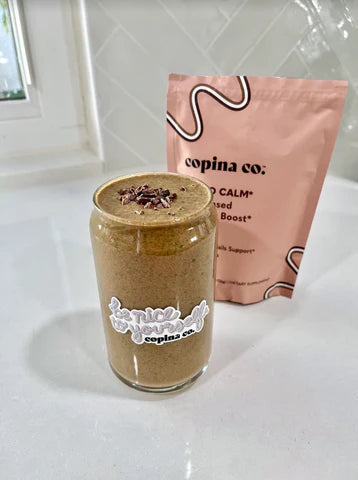 Is there anything more delicious than the salty-sweet combination of chocolate and peanut butter? We don't think so! A peanut butter cup is such a nostalgic treat that we couldn't help but recreate it as a refreshing and nourishing smoothie. Plus, this Vegan Peanut Butter Cup Smoothie is entirely plant-based, dairy-free, and has no artificial ingredients or added sugar that can leave you feeling less than your best.
This Vegan Peanut Butter Cup smoothie gets its yummy, rich cocoa flavor from our Cacao Calm Plant-Based Collagen Boost Blend. Our Cacao Calm blend is made with organic cacao powder- it's similar to the cocoa powder you see in the supermarket, but cacao powder is processed at a lower heat so that the cocoa retains more nutrients (antioxidants, vitamins, minerals, even proteins!) that makes cacao much more beneficial for your body than store-bought cocoa powder. Plus, our collagen-supporting blend is made with organic KSM-66 ashwagandha root extract to help support relaxation, focus, and help you de-stress.
All of our Plant-Based Collagen Support blends have a unique, herbalist approved and lab-tested blend of plant botanicals that have proven to be effective at boosting and supporting your body's natural collagen production process. Collagen is a protein naturally produced by the body and is a main structural component of skin, cartilage, bones, and connective tissue. Healthy collagen levels means healthier hair, skin, and nails - powered by plants!
A smoothie is a great way to sneak in some extra greens, fiber, and protein, and we've done exactly that in this Vegan Peanut Butter Cup Smoothie! A cup of frozen spinach packs this smoothie full of nutrients and fiber, while peanut butter and chia seeds supply healthy fats and protein to keep you full and support muscle recovery, making this a great post-workout snack. We added a scoop of our favorite vegan chocolate protein powder to boost the flavor and nutrients of this smoothie even more. Grab your blender and let's make this Vegan Peanut Butter Cup Smoothie!
Check this recipe out on Tiktok
Want more recipes with Cacao Calm? Try these out:
Vegan Chocolate Brownie Smoothie
Mood Boosting Double Chocolate Banana Bread