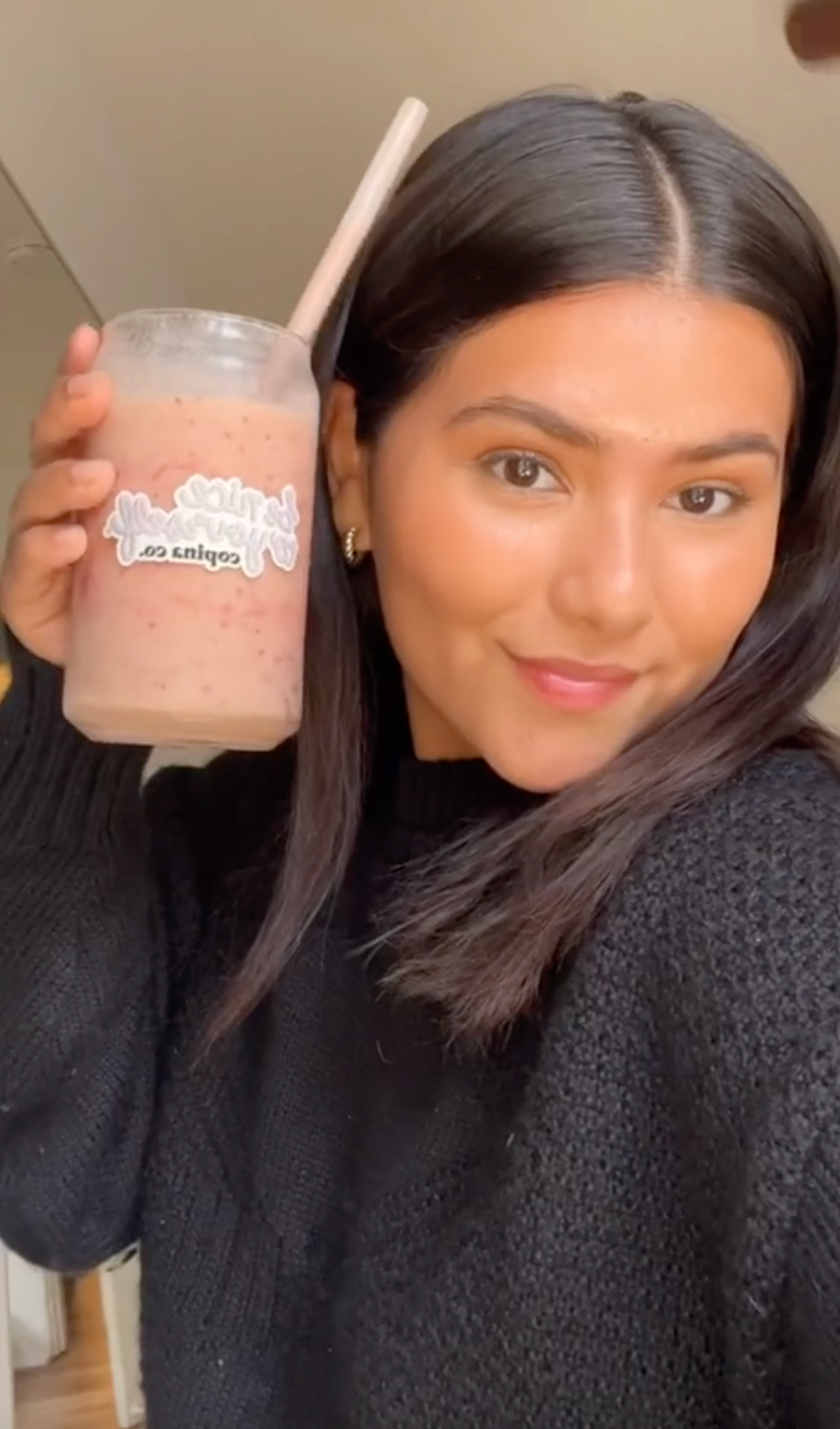 Erewhon Market has become a new destination for smoothie lovers. It's drink recipe collaborations with influencers like Alyssa Lynch, Marianna Hewitt (try our version of her Coconut Cloud Smoothie here), Holly Owens and Sami Clarke have made this grocery store's smoothie bar a must-try for West Coast wellness enthusiasts.
Hailey Bieber's Smoothie Collab at Erewhon, via @haileybieber on Instagram
This health food mecca of LA recently debuted its latest smoothie collab with none other than Hailey Bieber. The Strawberry Skin Glaze Smoothie is a totally gorgeous smoothie made with ingredients to boost skin health and inner radiance, including vanilla collagen, sea moss, and hyaluronic acid. The bad news? It rings in at a whopping $17 and contains animal products. The good news? You can totally make it at home using a vegan collagen alternative, and we're going to show you how!
What makes these ingredients good for your skin?
Hailey Bieber's Strawberry Skin Glaze Smoothie is supposed to promote healthy, glowing skin, calling on the "glazed donut" trend of skin looking shiny and dewy. While a single smoothie won't change much about the texture or appearance of your skin, this smoothie is formulated with ingredients that will benefit your skin's health with continued use.
Hyaluronic acid acts as a humectant, pulling moisture into the skin and helping to retain it. If you struggle with dry or dull skin, hyaluronic acid is a great ingredient to include in your skincare routine or your diet to help your skin hold on to much-needed hydration.
While Erewhon uses an animal-based collagen in their smoothie, we're using our Vanilla Plant-Based Collagen Boost, making this recipe vegan-friendly. Our Plant-Based Collagen Boost Blends are formulated with an herbalist-approved, 3rd-party lab tested blend of plant botanical ingredients: tremella mushroom, amla berry, biotin, gotu kola extract, hyaluronic acid, and bamboo extract. These plant botanicals work to support and protect your body's natural collagen production process for healthier skin from the inside out.
This smoothie is also naturally sweetened with maple syrup and dates, which is less likely to cause breakouts than processed white sugar and also keeps blood sugar in check.*
Sea moss is one of the latest buzzy ingredients to hit the market. Full of vitamins, minerals, and antioxidants, this gel-like substance has been shown to help promote better digestion and a healthy immune system.*
What does the Strawberry Skin Glaze Smoothie taste like?
The Erewhon version of the Strawberry Skin Glaze Smoothie comes with a "glaze" of maple-syrup sweetened strawberry puree (made from Harry's Berries, of course) at the bottom of the cup, swirled with coconut cream for a dreamy effect. The smoothie is made with strawberries, dates, vanilla stevia, avocado, and almond milk. Our team said it tastes like a refreshing strawberry milkshake.
How do I make this smoothie at home?
Lucky for you, it's super easy to whip up a tasty version of this smoothie that won't break the bank. Our version uses many of the same ingredients to give the smoothie a similar look and taste, but is super customizable to what you have on hand (i.e no need to grab that jar of sea moss if it's not already in your pantry). Simply add all the ingredients to a high-powered blender, blend on high, and then sip your way to strawberry bliss.