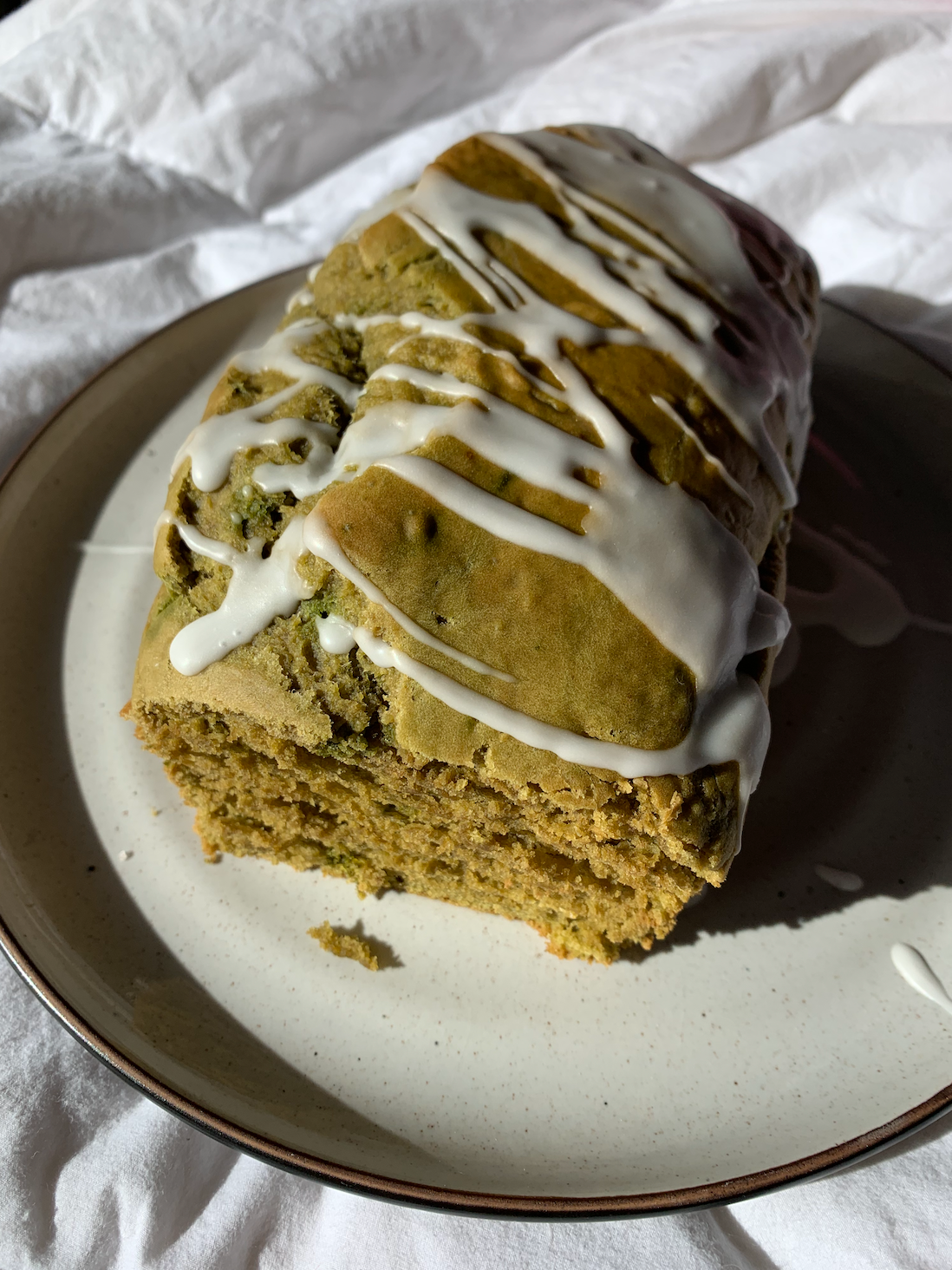 Meet your new favorite dessert: our vegan matcha tea cake loaf! This insanely delicious and simple dessert is gluten-free, dairy-free, vegan, and is full of amazing vegan collagen-boosting benefits for your hair, skin, and nails*. This recipe is by the amazing Emma Marie Hyslop.
Baking a cake can sometimes feel daunting and complicated, but this one is really easy. Using a loaf pan helps to keep this treat easy and clean and perfect for breakfast, snacking, or dessert. The matcha tea powder in the Matcha Beauty gives the cake a gorgeous and vibrant green color, but don't be fooled by its wholesome looks – the taste is insanely good.
What is matcha and how is it different from normal green tea?
Matcha is a whole leaf green tea that's been revered in Japan for centuries. What makes it different from regular green tea is both its method of cultivation and the way in which it's used.
The process of cultivating matcha is complex and full of nuance. Farmers in Japan have worked for centuries to perfect the way of making this tea that brings out the matcha leaf's most potent natural benefits and flavors.* The green tea plants used to make matcha are traditionally grown in the shade for around 3-4 weeks which deprives leaves of their normal levels of sunlight. This increases the concentration of chlorophyll in the plans and creates a vibrant and super flavorful leaf. Only the best leaves are chosen to be made into the tea. They're laid out flat to dry, de-veined, and stone ground into the gorgeous bright green tea powder we know as matcha.
It's this complex method of cultivation that's behind the reason matcha is consumed differently than regular green tea. Whereas you steep regular green tea leaves in hot water and discard them before sipping the water itself, matcha is consumed in its whole leaf form. You mix the whole powdered tea leaves into your hot water and sip the mixture this way because it allows you to enjoy all of matcha's beauty-boosting and anti-oxidant benefits.
Why should you bake with matcha?
Matcha not only adds an amazing color to your baked treats, but also loads them with tons of benefits. It's got a delicate, lightly sweet taste that won't overpower the other flavors in your recipe. That's why we love it so much in cakes, muffins, pancakes, and energy balls. Studies have shown that matcha has about ¼ the cup of caffeine and leads to a sustained boost of energy without the crash.*
How to prep and top this vegan matcha cake loaf
The beautiful thing about this matcha cake loaf is that it can totally be made in 1 bowl an has only 7 ingredients – that's it! You can eat it hot or enjoy it cold or at room temperature. It's super important, though to be sure that your cake has cooled completely before you try to ice the cake. Trust us on this one! The powdered sugar and almond milk frosting is really really easy, but will end up watery and not at all what you're looking for if you try to put it on a hot cake! Added to a cool or room temperature cake, however, and the frosting has the perfect texture to make an amazing glaze that lets you be super creative with how you decorate the vegan matcha cake loaf.
Recommended pairings with the vegan matcha cake loaf.
What do you eat with your vegan matcha cake loaf? We've got you covered! Plant milk and oat milk are always great and super cozy options, but we think that a cozy latte is the way to go with this cake! We personally love chocolate, matcha, and spice notes with the flavor of this cake and love drinks made with each of our vegan collagen boost drink powders.
Try making a matcha latte at home with our vegan matcha cake loaf! We're obsessed with this easy and vegan collagen-boosting cake with a pumpkin spice matcha latte for the Fall, an iced mango matcha latte for the hot weather, plus even a tahini matcha latte.
You can also try one of our many cacao powder recipes in latte form! We love a calming cacao ashwagandha latte, a beauty-boosting tahini cacao latte, and an iced cacao in the summer!
Looking for a spiced drink? We're obsessed with this easy spiced turmeric golden milk latte, an iced turmeric matcha latte, and an adaptogenic pumpkin spice latte.
Vegan Matcha Cake Loaf
Prep time: 15 Min
Cook time: 45 Min
Total time: 1 Hour
Ingredients
Loaf:
- 2 1/2 cups gluten-free all-purpose flour
- 3 Tbsp Copina Co. Matcha Beauty
- 1 Tbsp baking powder
- 1/2 tsp salt
- 1/2 cup olive oil
- 1 1/2 cup almond milk
- 1/2 cup maple syrup
Glaze:
½ cup powdered sugar
3 Tbsp almond milk
Instructions
Preheat the oven to 350 F.
In a bowl whisk together the dry ingredients.
Add in the wet ingredients and mix until well combined.
Bake for 45 minutes in a greased loaf tin.
While the loaf is baking make the glaze by whisking the powdered sugar and almond milk together until a glaze has formed.
Allow the loaf to cool completely and glaze the cake.
Enjoy!