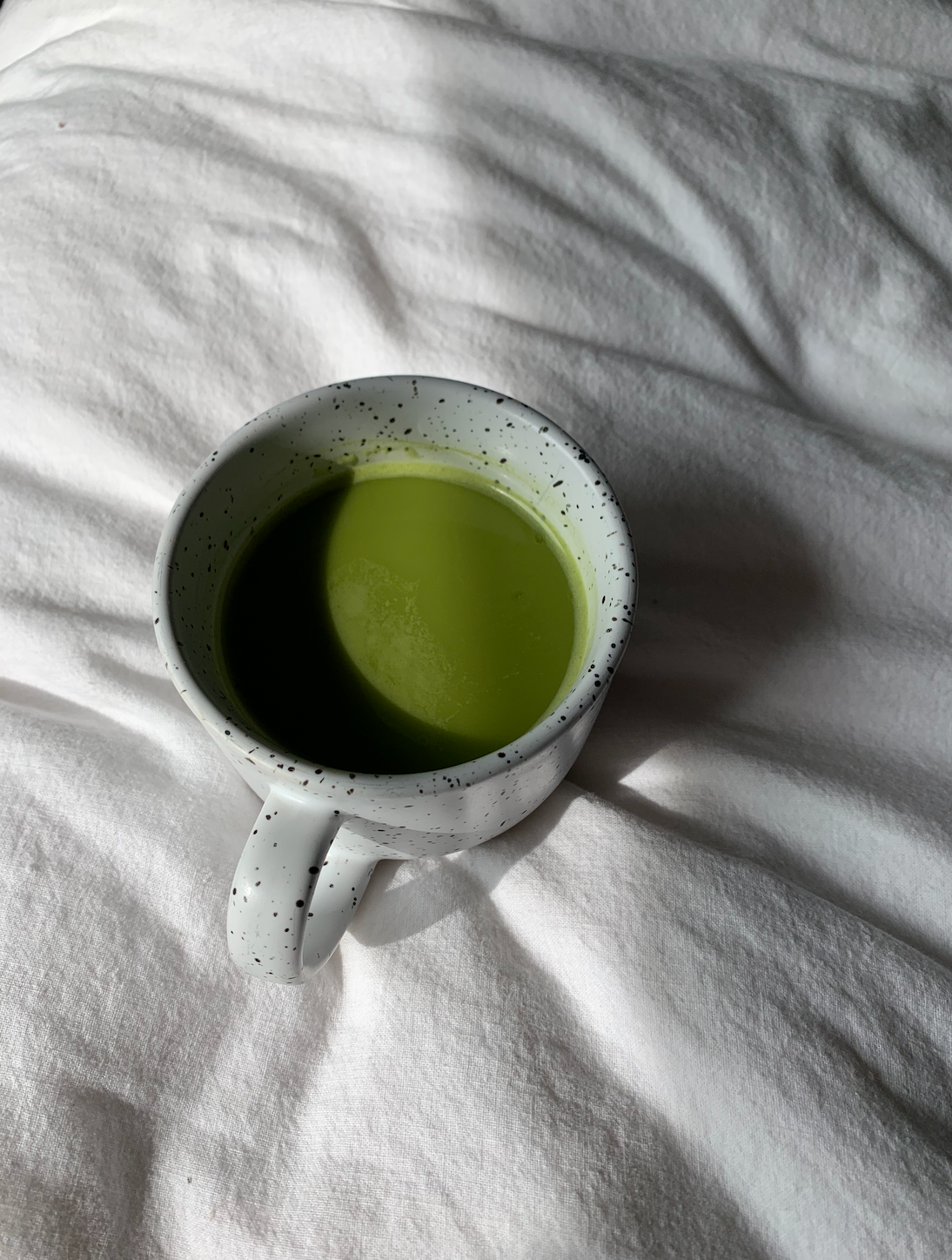 PSML please! We're droppin' another pumpkin spice recipe because we think that pumpkin spice deserves all the attention this time of the year. We have you covered when it comes to vegan collagen boosting autumnal recipes. We used our Matcha Beauty Plant-Based Collagen Boost Blend for our creamy and dreamy vegan pumpkin spice matcha latte.
Our pumpkin spice matcha latte is full of antioxidant-rich superfoods* and is much more nourishing than most pumpkin spice lattes available at coffee shops. Additionally, the matcha tea powder in our Matcha Beauty Plant-Based Collagen Boosting Blend won't leave your energy levels crashing like coffee.
Not only is our pumpkin spice matcha latte a healthier alternative to typical pumpkin spice lattes, but it will also help boost your collagen levels and support healthy hair, skin, and nails.* We're here for drinking your skincare in pumpkin spice form.
Pumpkin spice is the combining form of cinnamon, nutmeg, ginger, and cloves. You can often find it in the spice section of your local grocery store. Or you can make your own pumpkin spice by combining the spices previously listed. You can add pumpkin spice to just about anything. Sprinkle it on top of a rich and creamy latte, add it to your oats, bake pumpkin spice cookies with it, and so much more; the options are endless. We love to blend pumpkin spice with our Matcha Beauty Plant-Based Collagen Boost Drink Powder. Pumpkin spice would also pair nice with coffee blended with our Cacao Beauty Plant-Based Collagen Boosting Blend.
Want to make your own Pumpkin Spice? We've got you covered: 1 teaspoon cinnamon, ½ teaspoon nutmeg, ¼ teaspoon cloves. We recommend that you store your pumpkin spice in an airtight container.
If you're not into drinking matcha, you can totally add some matcha into oatmeal with the pumpkin spice or in a delicious smoothie bowl to create a pumpkin spice matcha smoothie bowl, this recipe is not limited to a latte and is extremely versatile!
We suggest whipping up a cup of this delicious fall beverage and pairing it with several of our favourite fall inspired recipes or check out our blog for more latte inspiration. Some of our favourites include: Vegan Pumpkin Cheesecake Bars, Spiced Turmeric Beauty Latte, Caffeine-Free Beauty Beet Latte, and Caffeine-Free Mint Spirulina Latte.
Want to check out more of our recipes? Check out our blog or sign-up for our newsletter.
More on Matcha:
You might have noticed that matcha has become a buzzword over the past few years. Our matcha is sourced from Japan where it is a traditional ceremonial practice. Matcha is an amazing source of antioxidants, unlike coffee matcha is lower in caffeine. One matcha latte is approximately around 30-70 mg of caffeine whereas a black cup of coffee is equal to 95 mg of coffee*. Matcha, however, doesn't leave your energy levels crashing because it releases caffeine slower than coffee beans, thereby helping to reduce anxiety and increase alertness.*
We love matcha because it gives you a sustained energy boost without the crash, making it the perfect afternoon pick-me-up. Some studies suggest that a cup of matcha will sustain your energy levels for 4-6 hours, in contrast to coffee which will last 1-3 hours. We love to incorporate matcha into our mornings with matcha lattes, smoothies, treats, and more. If you love our recipes and want to see more, be sure to subscribe to our newsletter here and receive 10% off your first order.
Matcha also contains phytonutrients such as L-theanine. L-theanine makes the caffeine to absorb into your body slowly, thereby making your energy slowly released and sustained longer in the body than a simple cup of coffee. We always start our days with a cup of our Matcha Beauty Blend to not only boost our hair, skin, and nails naturally, but to keep our energy sustained throughout the day. You can add our Matcha Beauty Blend into your everyday routine, add to smoothies, baked goods, or our Pumpkin Spice Matcha Latte.
What you'll need to make our Pumpkin Spice Matcha Latte:
Pumpkin Spice Matcha Latte
Prep time: 5 Min
Total time: 5 Min
Ingredients:
2 teaspoons Matcha Beauty Plant-Based Collagen Boost: a creamy matcha collagen boosting blend formulated with bamboo extract + amla, hyaluronic acid, grapeseed extract, tremella mushroom extract, and of course matcha.
1 cup warm water
¼ cup oat milk: A creamy and delicious plant-based milk alternative.
½ tsp pumpkin spice: You can get pumpkin spice at most grocery stores in the spice aisle.
Instructions:
In a blender add all the ingredients + blend on high.
Pour up and enjoy with your favorite treat.