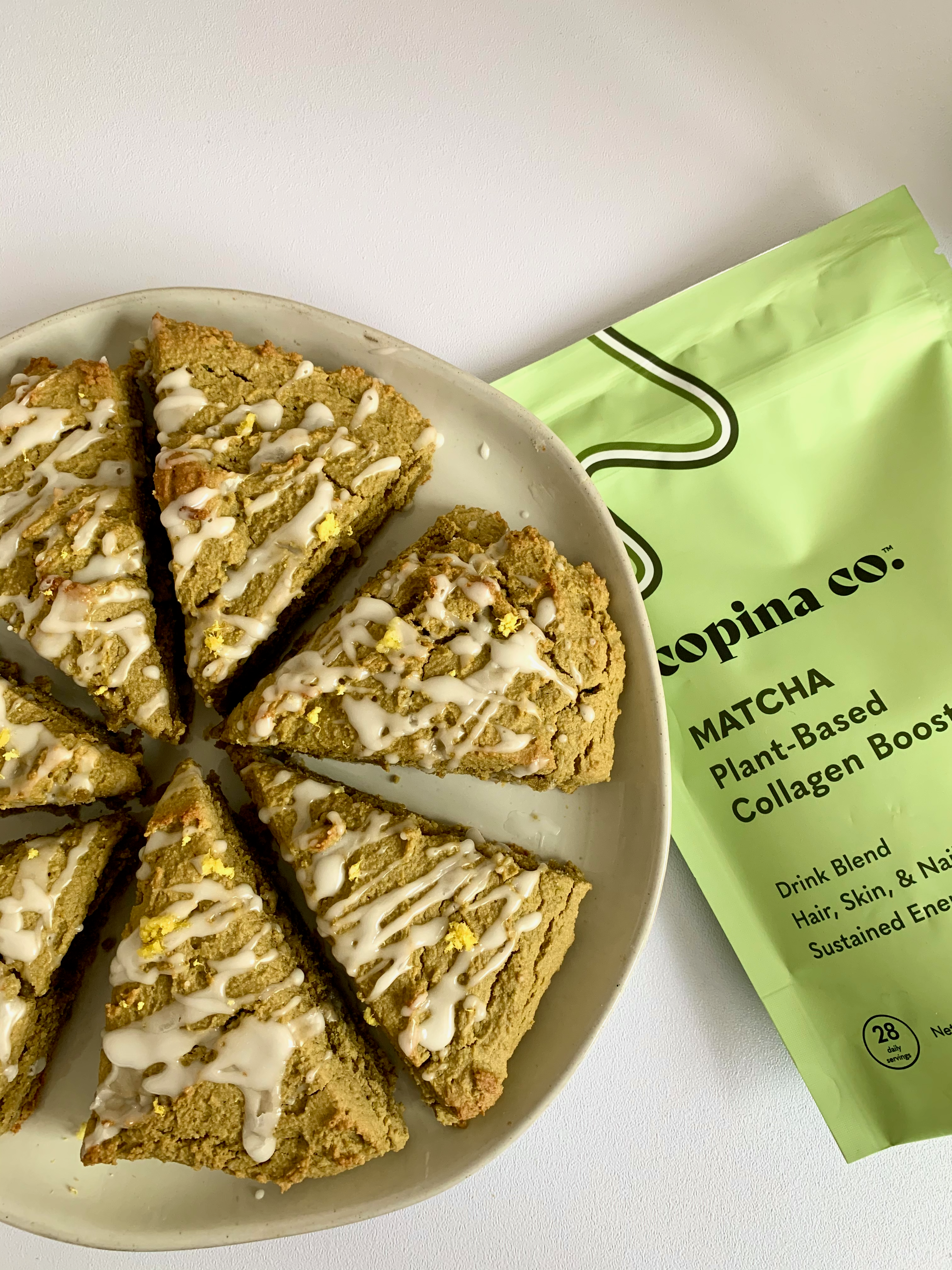 We're feeling a little fancy this week with these delicious Vegan & Gluten-Free Matcha Beauty & Lemon Scones. Luckily, these scones are actually so simple to make and require just 30 minutes from start to finish and only 6 healthy ingredients to prepare. Get ready to be impressed!
Scones can be sweet or savory and pair perfectly with a cup of coffee or tea. Traditionally scones are prepared with cutting cold butter into refined white flour and adding sugar, buttermilk, and eggs. Not only are our Vegan Matcha Beauty & Lemon Scones much easier to prepare, they're also healthier, too!
Our version is gluten-free thanks to oat flour, refined sugar free with the use of coconut sugar, and dairy-free with the addition of coconut milk. We've also packed them full of delicious matcha flavor and beauty-boosting benefits by including our Matcha Plant Based Collagen Boost Blend.* What's not to love?
Adding Matcha Beauty to these scones really makes them stand out. The earthy, sweet flavor of matcha pairs perfectly with the subtle creaminess of coconut milk and the sweet-tart combination of our lemon drizzle glaze. Matcha also lends them a fun, vibrant green color, which would make these scones a perfect tread for upcoming Spring holidays like St. Patrick's Day or Easter.
Matcha Beauty isn't just for looks, though. It's formulated with a blend of herbalist-approved plant botanicals that work to boost your body's natural collagen production.* Ingredients like tremella mushroom, bamboo extract, tremella mushroom, and amla berry work to boost collagen synthesis and promote skin hydration.* This makes for happy and healthy hair, skin, and nails, but without the use of any animal ingredients.*
Tips and Tricks for Making Scones
We get it, scones can seem like a daunting task, but we assure this recipe is so easy and almost foolproof. You can put your pastry cutter away, because you won't need it for our healthy, easy scone recipe. The base is just 6 simple ingredients that you might already have on hand, plus the addition of lemon and confectioner's sugar for the glaze, which is optional but really takes these scones to the next level.
The most important thing to remember is that scone dough shouldn't be too wet (think more biscuit dough than muffin batter) and ideally the dough should be cold before baking. That's why we recommend freezing the dough for 10-15 minutes right before baking to ensure the scones don't overspread in the oven. Freezing keeps the fat (in this case coconut milk, but traditionally butter) more solid and gives the scones better structure and height.
The scones are then baked at 400 degrees fahrenheit to reach their optimum height and light texture. After they're out of the oven, drizzle them with delicious, tangy lemon glaze, top with fresh lemon zest, and let them cool to allow them to cool for 5-10 minutes (this will prevent them from breaking apart when you pick them up) before digging in.
You could also try swapping out the Matcha Beauty for our Cacao Calm or Vanilla blends if you want to go a different route. We also have a great recipe for Vegan Blueberry Collagen Scones that uses our unflavored Original Beauty Plant-Based Collagen Boost Blend.
Looking for the perfect drink to sip alongside your scones? We've got a few recommendations!
If you're feeling good about green, try our take on Reese Witherspoon's Green Smoothie or a classic and delicious Easy Cold Brew Matcha.
Inspired by the tangy lemon glaze on these scones? You might like our Iced Turmeric Matcha Latte or our sweet and fruity Vanilla Beauty Tropical Smoothie.
Need a caffeine boost? Look no further than our creamy Oat Milk Vanilla Beauty Latte or Iced Mocha Latte. Can't decide between matcha and coffee? Who says you have to! Try our Matcha Coffee Latte for the best of both worlds.
While you have your oven on, maybe whip up a few of these sweet treats, too:
Chocolate Baked Oatmeal Cake for a decadent but good-for-you breakfast.
Vegan Matcha Cake Loaf if you love the taste of matcha and just can't get enough!
Chocolate Chip Matcha Cookies for another matcha twist on a classic.
Vegan Matcha Beauty & Lemon Scones
Ingredients
1 1/4 cup of oat flour
2 scoops Copina Co. Matcha Beauty Plant-Based Collagen Boost Blend
1 cup almond flour
½ - ¾ cup canned full-fat coconut milk (needs to be thick)
1 ½ tsp baking powder
⅓ - ½ cup of coconut sugar
For the glaze:
1/2 cup organic powdered sugar
1 tbsp lemon juice
Zest of half a lemon (reserved)
Instructions
Preheat your oven to 400F. Line a baking sheet with parchment paper.
Add dry ingredients to a medium bowl and whisk well to combine. Slowly add in coconut milk a few tablespoons at a time until a dough begins to form. You do not want the dough to be too wet, so it's okay if you don't use all the coconut milk. Add in more oat flour if dough is too wet and sticky to be handled.
Turn the dough onto the parchment-lined baking sheet, then flatten the dough into a large 1-inch thick circle.
Freeze dough for 5 - 10 minutes. Remove from the freezer and cut into 8 equal triangles with a pizza cutter or knife.
Bake at 40F for 15- 20 minutes or until the tops are golden brown. Cut scones again along the same lines if they have conjoined while baking.
Whisk together your glaze by adding the lemon juice and powdered sugar in a small bowl. Add more lemon juice if the glaze is too thick, or more sugar if it's too thin.
Drizzle glaze over scones, then sprinkle lemon zest on top.