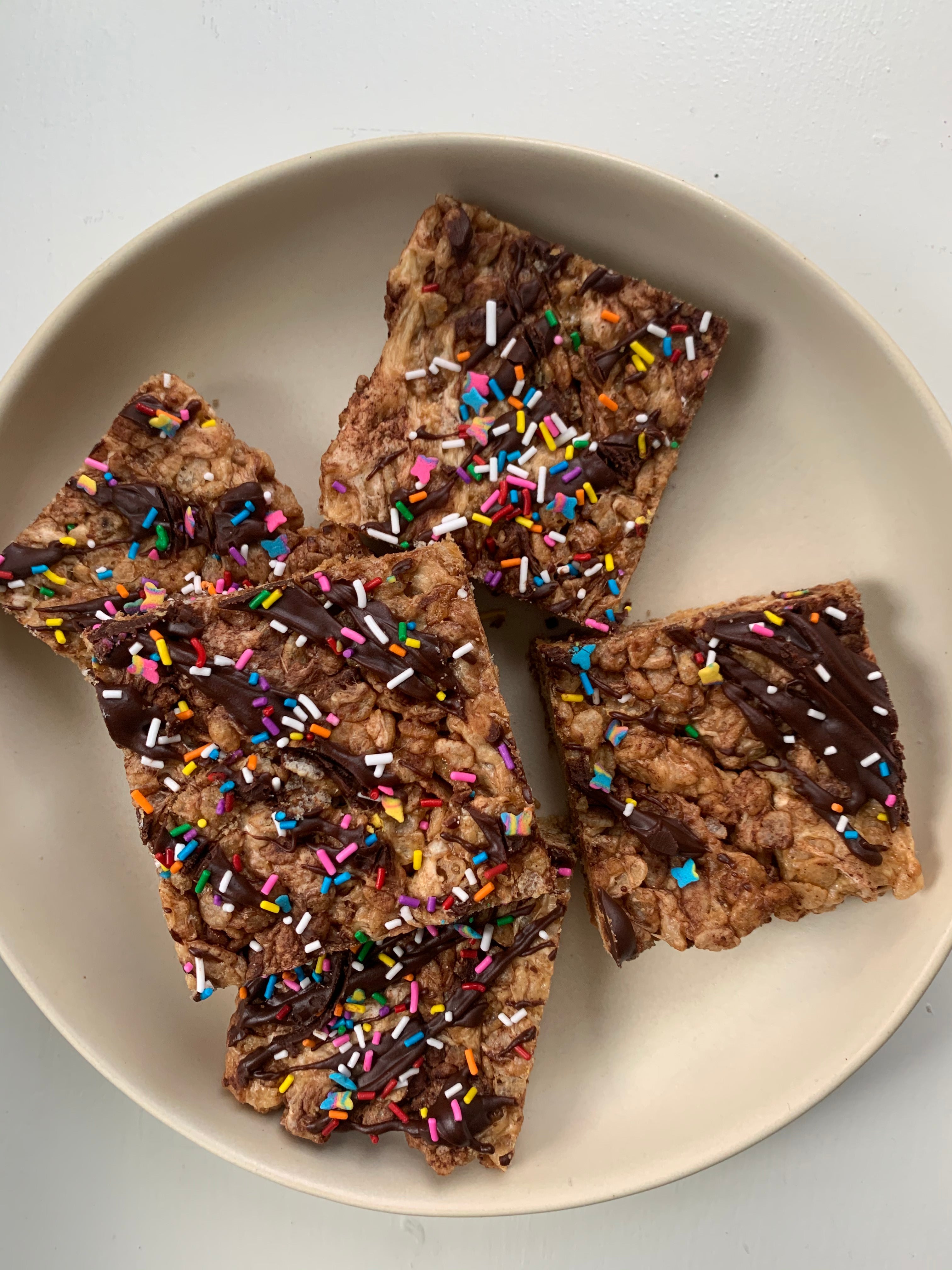 Is there anything more nostalgic than having a childhood treat as an adult? We think not! That's why we're obsessed with these easy, vegan, and gluten-free Chocolate Superfood Rice Crispie treats. The toasty crunch of crisped rice mixed with the warm, vanilla goodness of gooey marshmallows and the rich liquid gold of melted butter combine to create a treat that is simply so special and delicious. With just 4 ingredients and less than 10 minutes of active cook time (you do need to let them cool) you'll be on your way to rice crispie bliss before you can say snap, crackle, pop.
Lucky for you, our version of these treats come without the foil wrapper and with beauty-boosting benefits thanks to the addition of our Cacao Calm Beauty Plant-Based Collagen Boost.* These heavenly squares are chewy, sweet, and chocolatey- plus, they're also entirely plant-based and dairy-free. Oh, and they have sprinkles. Did we mention the sprinkles?
Rice crispie treats are a breeze to make and a total crowd-pleaser. Just a few minutes spent melting butter and marshmallows and folding in crisped rice cereal and you're headed for total rice crispie heaven. The hardest part is letting them chill in the fridge, but trust us, your patience will be rewarded. There are few things better than biting into a freshly made rice crispie treat, each bite the perfect combination of chewy, crunchy, and sweet.
In fact, my little brother likes rice crispie treats so much that he asks for them every year in place of a birthday cake. We stack huge rectangles of homemade rice crispie treats and add vanilla frosting between each layer, creating a giant rice crispie cake complete with sprinkles and birthday candles. It's truly a beautiful sight to behold. When it's time to dig in, we cut huge slices just like a cake, and it's like biting into a cloud of chewy, buttery perfection.
However, we daresay this version is even better thanks to the addition of collagen-boosting plant botanicals and stress-reducing ashwagandha extract.* The extra drizzle of dark chocolate and sprinkles don't hurt, either.
What is Ashwagandha?
You might have heard the word "ashwagandha" if you've recently taken a scroll through your social media feeds or browsed your favorite wellness website. This ancient medicinal herb has been getting a lot of attention as of late for its ability to help the body manage stress.
Ashwagandha is classified as an adaptogen, which is a group of herbs that have been shown to work to counteract the effects of stress on the body and maintain an overall sense of balance.* Ashwagandha has been used in Ayurvedic and holistic medicine for over five thousand years for its calming effects. Adaptogens can help to promote a sense of relaxation by blocking stress pathways that regulate chemical signaling in the nervous system, thus leading to reduced feelings of stress and tension.*
Our Cacao Calm Beauty Plant-Based Collagen Boost uses KSM-66® Ashwagandha Root Extract Powder, which is the highest concentration ashwagandha extract powder on the market and has been shown, through extensive research, to have a wide array of health benefits.* Rice crispie treat and chill? Yes, please.
Interested in trying more recipes with ashwagandha? Check out these recipes made with our Cacao Calm Beauty Plant-Based Collagen Boost for a delicious, chocolatey chill.
Rasberry Cacao "Boba" Tea Latte
Raspberries and chocolate all swirled together in a glass topped with ice and oatmilk. Sweet, tangy, and so refreshing.
Chocolate Mocha Beauty Smoothie
Yes, you can have chocolate for breakfast! A great way to sneak in some veggies while also getting a caffeine boost.
Calming Caffeine-Free Ashwagandha Cacao Latte
Caffeine not your thing? We've got you covered with this latte, which uses our Cacao Calm and your favorite plant milk to create a creamy, calming latte.
Chocolate Superfood Beauty Energy Balls
Need to bring your chill on the go? These snack bites are the perfect solution, and they can even double as dessert.
So what are you waiting for? You, too, could be eating these little squares of plant-based perfection in no time! Grab your marshmallows and get cooking!
Chocolate Superfood Rice Crispie Treats
Ingredients
4 Tbsp Vegan Butter
1 bag vegan marshmallows
4 ½ cups crisped rice cereal
2 scoops Copina Co. Cacao Calm Beauty Plant-Based Collagen Boost
Instructions
In a pan on medium heat add the butter to melt.
Add the marshmallows in and stir them to melt into the butter.
Add in the Copina Co. Cacao Calm Beauty and crisped rice cereal.
Mix until well combined.
Add the mixture to a lined 9 x 9 baking dish.
Place in the fridge for 30 minutes to set.
Optional: Melt chocolate to drizzle over the top before placing in the fridge.