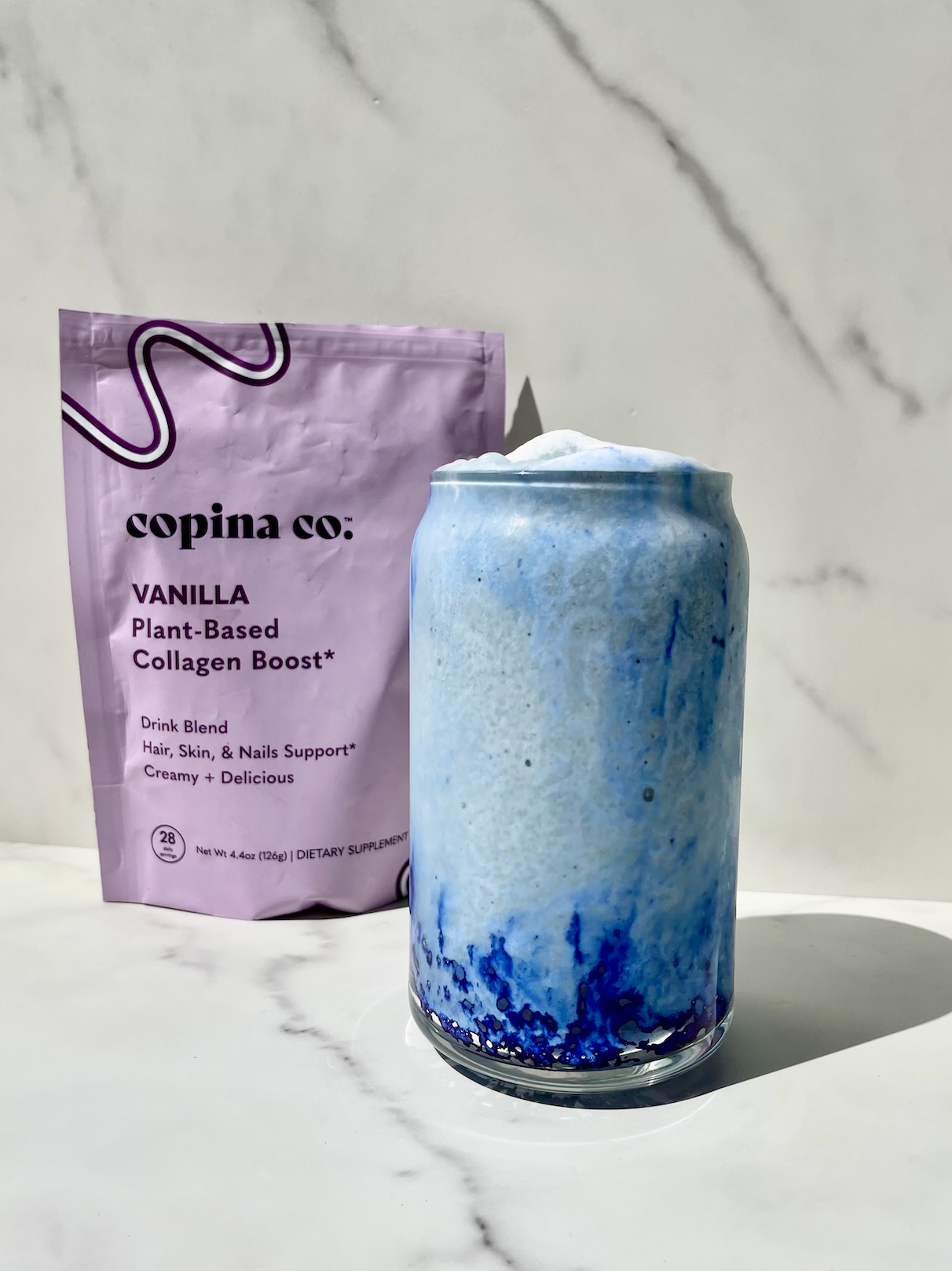 This gorgeous smoothie is our at-home vegan spin on Marianna Hewitt's viral Coconut Cloud Smoothie which she created as a collab with Erewhon Market. If you couldn't make it out to Erewhon but are *dying* to try the beautiful blue smoothie that's been all over Instagram and TikTok, then you're in the right place!
This smoothie is so delicious, with notes of creamy coconut, sweet vanilla, and tangy tropical fruit. Its stunning, vibrant blue color comes from Blue Majik powder, which is a nickname for a type of algae, just like spirulina! Blue Majik is full of vitamins, minerals, and antioxidants that make it a nutrient powerhouse worthy of its title as a superfood. The vibrant blue color comes from photosynthetic compounds in the algae, so there's nothing artificial in Blue Magik that contributes to its stunning color. Just nature working its (blue) magic!
It's also high in protein and iron, which can make it a smart addition to a post-workout smoothie. Paired with healthy fats and carbs from almond butter, avocado, and coconut, this Coconut Cloud Smoothie is a perfect pick-me-up post-workout or any time.
To give this Coconut Cloud Smoothie an extra boost, we added a scoop of our reformulated Vanilla Plant-Based Collagen Boost Blend. Our vegan collagen support creamer helps to boost collagen production in the skin, which helps with skin's moisture, elasticity, and firmness. In addition, this blend contains bamboo extract, biotin, gotu kola extract, hyaluronic acid, tremella mushroom, and amla berry which have been shown to promote collagen synthesis, hair and nail health, as well as skin's texture, hydration and glow. Plus, it lends a delicious, lightly sweet and creamy flavor to the smoothie, sort of like sugar cookies or vanilla frosting, but without any added sweetener or artificial ingredients. There's a lot to love about our Vanilla Plant-Based Collagen Boost Blend!
Ready to whip up this beautiful blue Coconut Cloud Smoothie? Grab the recipe here!
Want to try more fun, beauty-boosting recipes? Here are a few to try next!
Blueberry Vanilla Dalgona Latte
Mood Boosting Double Chocolate Banana Bread