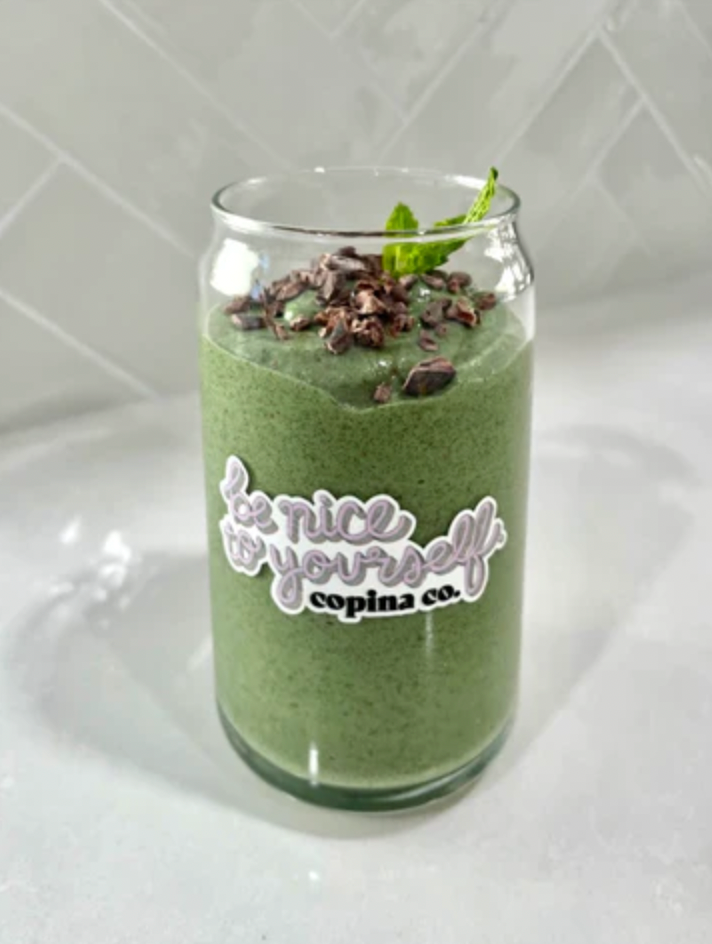 This vegan beauty smoothie is packed with superfoods but tastes like mint chocolate chip ice cream! We love smoothies because they're an easy way to get in all our favorite health-boosting ingredients as well as sneaking in a few servings of fruit and veggies and plant-based collagen supports. Don't be scared by the frozen cauliflower in this smoothie- it doesn't add any flavor but helps make the smoothie more thick and creamy, while the fiber will help you feel full for longer.
Cacao is another great superfood to include in your diet- it's like chocolate but a bit better for you! Cacao comes from the same original fruit as chocolate (the cacao plant, aka theobroma cacao) but is processed differently, resulting in a different flavor profile and different nutritional values. The cacao plant is native to South America, and the cacao fruit is harvested and roasted to create either cocoa or cacao powder. Cacao is processed with low heat, making it a nutrient-dense and antioxidant rich food that contains over 300 compounds that support our health and well-being. It is an excellent source of nutrients including healthy fats, vitamins, minerals and proteins.
Ever wondered why eating cacao makes you feel good? Cacao naturally contains high levels of antioxidants (polyphenols and flavanols) which have been shown to reduce inflammation in the body and improve overall well-being.* This powerful little fruit also contains high levels of alkaloids, which are naturally occurring compounds found in plants that send signals to the brain which can mimic the effects of serotonin and trigger positive emotions.* So it's no joke that eating chocolate really can make you feel better!*
What if we told you there's also algae in this smoothie? It's true! Spirulina (a type of blue-green algae) is one of our favorite superfoods to pack an antioxidant and anti-inflammatory punch. Plus, it's loaded with vitamins and minerals to help nourish cells and support internal health. Paired with the plant botanicals in our Vanilla Plant-Based Collagen Boost, this smoothie is chock full of nourishing plant ingredients to support healthy collagen production, glowing skin, and strong hair and nails.
Our reformulated Vanilla Plant-Based Collagen Boost Blend contains biotin and gotu kola extract to better support hair, skin, and nail health and boost your body's natural collagen production process. Biotin is a member of the b-complex family that aids nutrient absorption by helping turn the nutrients we ingest (proteins, carbohydrates, fats) into energy we can use. This process supports our bodily functions, including the cardiovascular, digestive, and metabolic systems. Gotu Kola has been shown to enhance the cross-linking of collagen and support increased collagen production in the body.* Several studies have shown that skin thickness, elasticity, and collagen levels all increased when gotu kola was made a regular part of one's supplement regimen.*
Ready to whip up a tasty smoothie that's sure to give your day a major superfood boost? Read on for the recipe!
Looking for more smoothie recipes to help you get your glow on? Here are a few more to try out:
Vanilla Beauty Tropical Smoothie
Tropical Matcha Collagen Boost Smoothie
Energy Boosting Cold Brew and Cacao Beauty Smoothie
Reese Witherspoon's Favorite Green Smoothie