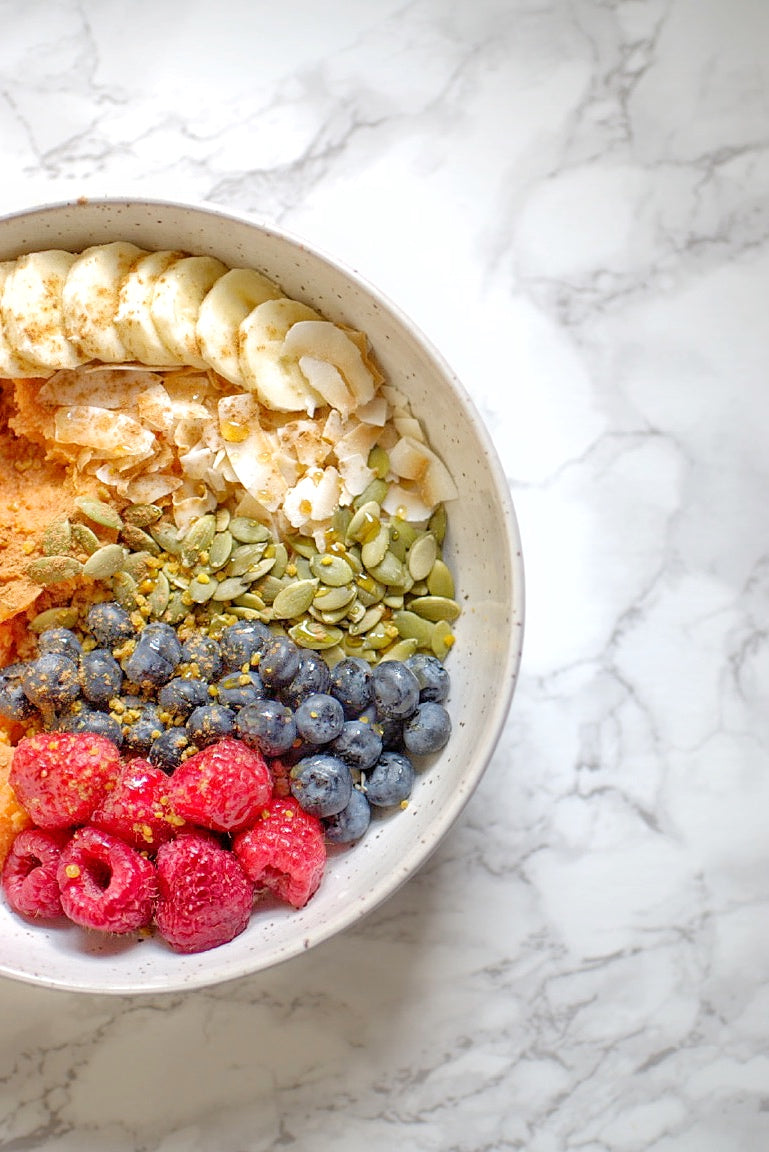 Start your day off right by eating this amazing Rainbow Sweet Potato Breakfast Bowl! This easy grain-free plant-based breakfast takes all of 10 minutes and has everything delicious and nourishing for you packed inside. Try my version, then get creative and test out your own versions!
This Rainbow Sweet Potato Breakfast Bowl is a fantastic way to rev up your energy ahead of a big day and get you moving! It's a simple steamed sweet potato packed with banana, coconut chips, pumpkin seeds, blueberries, and raspberries that are then drizzled in honey and spices. So easy and sooo dreamy! Can't wait for you guys to check it out!
Ingredients:
1 small to medium sweet potato
½ ripe banana
2 tablespoons coconut chips
2 tablespoons pumpkin seeds
¼ cup fresh blueberries
Directions:
The foundation to this bowl is a perfectly-steamed sweet potato. To make one for yourself, wash and slice the sweet potato lengthwise and steam them in a double boiler (I normally place a metal bowl inside a small pot filled with about an inch of water) over low-medium heat for about 5-7 minutes, or until you an easily stick a fork through it.
Next, mash the sweet potato inside its skin and scrape it out into a large bowl. Top with the banana, coconut chips, pumpkin seeds, blueberries, raspberries, wild honey, cinnamon, and cardamom, and enjoy!