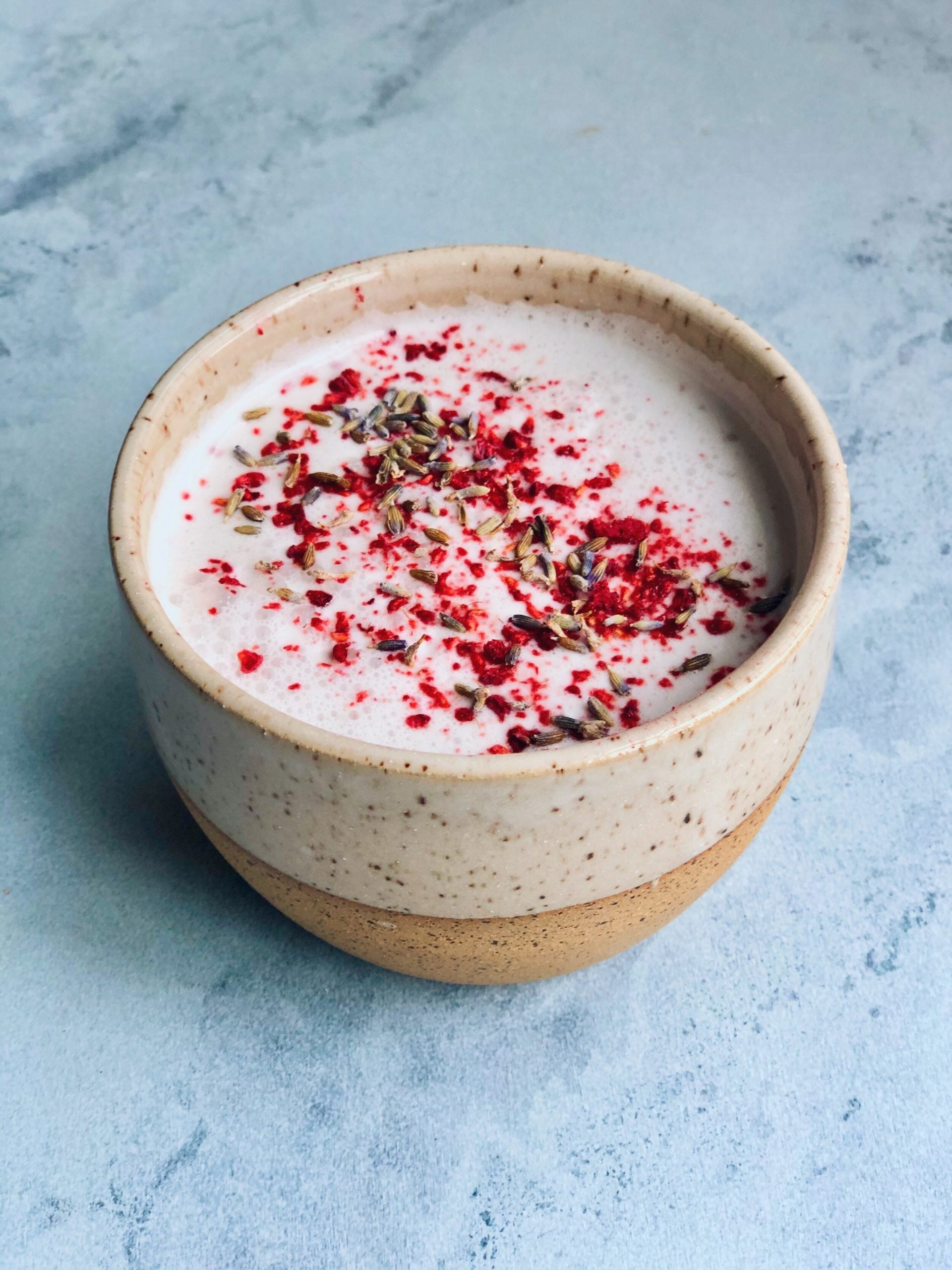 Vegan beauty latte for you! This latte has zero caffeine and is made with raspberry powder and acerola, a collagen alternative, which help to boost your vitamin c and antioxidants and get your skin glowing! It doesn't hurt that this tastes like absolute heaven and is incredibly easy to put together.

I've been drinking acerola as a part of my beauty routine for a while and have noticed a different in the bounce and brightness of my skin… plus I love how it tastes and love that it's vegan. Having it with the raspberry gives a really fantastic flavor that is great for either the mornings or the evenings. I topped the whole latte with extra raspberry and some dried lavender, but both are totally optional!
Caffeine-Free Raspberry Acerola Beauty Latte
prep time:
cook time:
total time:
ingredients:
- 3/4 cup hot oat or almond milk
- 1/4 cup hot water
- 2 tsp freeze-dried raspberries, crushed
- 1 tsp acerola powder
- 1 date (optional)
instructions:
How to cook Caffeine-Free Raspberry Acerola Beauty Latte
Blend all the ingredients together for at least 30 seconds so the whole mixture has time to blend well. Leave a bit of the crushed freeze-dried raspberries out if you want to use some as a topping. Dried lavender also makes a really lovely topping.
Just pour the contents of the blender into a favorite mug, top as wished, and enjoy.
Looking for other delicious latte ideas? Try these out:
Adaptogenic Pumpkin Spice Latte
Beauty Beet & Schisandra Latte