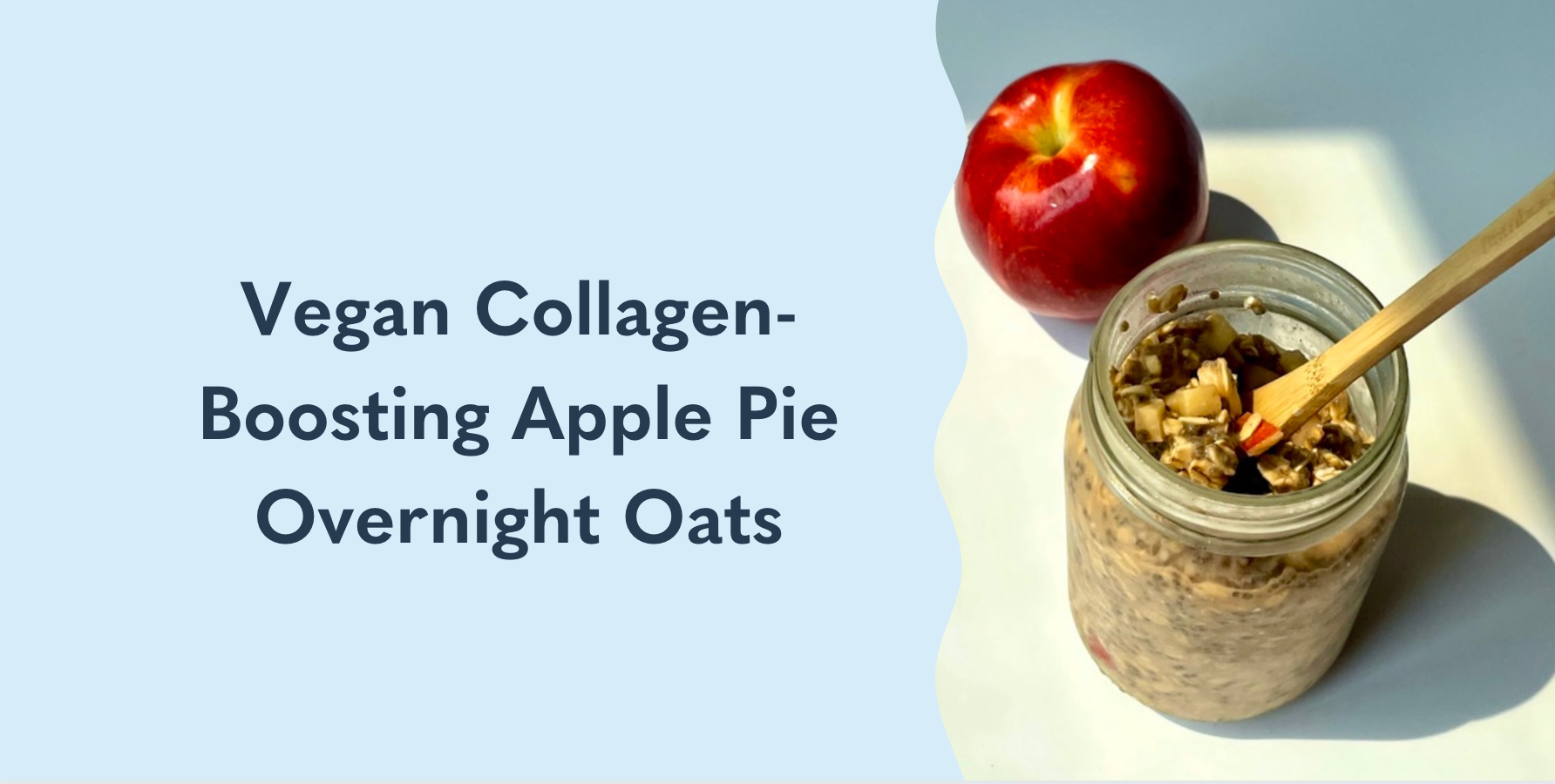 Craving a tasty breakfast with all your favorite fall flavors? Vegan Collagen-Boosting Apple Pie Overnight Oats are the answer! This recipe is perfect for back to school, back to the office, or even just back to bed (let's be honest here!). Overnight oats are one of our favorite breakfasts to make in advance to enjoy stress-free in the morning. Simply transfer them to a bowl or eat them right out of the jar. You can also heat them up and add extra toppings if you want to jazz them up a little, but we promise they're delicious as is.
Curious where these Vegan Collagen-Boosting Apple Pie Overnight Oats get their collagen boost from? We added a scoop of our Original Plant-Based Collagen Boost Blend, which is formulated with an herbalist approved blend of tremella mushroom, bamboo extract, amla berry, and hyaluronic acid help to support your body's natural collagen production to give your hair, skin, and nails a healthy boost.*
Collagen is one of our body's essential building blocks and helps to promote shiny hair, supple skin, and healthy joints. However, our bodies lose the ability to produce collagen as we age. That's where Copina Co. comes in. Our vegan collagen drink powders are edible skincare that help your body naturally produce more collagen without the use of animal products. Our Original Plant-Based Collagen Boost Blend is unflavored and unsweetened, making it an incredibly versatile addition to all your favorite recipes.
Can't wait to try another recipe? Here are a few more to check out!
Cold Brew & Cacao Beauty Smoothie
A perfect way to kickstart your morning! Cold brew, peanut butter, banana, and Cacao Calm Plant-Based Collagen Boost combine to create a delicious smoothie sure to boost your mood and energy levels, asap.
Vegan Collagen-Boosting Iced Maple Latte
Maple is an underrated fall flavor, but this latte delivers perfect seasonal sweetness. Feel free to enjoy it hot or iced, both are equally delicious!
Chocolate Superfood Rice Krispie Treats
A fun, nostalgic treat gets an upgrade from our Cacao Calm Plant-Based Collagen Boost. Sprinkles totally not optional.
Matcha Blueberry "Boba" Tea Latte
If you haven't tried using frozen fruit in place of tapioca pearls when making a Boba tea latte, then consider this your sign. It's a game changer! Plus, blueberry and Matcha are an unexpectedly delicious combination.
Collagen-Boosting Apple Pie Overnight Oats Recipe
Ingredients:
½ cup rolled oats

1 tbsp chia seeds

1 scoop Copina Co. Original Plant-Based Collagen Boost

2 pitted dates, chopped

½ apple, chopped

½ cup plant milk

Dash of cinnamon

Drizzle date syrup, maple syrup, or your choice of sweetener
Preparation:
Combine oats, chia seeds, Original Plant-Based Collagen Boost, dates, apples, cinnamon, sweetener, and plant milk in a jar.

Shake well to combine,

Refrigerate overnight (or at least 4-6 hours)

Top with more apples, cinnamon, and nut butter if desired.