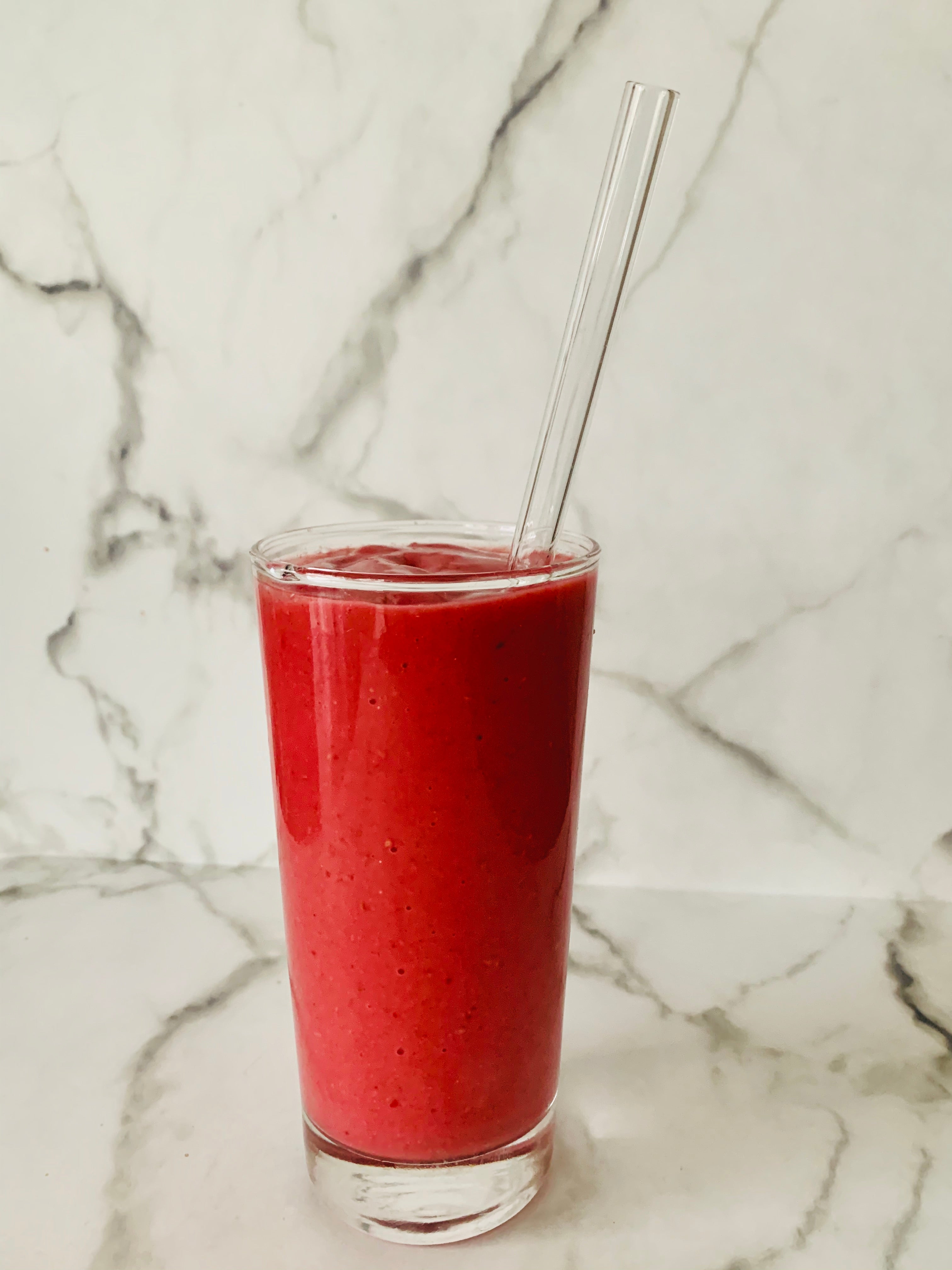 We all deserve to feel like we're on a tropical vacation right now. Sunny skies, sandy shores, and crashing waves would make the perfect backdrop to sip this tropical smoothie. Lucky for you, this smoothie will mentally transport you to your favorite summer vacation spot, no plane ticket necessary.
While this smoothie is perfect as it is, if you're looking to get extra fancy you could easily transform it into a delicious smoothie bowl. Just reduce the amount of liquid slightly to result in a thicker smoothie, then transfer to a bowl and sprinkle on your favorite toppings. We think shredded coconut, your favorite granola, extra sliced banana, and a drizzle of nut butter would be absolutely heavenly on top of this smoothie. While you may not get a tan from drinking this smoothie, you'll definitely get your #CopinaCoGlow on!
If you want to go the extra mile, you could even whip up a batch of our 1-Bowl Perfect Superfood Granola. Hearty rolled oats, crunchy toasted nuts, antioxidant-rich goji berries, and sweet raisins all combine to make granola so perfect that you'll be whipping up a Vanilla Beauty Tropical Smoothie every morning just as an excuse to sprinkle a generous amount on top.
If you're new to Copina Co. first of all: welcome! Secondly, we believe in being nice to yourself and creating a friendly wellness community. We believe beauty products should help us highlight what we love most about ourselves instead of working hard to cover them up. The way we see it, we're the most beautiful when we let our favorite parts about us shine. This is why we're committed to bringing you the highest-quality products that are simple, effective, totally delicious, and made to fit all that life throws your way! Copina Co. is a brand of ingredients-first edible beauty products that are dedicated to highlighting what you love most about yourself and boosting your inner beauty.
Speaking of inner beauty, this Vanilla Beauty Tropical Smoothie gets an added beauty boost from our new Vanilla Plant-Based Collagen Boost Blend and adds a deliciously sweet and creamy flavor. Plus, your hair, skin, and nails will love the benefits from this smoothie too, thanks to our herbalist-approved blend of plant botanicals.* Amla berry, hyaluronic acid, bamboo extract, and tremella mushroom work together to help your body naturally synthesize more collagen, resulting in stronger hair and nails and more supple and moisturized skin.* Think of it this smoothie like fruity and delicious sippable skincare.
Looking for more beauty-boosting smoothie recipes?
Chocolate Mocha Beauty Smoothie
A chocolatey veggie-packed smoothie made with our Cacao Calm Beauty blend for lots of sweet cocoa flavor and added calming benefits thanks to ashwagandha.
Blue Majik Matcha Beauty Smoothie Bowl
This smoothie is the ultimate beauty food! Made with our Matcha Beauty blend, this gorgeous smoothie gets its blue hue from spirulina.
Blueberry Pie Beauty-Boosting Smoothie Bowl
Pie for breakfast? Yes, please! Made with our Original Beauty blend, this smoothie really tastes like dessert but gets its flavor from frozen blueberries, banana, and our secret ingredient, a dash of cardamom.
Matcha Mint Chip Smoothie Bowl
Mint and chocolate are a match made in heaven with this smoothie, and we've added in our Matcha Beauty blend for an extra special treat that tastes as good as it looks.
If you haven't already sprinted to your kitchen and whipped out your blender, what are you waiting for? These smoothies all taste amazing and are pretty amazing for you, too. Plants are pretty incredible like that. After you've whipped up this tasty Tropical Smoothie, you'll be totally on board with being your own best friend, especially when it means creating something this delicious!
Make sure to tag us in all your recipe recreations on Instagram @copinaco and tag #ClubCopinaCo and #CopinaCoGlow! We can't wait to see what you create!
Vanilla Beauty Tropical Smoothie
Ingredients
1/2 cup frozen strawberries ⁠
1 frozen banana ⁠
1/2 cup frozen pineapple ⁠
1 scoop Copina Co. Vanilla ⁠
1 1/2 cups almond milk⁠
Instructions
Add all ingredients to a blender. Blend together until smooth and enjoy!