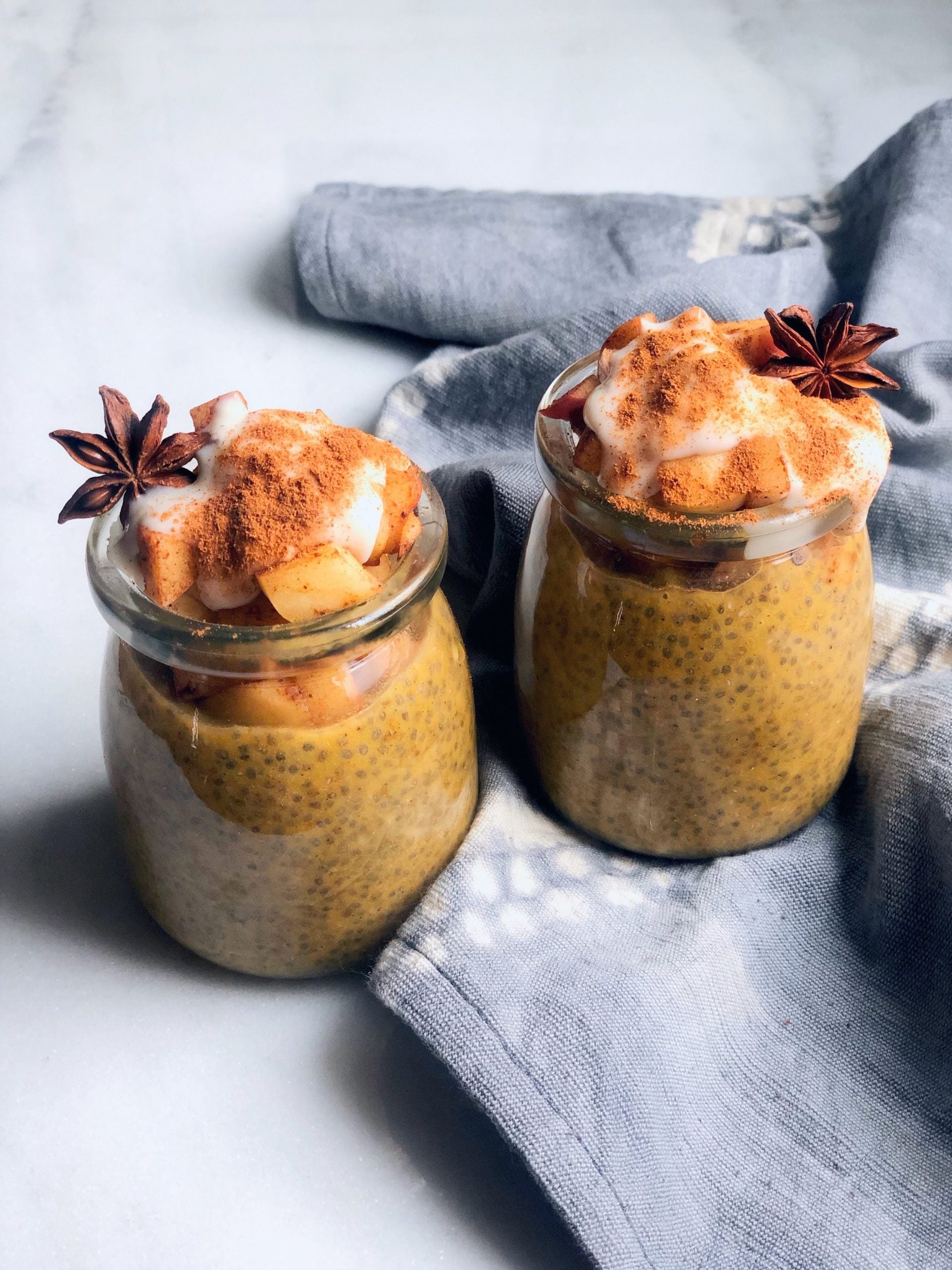 All hail these easy, Vegan, Whole 30, and Paleo Spiced Pumpkin and Apple Chia Pudding Pots! It's the season for pumpkin, pumpkin and more pumpkin. I can never get enough pumpkin spice and cozy things in the Fall and, well, all year long. These vegan pumpkin pie chia pudding pots are actually my new favorite thing. I made them for myself when my husband Alex was away the other week and got some very colorful "I'm jealous of your breakfast" texts!
The elements of the dish are pretty simple, but together make something beautiful. It's a base of pumpkin spice chia pudding with spiced sauteed apples and plant yogurt to top - that's it! I personally love a little something to garnish these, so I added some ground cinnamon and a little star anise that's just for decoration.
Prep for this recipe is as easy as combining all ingredients together and then letting them sit while the chia seeds soak up all the liquid gold goodness. I love to top it off with extra plant yogurt and cinnamon! This is a perfect way to enjoy that sweet pumpkin spice flavor while getting tons of important nutrients. Pumpkins contain Vitamin C and beta-carotene, vitamins that studies say helps our skin to naturally boost its collagen.
Can't get enough pumpkin? Check out some of my other delicious pumpkin recipes.
10-Ingredient Holiday Stuffed Pumpkin
Spiced Pumpkin and Apple Chia Pudding Pots
ingredients:
- 1/3 cup chia seeds
- 1 1/3 cup almond milk
- 2 big spoonfuls almond yogurt
- 1/4 tsp pumpkin pie spice from
- 1/4 tsp pumpkin puree
- 1/4 tsp turmeric
- 1-2 scoops collagen powder (optional)
- 1 apple, cut into mini slices
- 1/4 tsp pumpkin pie spice
- a touch of coconut oil
instructions:
How to cook Spiced Pumpkin and Apple Chia Pudding Pots
Combine all the chia seed ingredients from chia seeds to turmeric or collagen if you're using it together in a shallow bowl and let them sit as the chia seeds absorb the liquid. Stir occasionally. This should take about 5-7 minutes. Set the bowl aside as you prep the apples.
Sauté the apple in the coconut and pumpkin spice in a medium saucepan for about 3-5 minutes or until the apples begin to soften and become fragrant. To put it all together, add the chia pudding to the pots, add the apple, then top with extra plant yogurt and top with cinnamon and start anise if you like!