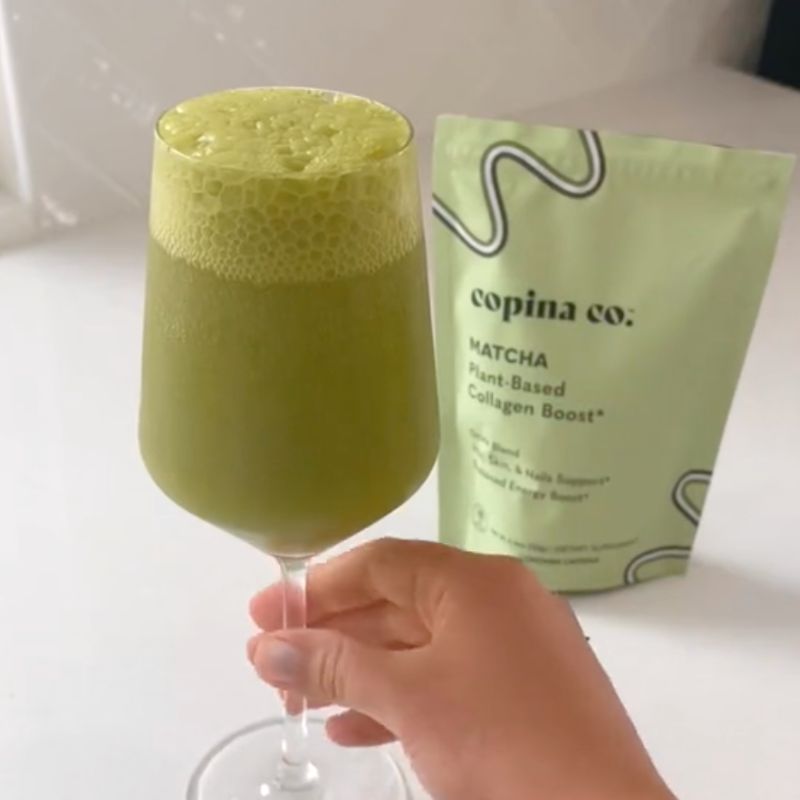 We have been absolutley loving making fun mocktails this summer. Who does not love a fun night-cap that also has skin-boosting benefits? Our Matcha Mocktail is a great zero-sugar option if you love Matcha and bubbly water!
Our Matcha Mocktail has our Vegan Matcha Collagen Boost Drink Blend in it. In combination with our lemon sparkling water, raspberries, and our Matcha blend your body will be receiving a refreshing, hydrating, and nutrient-rich spritzer. Matcha is one of the most antioxidant-rich foods that exist and is said to have nearly 14 times more antioxidants than blueberries, 6 times more than dark chocolate, and 12 times more antioxidants than regular green tea.* And that's just in one teaspoon!
All of our Plant-Based Collagen Support blends have a unique, herbalist approved and lab-tested blend of plant botanicals that have proven to be effective at boosting and supporting your body's natural collagen production process. Healthy collagen levels means healthier hair, skin, and nails - powered by plants!
Mocktails are great options if you like having drinks around family or friends and want something that does not dry your skin out. Try our Matcha Mocktail next time you are having friends over or when you want a sparkling caffeine-kick.
Check out our Mocktail recipe on Tik Tok or Pinterest.
Want more Matcha recipes? Try some of these out next time you make a latte!
Matcha Lemonade
Matcha Vanilla Affogato
Beauty-Boosting White Chocolate Matcha Latte
Pumpkin Matcha Latte
Strawberry Milk Matcha Latte