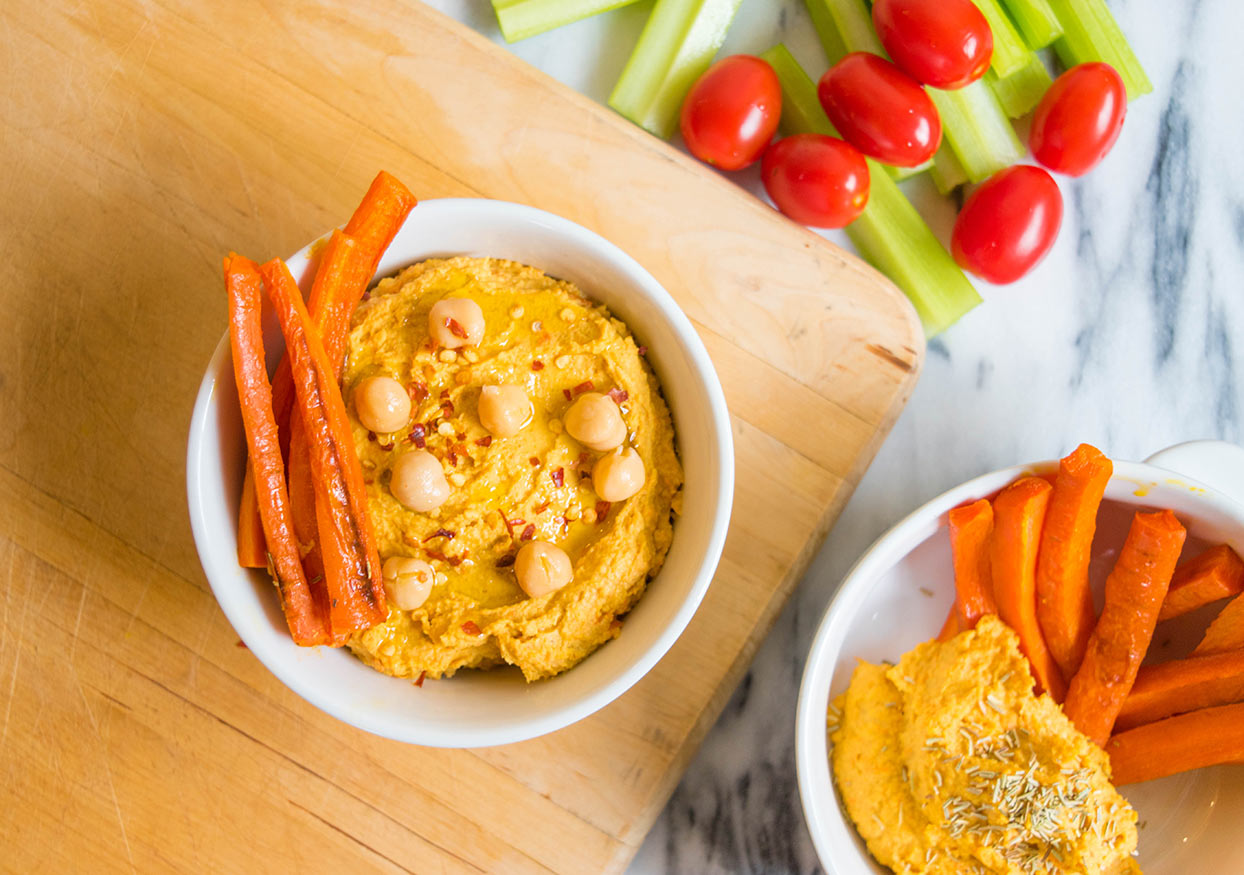 Roasted Carrot Hummus
Meet my absolutely new favorite snack: Roasted Carrot Hummus! This side dish of the gods takes just 25 minutes to make, is made with under 10 ingredients, is completely plant-based and gluten-free, and is totally perfect for spicing up your lunch routine without spending hours in the kitchen on meal prep.
Just layer this on a slice of avocado toast, dab in a bowl, or wrap up with falafel , and you've got an easy, colorful, and delicious way to add a big boost of veggie-powered color to your meals. The hummus has a gorgeous orange hue and a fantastic sweet, but earthy flavor from the roasted carrots and cumin.
Roasted Carrot Hummus
I could (any have) eat this at any meal. It's really such a crowd-pleaser; I've never met anyone who didn't think this was the coolest thing since sliced bread. Try it on your roommates or family and you'll be sure to impress them with your veggie prowess.
A few hummus-topped veggie bowl suggestions for you:
Carrot Hummus + Kale + Mashed Avocado + Quinoa +Roasted White Beans + Sliced Bell Pepper and Tomatoes + Sesame Seeds
Roasted Carrot Hummus
2) Roasted Carrot Hummus + Kale + Seasoned Quin0a + Mashed Avocado + Sauteed Mushrooms and Zucchini + Sliced Tomatoes +Tahini
Roasted Carrot Hummus
One note on the making of this dish: you should use a food processor or large blender such as a Vitamix. Smaller blenders such as the bullet blender I use for smoothies just don't work well with the added bulk of the roasted carrots.
Are you a hummus addict like me? Don't worry child. You're right at home. Check out other AMAZING recipes you can use to spice up your hummus game: Turmeric Hummus, Best Beet Hummus, and Creamy Classic Hummus. Make them up with a batch of Homemade Tortilla Chips and you'll be in heaven.
Roasted Carrot Hummus
Total Time: 25 minutes
Ingredients:
3 large carrots
2 15 oz. cans garbanzo beans, drained
4 large garlic cloves, unpeeled
½ cup + 2 tablespoons olive oil
5 tablespoons tahini
2 tablespoons ground cumin
Juice of 2 lemons
2 tbsp apple cider vinegar
Sea salt
Directions:
Preheat your oven to 425*F.
Start on your way to perfect hummus by washing slicing the carrots (skin on) to 1/4 inch x 3 inch rectangular pieces, tossing them in 2 tablespoons of olive oil, and a dash of salt, and laying them on a parchment paper-lined baking sheet. Bake for 20 minutes, then remove from the oven and let cool.
In a food processor, add the roasted carrots and all remaining ingredients and blend until combined. Store in a mason jar or any other airtight container for up to 1 week and enjoy!