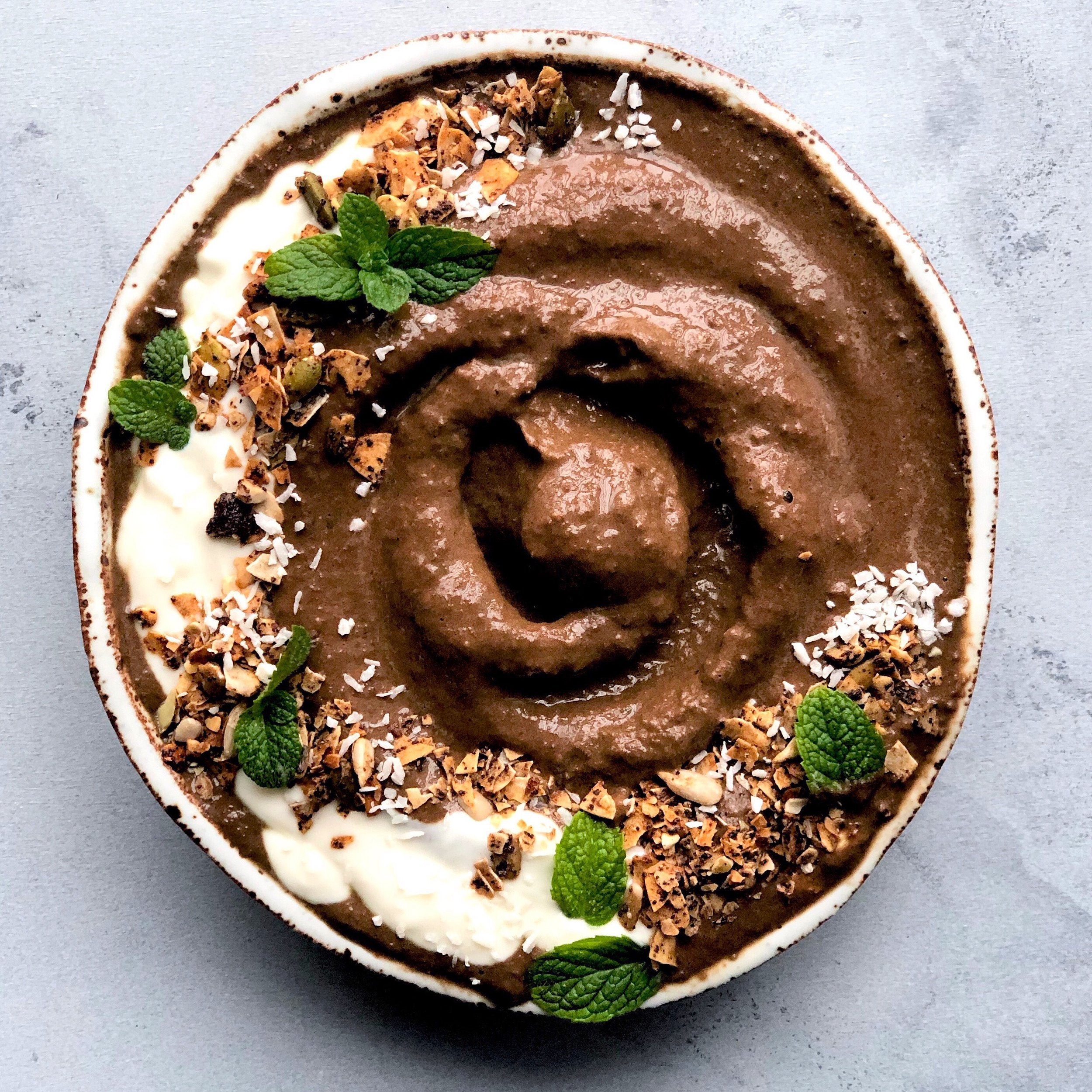 It's summertime in California and this season I'm embracing the beauty of love, of encouragement, positivity and embracing ME! I'm deciding to put negative talk aside and ditch the "rules" of healthy eating. Eating plant-based definitely set a great foundation for the way I eat today, but I'm not longer ruled by what's "right" and what's "wrong". Healthy choices can be made even with a gigantic bowl of chocolate smoothie goodness that tastes like soft-serve ice cream but full of superfood & veggie goodness. This mint chocolate smoothie is literal heaven and full of high vibe greens!
I used both frozen sweet potato and frozen cauliflower in this delicious smoothie. Using frozen veggies a smoothie not only makes your smoothie thick and creamy but provides the full nutritional content. I also used fresh mint and a healthy dose of cacao powder which helps with natural energy and provides a ton of antioxidants to the body. I also added a touch of spirulina which sounds weird but I promise you don't even taste it! Spirulina is a great source of greens and helps detoxifies the body - perfect for the morning!
This smoothie bowl is great as a delicious and filling breakfast or a post-workout treat! Can't wait to see what you think!! Tag me when you make your own (@copinaco)!
Looking for more energizing and super yummy smoothie bowls, try out these recipes:
Chocolate Chai Sweet Potato Smoothie
Mint Chocolate Smoothie Bowl
ingredients:
1 frozen banana
⅓ cup frozen sweet potato
½ cup frozen cauliflower
⅔ cup almond milk
1 packet or 1 scoop protein powder of choice
1 small handful of fresh mint leaves
⅔ cup water
2 tablespoons cacao powder
½ teaspoon spirulina powder
1 tablespoon chia seeds
Suggested Toppings:
Plant-based yogurt
Granola
Bee pollen
Coconut shred
Sprig of mint
instructions:
How to cook Mint Chocolate Smoothie Bowl
Add all your ingredients together in a strong blender and blend until smooth. Add more almond milk or water if you want it extra liquid-ey. This recipe is meant to yield a thick smoothie. Eat by the spoonful and ENJOY!