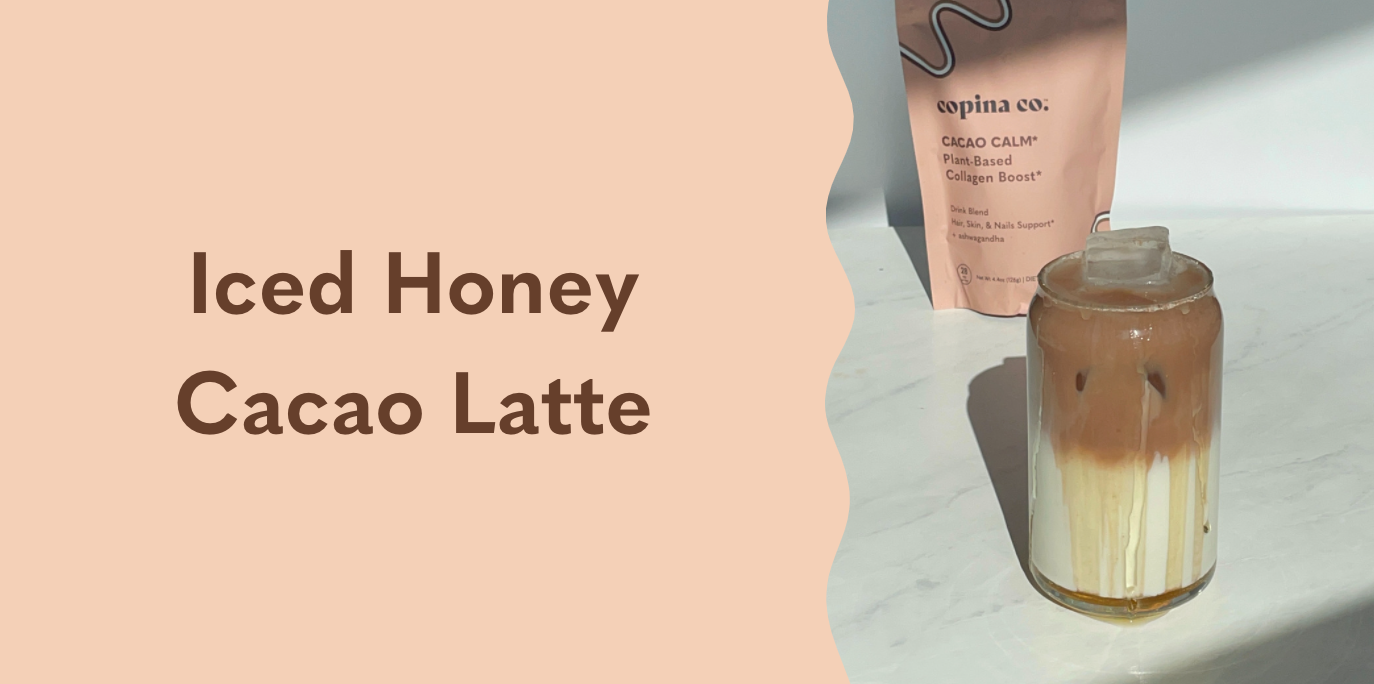 Time to break out of your beverage routine and try something new! This Iced Honey Cacao Latte is a delicious, caffeine-free option that's perfect at any time of the day. Creamy and chocolatey with a hint of sweetness, our Honey Cacao Latte is a recipe you'll want to make again and again. It would also be super tasty and comforting served as a warm drink. Made with our Cacao Calm Plant-Based Collagen Boost blend, which contains cacao powder and ashwagandha which are both shown to have mood-boosting effects, this latte might just put a smile on your face with every sip.*
Mood boosting benefits of cacao and ashwagandha
Cacao is packed with antioxidants and natural mood-boosting molecules (polyphenols and flavanols) which have been linked to reducing inflammation and overall improved well-being.* Ashwagandha is an adaptogenic herb traditionally used in Ayurvedic medicine. It has been shown to help the body manage stress and maintain balance by blocking stress signaling pathways in the nervous system, thus promoting a sense of calm.* We use Organic KSM-66 Ashwagandha Root Extract, the most potent and highly tested ashwagandha extract on the market.
So if you're looking for a delicious new drink, look no further than this Iced Honey Cacao Latte! Trying a new recipe is a great way to be nice to yourself and show yourself a little extra love.
Click here to see this recipe step-by-step on our TikTok!
Iced Honey Cacao Latte
Ingredients
Honey (sub agave if vegan)
1 scoop Copina Co. Cacao Calm Plant-Based Collagen Boost
2oz warm water
1 cup oat milk
Ice
Instructions
Drizzle honey around glass and add ice
Pour oat milk into glass
Whisk together Copina Co. Cacao Calm Plant-Based Collagen Boost and warm water
Pour mixture into glass, stir, and enjoy!