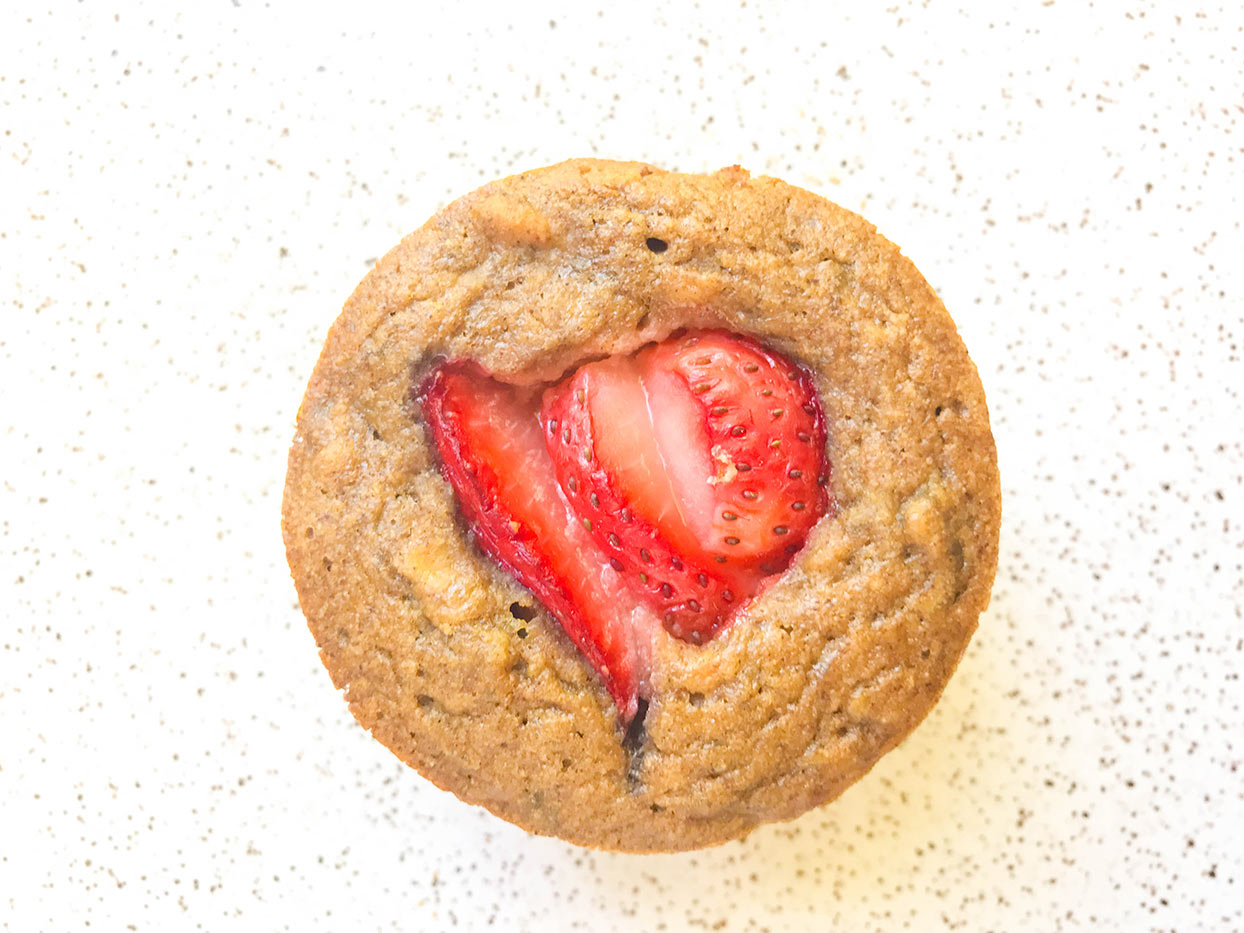 Is there anything better than having a little slice of summer in your morning breakfast? I've always loved strawberry and banana treats during the warm summer months and am so excited to share the perfect way to enjoy them in a light, fluffy, and effortless bite. You're going to fall head-over-heels for these strawberry banana oat muffins! They're under 10 ingredients, gluten-free, oil-free, plant-based and are sweetened with just fruit, oats, and maple syrup.
Splitting one of these in half right out of the oven is perhaps one of the most pleasurable ways to start your Saturday morning. The strawberries on top add a wonderful sweet gooiness to the texture of the muffins and have just the best flavor with the sweetness of the oats and the banana.
The muffins themselves are so soft and super satisfying because they're made with only amazing ingredients! The base is simple oat flour, almond milk, and bananas with a dash of cinnamon and vanilla to spice up the mix. If you don't have any oat flour at your local grocery store, you can make some yourself in a snap. Simply measure out 2 cups of oats, pour them into a blender or food processor, and blend until you get a nice fine flour. I love oat flour in my breakfast recipes because it absorbs liquids so well, helps keep you full, and adds a fantastic natural sweetness to any meal.
I can't wait to hear how you like this recipe! I made these for Father's Day and the entire batch was gone in just minutes. They're that good!
Ingredients:
1 ¾ cup oat flour
1 ½ teaspoons baking soda
¼ teaspoon salt
1 ½ teaspoons cinnamon
1 teaspoon vanilla extract
2 large very ripe bananas, mashed
1/2-2/3 cup maple syrup (depending on how sweet you like your muffins)
½ cup almond milk
a large handful of fresh, ripe strawberries
Directions:
Preheat oven to 350*F
This is super simple. Just start by mixing the dry ingredients together in a large bowl, starting with the oat flour and ending with the cinnamon. Stir to combine, then start by adding the wet ingredients from the vanilla to the almond milk.
Take out a cupcake baking tray, rub in coconut oil or add parchment paper to prevent sticking, then add the mixture evenly to each cupcake form. Top with thinly-sliced pieces of the ripe strawberries. No need to push them down into the dough. Gravity will do that work for you. All that's left is to then bake on the middle oven rack for 20-25 minutes, remove from the oven, let them cool, and enjoy!