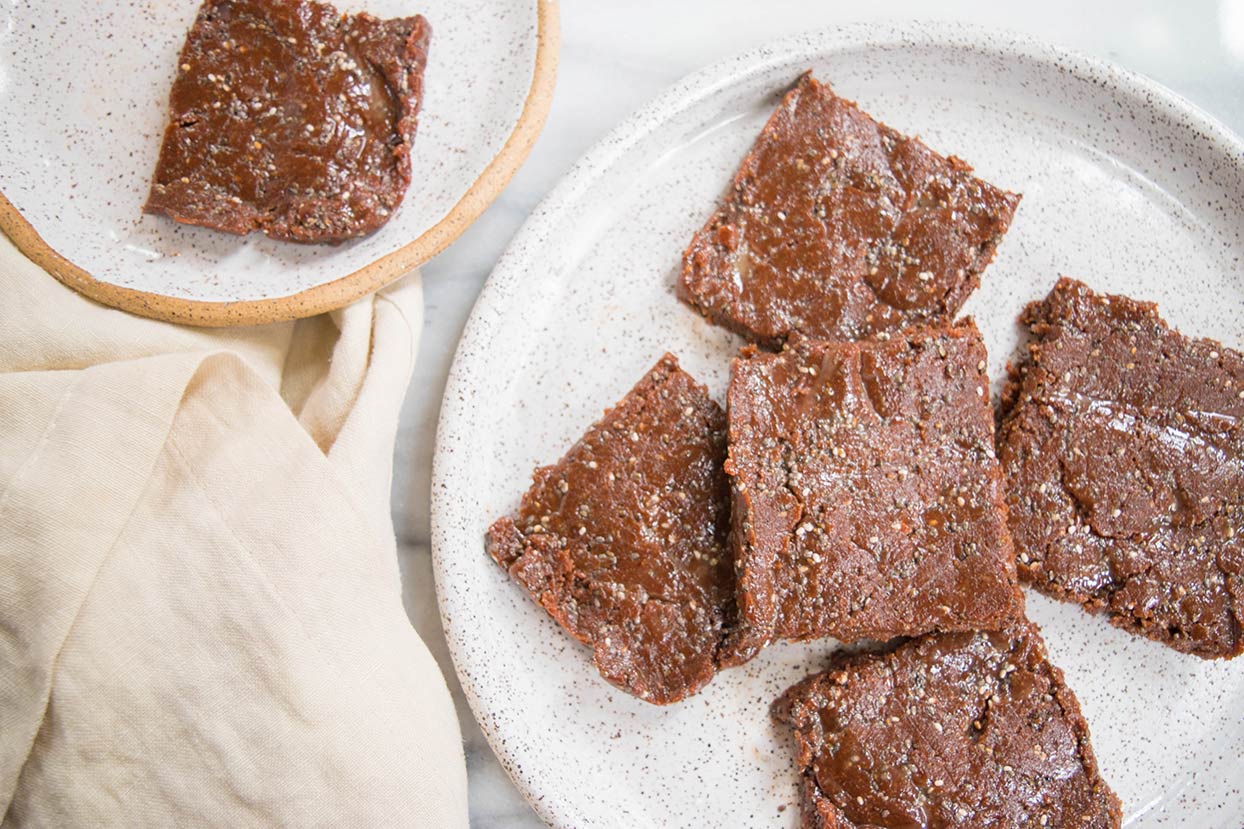 This is the easiest and most delicious dessert ever! Eat these with zero guilt and full pleasure because you know they're as nourishing as they are easy and delicious. I invite you to meet your new best friend: dreamy raw chocolatey mocha brownies! They're made with only 8 ingredients, take just 5 minutes to prep, and taste almost too delicious to believe. Need another reason to love these brownies? Get this – they're packed with alkaline almonds and natural unrefined sweetness from dates and are completely plant-based and gluten-free. BOOM.
Literally all you have to do is pop your ingredients in a food processor, set in the fridge, and enjoy every last bite! I call these brownies, but they can also double as energy balls if you roll them up in your hands for a quick snack. The base of the brownies is made up of dates, almond butter and almond meal. What these do is add a light nutty sweetness that also serves to bind the rest of the ingredients together. Chia seeds, espresso powder (mocha, baby!), cacao powder, sea salt, and coconut oil all get added in for extra fun and extra love.
If you love this recipe and want some more chocolatey goodness, try my AMAZING 10-Ingredient Sweet Potato Chocolate Cupcakes, my Almond Butter & Chocolate Puffed Rice Squares, my 10-Ingredient Peanut Butter Swirl Brownie Bites, and my Fudgey Black Bean Brownies!
Yields 12-16 brownies
Total Time: 35 minutes
Ingredients:
12 medjool dates, pitted
½ cup almond butter
¼ cup almond meal
3 tablespoons chia seeds
1 ½ teaspoons espresso powder
3 tablespoons cacao powder
½ teaspoon sea salt
2 tablespoons coconut oil
Directions:
The beauty of raw brownies is that they're as easy as can be! Just put all your ingredients in a food processor, blend until smooth, then spread the mixture evenly into a parchment paper-lined 9x9 brownie pan. Let it set in the fridge for about 30 minutes, then enjoy!
Dreamy Raw Mocha Brownies