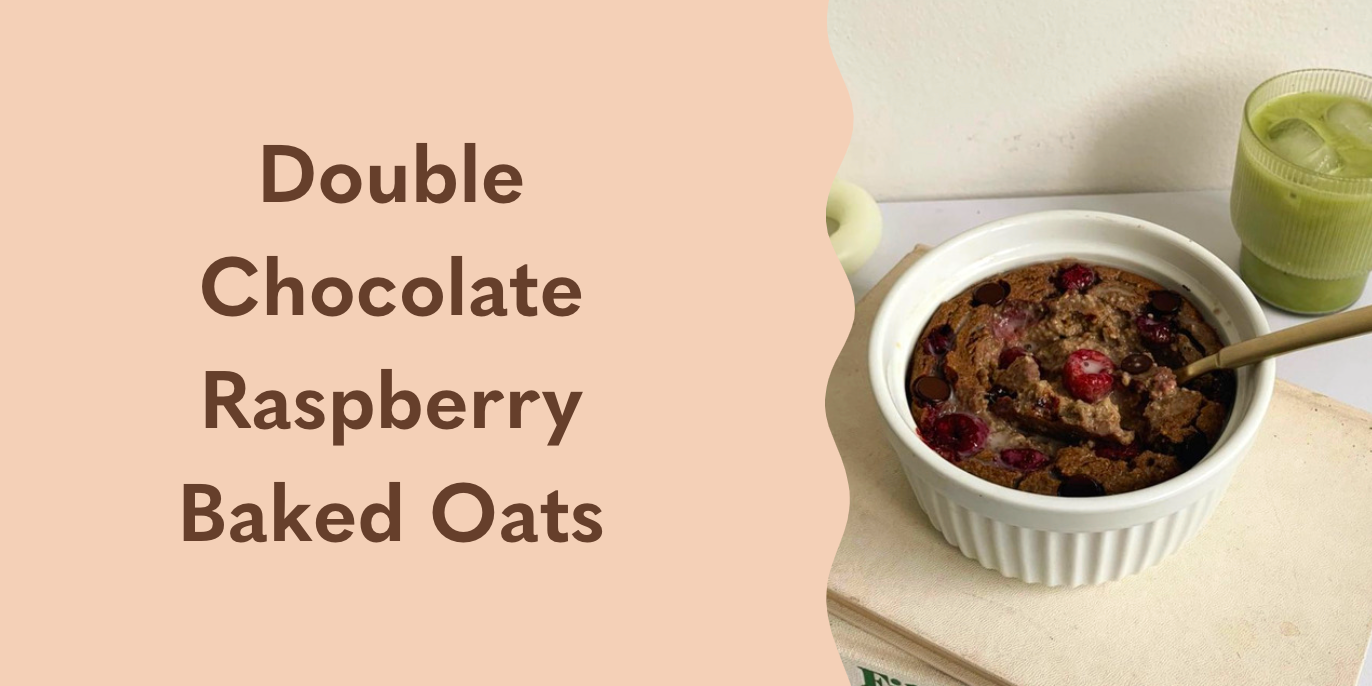 Cake for breakfast? Sign us up! Okay, so maybe these Double Chocolate Raspberry Baked Oats aren't exactly cake, but they're so tasty with a light and fluffy texture they really might as well be! Plus, who can really say no to a little chocolate for breakfast? Certainly not us! These baked oats get their chocolate base from our Cacao Calm Vegan Collagen Boost Hot Cocoa Blend, which is made with plant botanicals to support your body's natural collagen production.* It has a yummy chocolatey flavor and contains the adaptogen ashwagandha to help your body regulate stress.*
If you've never tried baked oats before, now's the time to do it! Making baked oats is so easy and the results are truly incredible. Who doesn't want a bowl of fluffy, cakey oats loaded with chocolate chips and raspberries in the morning? Not to mention our Cacao Calm Plant-Based Collagen Boost is made with plant botanicals to support nourished and glowing hair, skin, and nails- it's like skincare you can eat!
All you have to do is add all your ingredients (except for the chocolate chips) to a blender and blend on high for about a minute until a smooth texture is achieved. You then pour the mixture into your oven-safe dish, stir in chocolate chips, and bake! Yep - it's that easy. Your house will be filled with the delicious aroma of these baked oats- don't be surprised if your roommates or family get a little jealous!
We recommend topping your Double Chocolate Baked Oats with a splash of oat milk or a drizzle of nut butter. Extra fruit or even yogurt would be delicious as well. Feel free to get creative!
*Recipe inspired by @sweatysweetpotato
Love these recipes and want to see more? Sign up for our newsletter and follow us over on Instagram @copinaco and be to be the first to know of new recipes, sales, and everything else going on!
Double Chocolate Raspberry Baked Oats
Prep time: 3 Min
Cook time: 30 Min
Total time: 33 Min
Ingredients
1/2 cup oats
1/2 cup plant milk
1/2 banana
1 tbsp chia seeds
1/2 tsp cinnamon
1/2 tsp vanilla
1 tsp baking powder
2 scoops Cacao Calm
pinch sea salt
2 tbsp chocolate chips
handful raspberries (frozen works too)
Instructions
Preheat oven to 400 degrees F
Add all ingredients except chocolate chips and raspberries to blender.
Blend on high for about one minute, until a smooth texture forms.
Pour into a greased oven safe bowl/dish, top with raspberries and chocolate (pressing some into the batter) and bake for 25-30 mins
Add desired toppings and enjoy while warm!