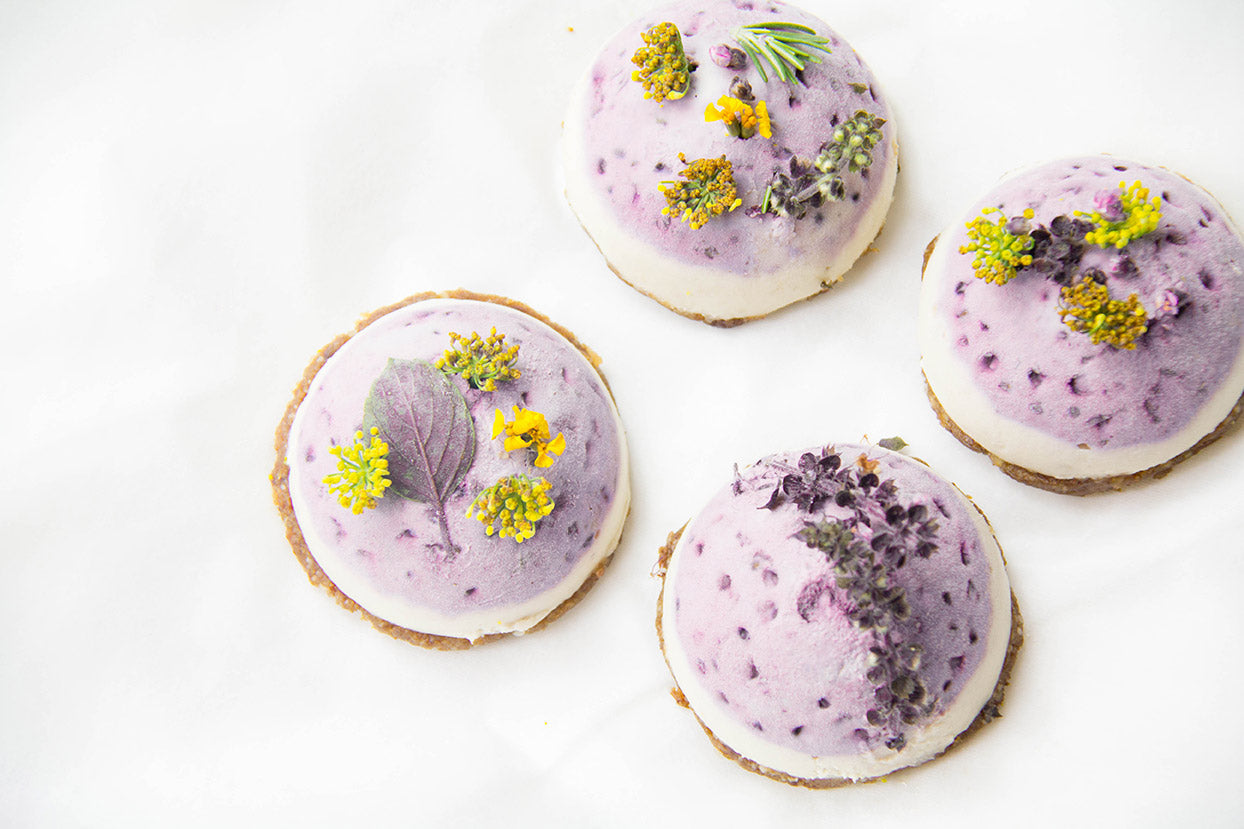 One of my favorite things about Instagram is how it connects people. I recently came across the amazing @illltaketwola and am excited to share her drool-worthy and totally easy blueberry raw vegan cheesecake with you. They're wonderful for weeknight treats or parties alike and store easily in the freezer. She topped them with edible flowers and leaves for finish that's deceptively simple to re-create.
Shaina's love of color and striking aesthetic make her gorgeous account and work shine. She shows some serious talent at just 19 years of age and I know you'll love her work too. Her recipe and a bit about her are below.
If you're looking to check out more awesome dessert ideas, see these vibrant pitaya cheesecake bars, vegan tahini brownies, and dreamy raw mocha brownies.
RECIPE (makes about 12)
FOR THE CRUST
1 cup dates
1 cup raw almonds
FOR THE FILLING
1 1/2 cups cashews (soaked for 4 hours)
1/4 cup fresh lemon juice
1/3 cup melted coconut oil
1/2 cup maple syrup
1/4 cup blackberries
INSTRUCTIONS
Blend together your dates and almonds to form a crust and set aside in the freezer.
Combine all ingredients besides for blackberries in the blender and blend or 3 minutes. Leave 1/2 cup of your filling mixture in the blender and start assembling your cheesecakes by poring your filling onto your crusts and place it in the freezer, Then add the blackberries to the blender with the remaining filling and blend until smooth. Pour the remaining mixture on the tops of your cheesecakes and freeze for 1 hour.
About Me
Hi! My name is Shaina Benzaquen, a 19-year-old budding nutritionist and health coach. I have a passion for discovering new ways to make everyday foods exciting by incorporating novel flavors into my recipes that enhance the taste and appearance of my dishes. The most important aspect of these recipes are the nutrient dense health benefits of each dish, snack, drink or dessert. I love experimenting with flavorful, colorful fruits, veggies, herbs and spices. My goal is to make each dish as beautiful as it is delicious in order to create a table that is both eye catching and mouth watering.