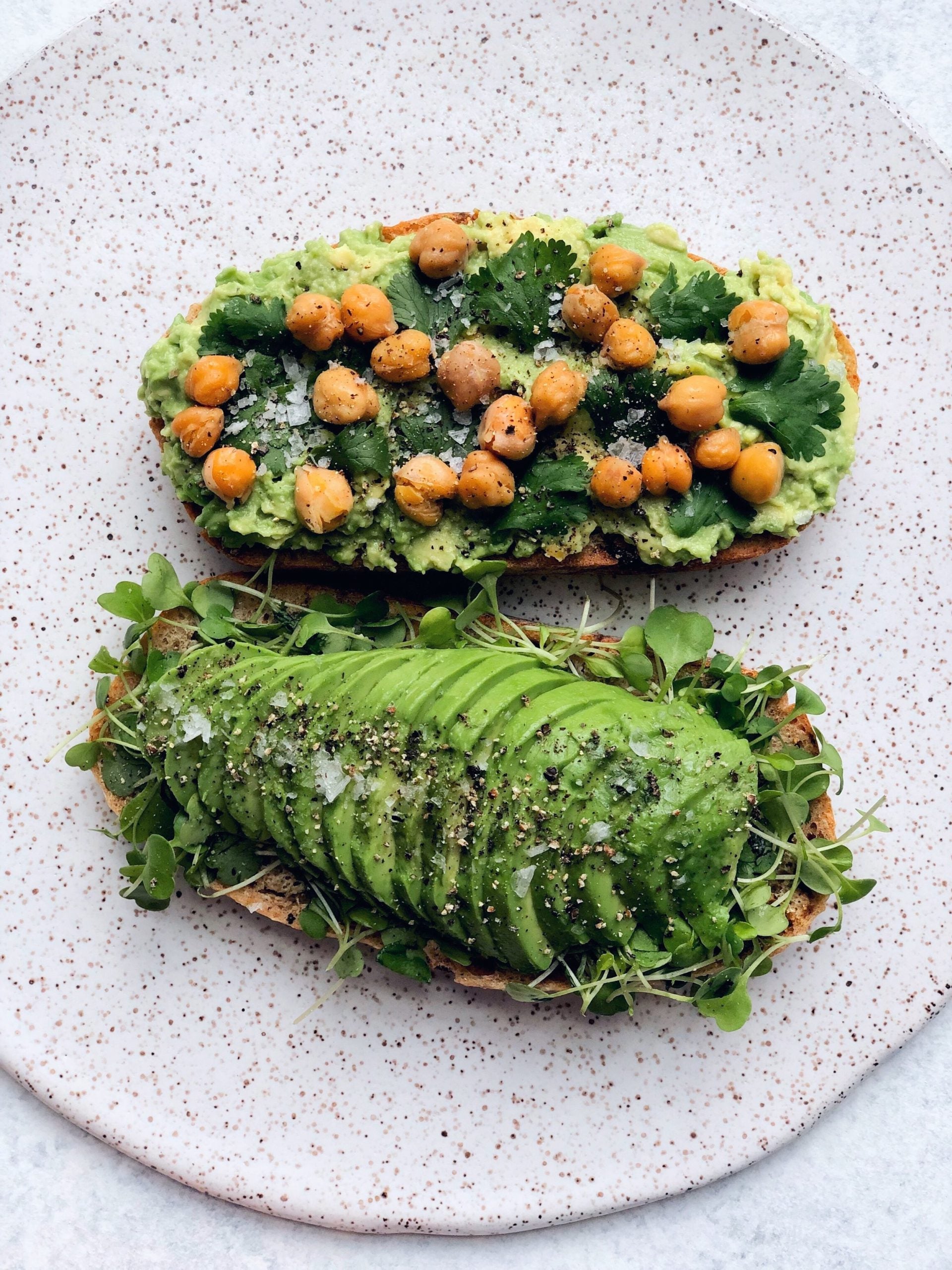 Since when did gluten make the naughty list? Not in my world. I've learned that finding QUALITY bread made with real yeasts is good for you and a lot less complicated than gluten-free everything.
Sometimes you just want a good ol' fashioned avocado toast, but by now you know I like to dress up all my tasty treats just a tad. These avocado toasts are really easy to make and can be created to your liking. Use them as inspiration for your next Sunday brunch or make them as is when you're craving a satisfying and nourishing post-workout snack.
The first toast is loaded with sunflower sprouts, sea salt, pepper and avocado (of course!). The other is mashed avocado with roasted chickpeas (roast the chickpeas from 1 drained 15oz can at 400*F for 20 minutes with 1 tsp olive oil, ¼ tsp sea salt, and ¼ tsp black pepper) , cilantro, salt and lemon juice. Sunflower sprouts have high amounts of vitamin E and antioxidants and chickpeas have a ton of benefits from improving weight management and are a great source of protein, making both of these great toast toppings!
Avocado Toast 2 Ways
ingredients:
Toast 1 Ingredients
1 slice of bread (I used fig anise bread from a local farmer's market)
½ avocado (sliced)
Handful of sunflower sprout
Sea salt
Pepper
Toast 2 Ingredients
1 slice of bread
½ avocado (mashed)
Chickpeas
1 tsp paprika
1 tsp cumin
Fresh cilantro
Salt
Lemon juice
instructions:
How to cook Avocado Toast 2 Ways
Toast 1 Directions
Toast bread and spread on a bed of sunflower sprouts. Slice avocado and place on top then sprinkle with sea salt and pepper. Enjoy!
Toast 2 Directions
Toast bread and spread on mashed avocado. Bake chickpeas (garbanzo beans) with cumin and paprika. Top avocado with fresh cilantro, chickpeas and finish with salt and a touch of lemon juice.
Interested in more delicious toast ideas? Try out these recipes:
Savory Toast 2 Ways: Miso Kabocha Egg Toast and Sauteed Tomato Toast
Easy Sweet Potato and Miso Toast with Watermelon Radish "Sprinkles"
Creamy Mushroom Sourdough Toast