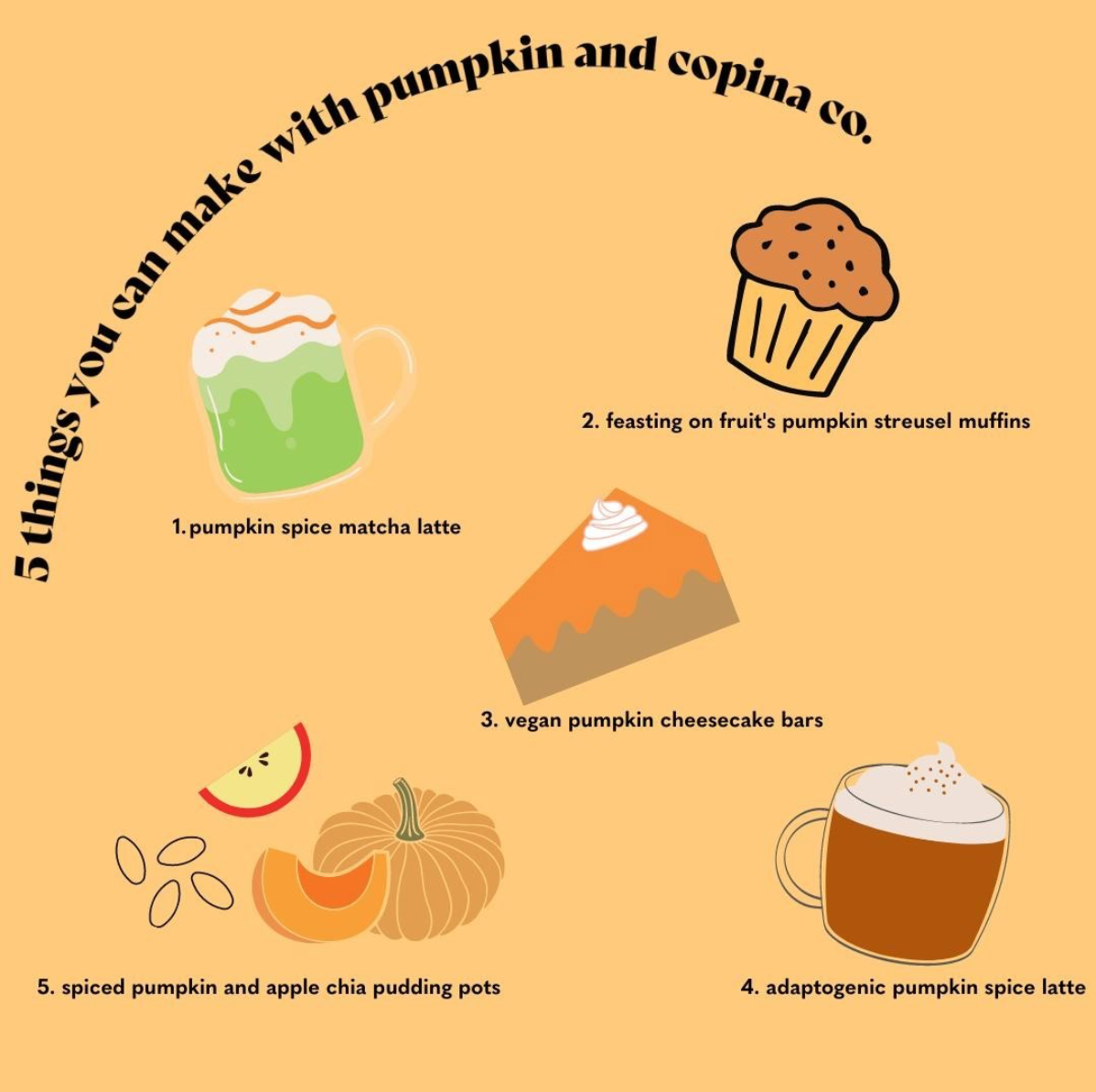 5 Vegan Pumpkin Spice Recipes
Is there anything quite like a cozy pumpkin spice recipe? We've rounded up our 5 favorite vegan and gluten-free pumpkin spice recipes just for you – muffins, lattes, raw cheesecake bars, and chia puddings! These superfood recipes are ones that you'll want to keep enjoying all year long. Life can get pretty busy, so it's important to find simple, easy breakfasts and treats that you can make in a snap and enjoy in a snap.
Keep reading to learn all about our top 5 favorite pumpkin spice recipes using Copina Co.'s collagen boost blends, what's in them, and how to make them. Fair warning: drooling over the screen may occur.
First, what is pumpkin spice?
Pumpkin pie spice, also referred to as "pumpkin spice" is basically God's gift to humanity. It has its variations, but is generally a blend of ground cinnamon, nutmeg, cloves, and sometimes allspice. We also LOVE adding a little turmeric to our pumpkin spice blend. Pumpkin spice can be added on its own to liven up a sweet treat or, better yet, can be paired with pumpkin puree, whose sweetness its spices set off perfectly. You can buy your own pumpkin spice mix or make your own. We love this recipe by Minimalist Baker.
Here are our 5 favorite pumpkin spice recipes using Copina Co.:
1) Pumpkin Spice Muffins with a Streusel Topping
Natalie, author of Feasting on Fruit, made these simple and gorgeous muffins for us using our Original Beauty Plant-Based Collagen Boost Blend. They're completely vegan and gluten-free and are made with a blend of oats, almond flour, and the Original Beauty, which is a great baking substitute for flower, for the starch in the recipe. Making them fills your whole apartment up with the most wonderful smell. Natalie made an awesome and super simple streusel topping for them that uses almond flour, coconut sugar, and coconut oil instead of typical butter, sugar, and flour and we're obsessed.
Move over, basic PSL, there's a new latte in town. Okay, okay, we know that upon first glance, the idea of combining pumpkin spice and matcha tea powder sounds kind of weird, but trust us here – it works. Using our Matcha Beauty Collagen Boost Blend with the pumpkin spice is perfect because of the Matcha Beauty's amazing taste that's creamy and slightly sweet with the coconut milk powder. The fact that it's bursting with hair, skin, and nail benefits also don't hurt! We love this with coconut milk, oat milk, or almond milk.
3) Vegan Pumpkin Cheesecake Bars
These easy and gorgeous cheesecake bars require zero baking and are an amazing frozen treat for hot or cold weather. Instead of using cream cheese like typical cheesecake, this vegan version uses a combination of cashews, coconut milk powder, pumpkin puree, and the Original Beauty Plant-Based Collagen Boost Blend plus spices and more. It has a date and raw walnut-based crust that we love spicing with a little cinnamon and sea salt. The organic tremella mushroom extract, bamboo leaf extract, amla, grape seed extract, and hyaluronic acid of the collagen boost blend make this treat also have major hair, skin, and nail-boosting benefits.*
4) Adaptogenic Pumpkin Spice Latte
Think of this as a grownup version of the classic PSL. It's soothing, warming, cozy, and insanely delicious. We added together hot oat milk, a date for sweetness (optional), the Original Beauty Plant-Based Collagen Boost Blend, pumpkin spice, and a little pumpkin puree together with hot water and it is beyond good. Add a shot of espresso if you want a caffeine boost or to make it a "dirty PSL". Either way, you're going to be sipping happily all morning or afternoon long with this drink. The espresso-free version also makes a great dessert drink to help you wind down for the night!
5) Spiced Pumpkin and Apple Chia Pudding Pots
Okay okay we know we keep saying this, but you're going to be obsessed with this treat too. These cozy chia pots are fantastic for dessert or breakfast. Make them with the Original Beauty Plant-Based Collagen Boost Blend mixed in with pumpkin spice, pumpkin puree, almond milk, turmeric, and more. Top with some plant-based yogurt and spiced apples and you've got yourself a treat you won't forget.