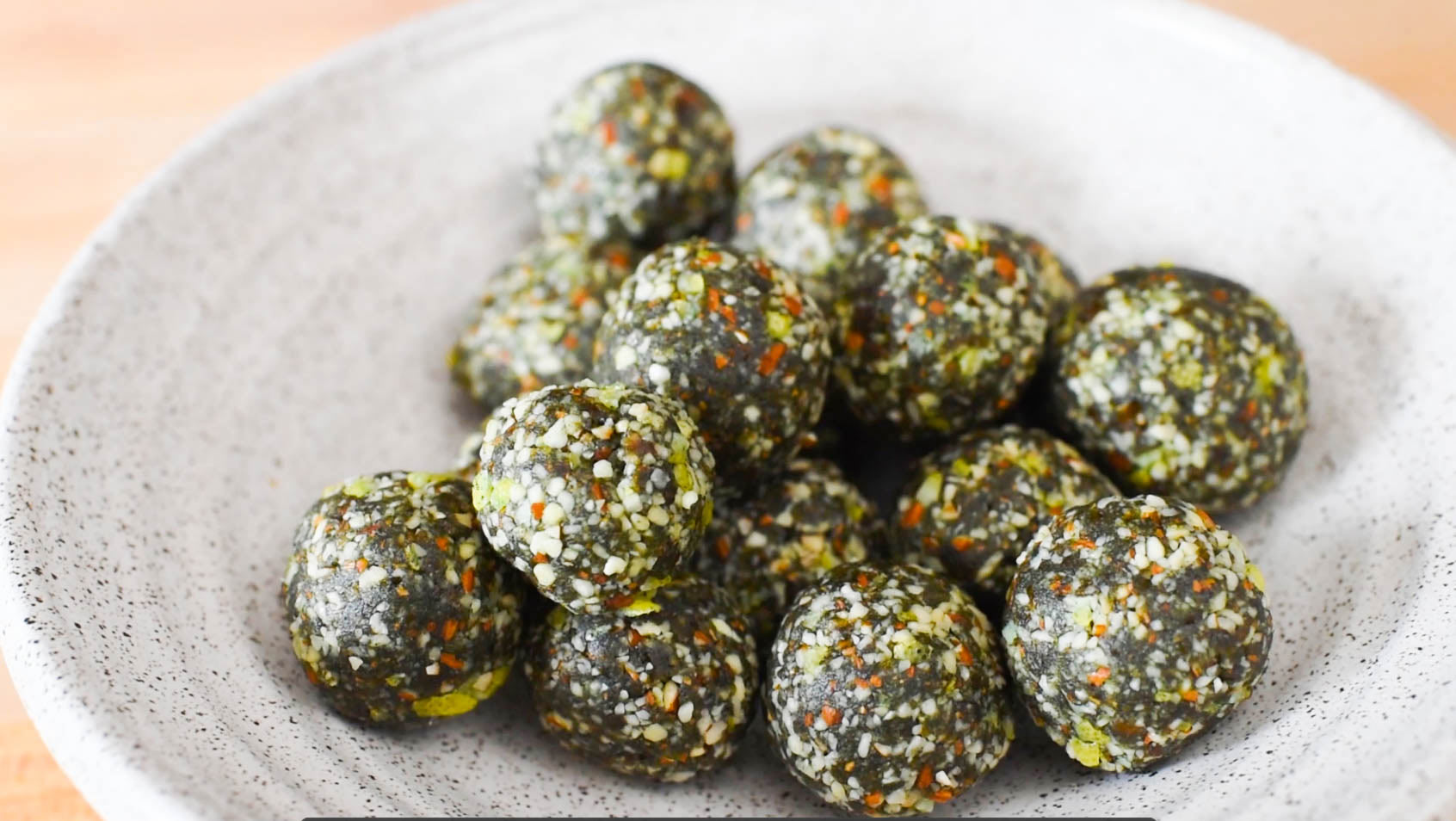 These are the best ever quick and easy snack and only have 4 ingredients: almonds, spirulina, lemon peel, and dates! They're plant-based, raw, super alkaline and SO delicious. Best part? They're quick and easy and take all of 5 minutes to make. Spirulina, besides having a very funny name, is one of the world's most nutritionally complete superfoods. It's a blue-green algae that is not only a source of complete plant-based protein, but also an immune booster superstar. This ingredient is loaded with calcium and promotes cell regeneration, helping you heal faster and stay healthier on the move. The really great thing about spirulina is that it helps control inflammation which is the grand-daddy of most food-related allergy symptoms and general health issues that are out there.
4-Ingredient Raw Spirulina & Almond Energy Balls
These balls are also made with almonds and lemon peel which are incredibly alkalizing and are sweetened with no added sugar - just pure dates. Guess what? They're also oil-free!
Enjoy these as an easy out-the-door breakfast or as snacks on the go! If you're looking for other awesome recipes that use Spirulina, check these favorites out: Banana, Spinach, & Spirulina Pancakes and Raw Spirulina & Coconut Energy Bites.
Ingredients:
1 cup raw almonds
1 cup pitted dates (medjool are awesome, but use deglet and just soak them a bit if you don't have them)
Peel of 1 lemon (don't add lemon juice)
1 tablespoon spirulina powder
Directions:
Just put them in a food processor (break up the nuts first!) and then add the rest of the ingredients. Process until smooth, then form into tiny balls. Keep them in your fridge in an airtight container for up to a week