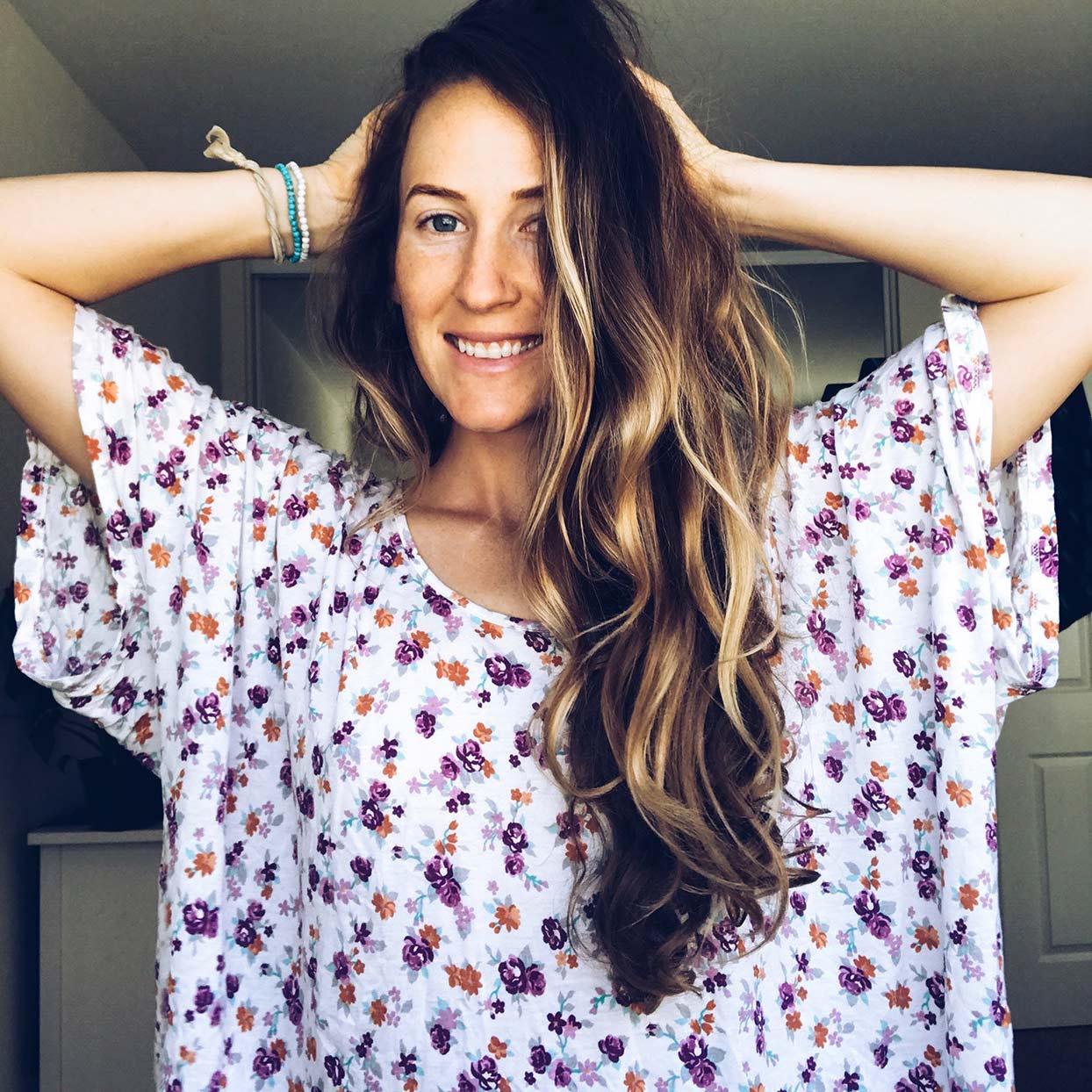 Courtnie Hamel of Wellness With Courtnie is one of my favorite ladies in wellness on Instagram. Her approach to wellness is one that Copina Co. and her nearly 30,000 followers deeply resonate with: one that's all about letting go, having fun, and finding what feels good. Courtnie's feed is and hilarious stories are full of some of the easiest, yet most colorful recipes out there as well as impromptu dance sessions and acro yoga sunsets with her partner Nate. What I love most about Courtnie is her honesty as she explores the ever-evolving journey of wellness. I'm excited to share Courtnie's current philosophies on healthy eating, finding inspiration, food styling, and taking life as it comes. Enjoy!
How did you get interested in wellness and start Wellness with Courtnie?
My interest in wellness started around the time I was a freshman in high school. I remember I being at Borders and finding this book called "Glow". I had some skin issues at the time like most teenagers do and was amazed by this book that was talking about how eating certain foods and avoiding others can help make your skin literally glow. That was something so new to me. In the media at the time, there wasn't a lot of talk of the correlation between what you eat and how you look at all and I was just fascinated by that idea. Ever since that point, I started paying more attention to what I ate and it helped me clear up my skin.
I slowly started making better choices like eating more veggies and less dairy and realized that I felt better too. Obviously as time went one I learned a lot more about what is good and what is not. I think I would have come around to discovering how to be healthy at some point, but that book was the first step for me.
I went through the next few years trying to maintain a healthy lifestyle, but doing Whole 30 about a year and a half ago really helped me rethink my habits. I used to eat a lot of sugar, but being the program helped me cut it out and add more fats as well. I felt so much better almost immediately.
When did you start Wellness with Courtnie?
I actually started it right after I did my yoga teacher training which was about a year ago. I basically just wanted a place to share my teaching location and schedule. I never really planned it to be anything about food. I knew I would share some tips on healthy eating here and there. That's why I called it "Wellness with Courtnie" and not a yoga name, but it really just transformed into something else.
I feel like I'm always looking at something new on your feed. Where do you get inspiration?
I eat a lot of the same things every day, so I like to jazz my meals up and make them look different. I do love to go to the store or to the farmers market and look to see if they have anything new, different, or seasonal to try out. I always have my staples, but love adding something new. I can't wait for nectarines and peaches this summer. I don't really plan anything. I just go day by day and see what I'm feeling and what I'm hungry for.
Any new favorite food products lately?
I have my staples which are my favorite foods from the farmers market, but I do love Simple Mills. I'm not a huge baker and love that they have pumpkin bread, banana bread, crackers, and pizza dough which I just made. The ingredients are really clean and they help make eating more clean things accessible.
On food styling:
I get asked about photography and editing a lot. For styling, I use such basic ingredients for most of my recipes. I start with the food as it is, but you can really jazz up a plate by adding cracked pepper, sesame seeds, or sprouts. It's crazy how you can add one small thing and it makes the whole dish look like it came from a restaurant. You don't have to put much into it. Just start with simple ingredients, take extra time to place everything in a way that looks symmetrical, and don't overthink it.
I use my iPhone to take all my pictures and just use natural light when shooting. I have a few spots that get good light in my house depending on the time of day. We have a spare bedroom that has awesome light and I put things on a rolling cart and get great photos there. For editing, I use the Lightroom app on my phone for saturation, contrast, and brightness. I go over everything with the A5 filter on VSCO.
What do you get asked a lot by your followers?
I get asked what kind of matcha I use. I use Mizuba sometimes and Aiya other times. They're probably my favorites. I also get asked a lot about if I have any recommendations for bars on the go. I don't really eat those a lot to be honest. I'm not a big snack bar person, but do like the Bulletproof bars and these grass-fed beef jerky sticks. They taste really good, they're called Mighty Bar.
What makes you passionate about what you're doing and what next with the future of your blog?
I've always been passionate about spreading the word about how what you eat affects your life. Even when I was younger, I would try to share knowledge with all my friends and family. I just really want people to know what I know and how eating healthy has changed my life. I love being able to share that with people.
You know, for the future, I don't have any expectations or anything like that for my page. I've gotten a few pretty cool opportunities from it and look forward to more in the future, but If I don't, I'm fine with it. I've already gotten what I need from it. It's just fun to do it. It's in the comfort of my own home. It's low stress and there is no expectation that I have really.
When you say that eating healthy has changed your life, what's the biggest impact you've seen?
I think there is a link between what you eat and your lifestyle and your mental well-being. I hesitant to even say that, but I'm in a better place mentally because I eat this way and take care of myself this way. I struggled with digestive issues like everyone else until I got a hold on my well-being and my happiness is greatly affected by the choices I make. I think everyone's is, but some people just don't know it yet.
Do you have favorite recipe from your blog?
My favorite meal isn't really a recipe, just ingredients put together. Just my bowl which I put together each day. A fried egg, roasted sweet potatoes, on a bed of greens with a strip of organic bacon and avocado with salt and pepper. It's super basic, but is so good and is my go-to meal when I want to feel really good and have sustained energy throughout the day. The most popular recipes on my Instagram are my smoothies. There was a kiwi matcha smoothie I made a few months ago with chia seed pudding was definitely my most -saved recipe.
Looking for more interviews with our favorite ladies in wellness? Check out our chats with:
- Kate Van Horn, Co-Founder of B+YND and The Good Fest
- Sophie Jaffe, Founder of Philosophie